Neighbors stockpiles talent for rising UA hoops program
Published: Thursday, January 31, 2019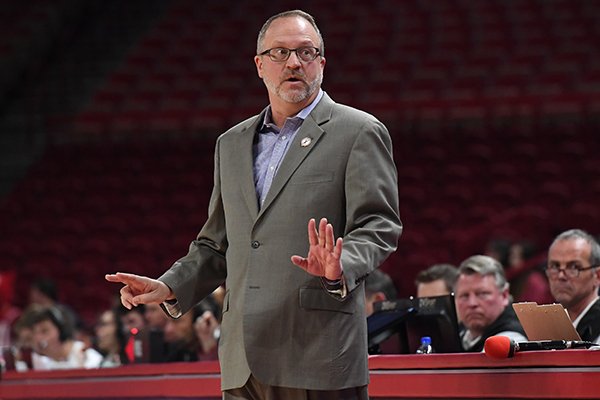 (
J.T. Wampler
)
Arkansas coach Mike Neighbors talks to officials during a game against Alabama on Thursday, Jan. 24, 2019, in Fayetteville.
There is a legitimate buzz right now about the Arkansas women's basketball program, which enters tonight's home game with Georgia on a four-game winning streak and with a 16-5 overall record and a 5-2 mark in the SEC.
There are also plenty of reasons to be excited about the future, including second-year coach Mike Neighbors landing a banner 2019 recruiting class, getting a five-star transfer in former McDonald's All-American Amber Ramirez and pledges from a pair of 2020 standouts.
Ramirez, 5-foot-8 junior transfer from TCU that won the 3-point shootout at the 2016 McDonald's All-American Game, is the crown jewel of a class that is ranked 15th nationally by All-Star Girls Report.
She was ranked as the fourth-best shooting guard and No. 12 overall player nationally by ESPN after her senior season at San Antonio Wagner where she averaged a city-best 26 points per game and knocked down 131 3-pointers.
"It absolutely validates the recruiting class and puts a punch into it," Neighbors said of Ramirez, who he began recruiting when he was head coach at Washington. "It makes it OK to go to Arkansas. When you get a kid that was recruited as a top 10 or so player in America and could have gone any number of places ... it's a big-time deal."
Ramirez, who averaged 10.3 points as a sophomore and shot 39 percent from 3-point range for the Lady Horned Frogs, has been a stud in practice this season, Neighbors said.
"We have this deal where we play the players that are redshirting and those who don't play heavy minutes in what amounts to another game on Friday (against the Razorbacks' male practice squad)," Neighbors said. "The other day we could only play three quarters because we only have a certain amount of people, and she still had 38 points in three quarters."
Ramirez, who played for the gold medal-winning USA team at the 2016 FIBA Americas U18 Championship, has said her intent is to have a career similar to former All-American Kelsey Plum. Plum was a star for Neighbors at Washington, where she led the Huskies to the Final Four in 2017 while averaging a whopping 31.7 points. She is now playing in the WNBA.
"That is somebody she is motivated to work like, and she is trying to do things like that," Neighbors said. "She references it a whole lot, and she can back it up."
Neighbors' four November signees were Minnesota prep center Destinee Oberg (6-3), Springdale guard Marquesha Davis (6-0), Lawton (Okla.) Eisenhower forced Ginger Reece (5-10) and Frederick, Md., guard Makayla Daniels (5-7).
Neighbors also has a pair of 2020 pledges in Del City, Okla., guard Rylee Langerman (5-9) and Madison County (Ala.) Academy post Destinee McGhee (6-2), who is ranked as the seventh-best post in the 2020 class and the 60th-best player overall by ESPN.
Neighbors went right to work day one on the job for Springdale's Davis, who had offers from Texas A&M, Mississippi State and others.
"I spent every day with her during that April (recruiting) period," Neighbors said of the Lady Bulldogs' combo guard who leads the 6A-West Conference in scoring. "We had to beat several teams in the SEC to get her. You walk into the gym, she is 6-foot, the fastest kid in the gym, jumps as high as anybody in the gym, works her tail off and wanted to be a Lady Razorback. She became an absolute must-get."
Daniels is an explosive scorer whose family is originally from Oklahoma.
"McKayla Daniels is freshman-ready," Neighbors said. "She is more of a points guard than a point guard. She had 47 in the state championship game as a sophomore, and they have won back-to-back state championships. She also dominated on the summer circuit. She was that kid that everybody would walk up to me and said, 'Man, wow, I didn't realize y'all got her.'
"My assistant Lacey Goldwire, who came from Iowa, saw her first and sent me to see her, and it was love at first sight. ... She is powerfully built, lightning quick and can really score."
Much-needed height is coming in Oberg.
"She is a big talent and a really talented passer," Neighbors said. "When you look at her you don't think this kid is going to be able to do the things that she can do. She is a sturdy 6-3, powerfully built and just does things that you don't think she can do."
There could be an additional post added in former Little Rock Central standout Erynn Barnum (6-2), who is on campus trying to get her eligibility in order.
She averaged 11.5 points and 7.8 rebounds in her last year at Central.
Reece rounds out the 2019 signees as Arkansas has no other scholarships available for this season.
"Another one that we recruited at Washington, had prior knowledge of and came to our Elite Camp," Neighbors said. "She went toe-to-toe with the elite, stood out and the second I offered her scholarship, in fact I didn't even get it out of my mouth before she accepted it.
"Her dad had a huge OU tattoo on his back and changed that to a Razorback the next day, and now they have more Arkansas gear than I do. They are Razorbacked-out, and the kid wants to be here."
Sports on 01/31/2019
Discussion
Have a comment on this story? Join the discussion or start a new one on the Forums.