Dungee's 28 not enough to extend Razorbacks' win streak
By: Andrew Epperson
Published: Thursday, January 31, 2019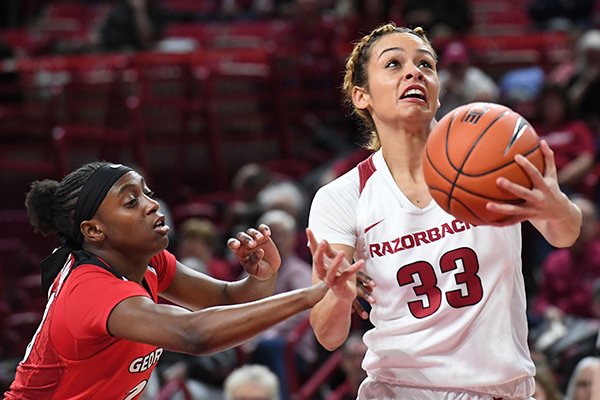 Arkansas' Chelsea Dungee drives to the basket as Georgia's Maya Caldwell defends during a game Thursday Jan. 31, 2019, at Bud Walton Arena in Fayetteville.
FAYETTEVILLE — Despite a 28-point output from sophomore guard Chelsea Dungee, the Arkansas women's basketball team couldn't recover from a poor third period in an 80-72 loss to Georgia on Thursday.
Georgia snapped the Razorbacks' four-game winning streak and ended a three-game skid.
"Georgia can frustrate you," Arkansas coach Mike Neighbors said. "They looked fresher at the end of the game than we did, and that's not been the case very many times, but I thought they knew they needed this game, and they played like it."
The Bulldogs (13-8, 3-4 SEC) outscored the Razorbacks (16-6, 5-3) 24-12 in the third quarter. The visitors shot a solid 58.8 percent from the floor in that quarter, while the Razorbacks made just 3-of-15. Five of the Hogs' 12 points came from the free-throw line, and an impressive 17-of-18 overall night from the foul line was overshadowed by an uncharacteristically high 13 turnovers. They came into the game averaging 9.9 in conference play.
After another slow start in which the Hogs fell behind 7-0, they relied on their top scorer to bring them back. Dungee scored five straight points, and an Alexis Tolefree layup tied it up. A back-and-forth second period favored the Hogs, and a 10-point output from Malica Monk that included two and-ones gave the Razorbacks a favorable 43-38 lead going into the break.
"I thought Georgia came out way more focused than we did," Neighbors said of the tough third quarter. "I thought we had a good end to the quarter in the second quarter. We had good energy in the locker room. We talked about how awesome we had moved the ball in the second quarter, and everybody rallied, cheered and then went out in the third quarter and didn't do it."
Alexis Tolefree's collapse in the third was a microcosm of the team's overall slump. She turned the ball over twice and a weak pass to a heavily covered post resulted in an easy Georgia steal at the 7:14 mark and Neighbors calling for a sub. Her day ended with five points on 2-for-6 shooting with three turnovers.
"I don't know [what was wrong]," Neighbors said. "She wasn't good when we took her out of the game and didn't respond very well. Hopefully, she'll bounce back. Tonight, there were some turnovers and really big missed defensive assignments."
Dungee and Monk combined for 19 points in a fourth-quarter comeback attempt, but a costly turnover by the latter at the 2:03 mark resulted in a transition layup for Georgia's Gabby Connally, whose basket pushed the lead to three possessions. Though the Razorbacks cut it to five shortly thereafter, the sequence seemed to take away some of their hope at a comeback.
"With turnovers, we just have to limit those," Dungee said. "We're really not a turnover-prone team, and we just played out of our game in that aspect."
Connally finished with 21 points, eight assists and four rebounds to lead the Bulldogs. Maya Caldwell and Taja Cole poured in 12 apiece. Dungee's 28 points on 9-for-18 shooting led the Hogs, while Monk's 19 points and six assists played a factor. No other Razorbacks finished with double-digit efforts.
In the post-game press conference, Neighbors indicated he could make some lineup changes going forward after finding out that certain players didn't stay for extra shots following a Jan. 30 practice. He said he cut the practice short with the understanding they'd work on their own.
"We usually leave them time, and they had some reason to get out of here," Neighbors said. "We'll fix that."
The teams will play again at Georgia on Feb. 21.
TIP-INS
• Arkansas started the game 12-for-12 from the free-throw line until Monk's miss at the 4:18 mark in the third period. The Hogs' improved their free-throw percentage to 81 percent in conference play, showing a stark improvement over the 66-percent clip they posted in nonconference games.
• The Razorbacks continued their streak of forcing double-digit turnovers, which is something they've done in every game this season. They turned Georgia over 22 times. Every Bulldog who played except Jenna Staiti, who played only 11 minutes, had at least one turnover.
• Georgia improved its series record to 32-5 over Arkansas. In Fayetteville, the Bulldogs are 16-3. The last time Arkansas beat them was in 2015.
UP NEXT
The Razorbacks will enter a tough part of their conference schedule by hosting South Carolina on Sunday. Georgia plays its second-straight road game when it travels to Auburn.
Discussion
Have a comment on this story? Join the discussion or start a new one on the Forums.