Arkansas hoops recruiting not slowing down
Published: Monday, July 1, 2019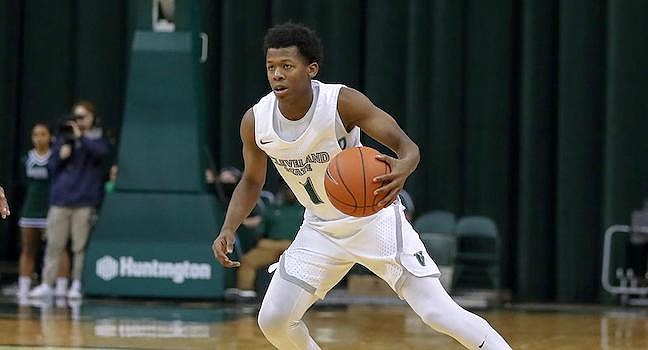 The July 6-31 NCAA basketball recruiting dead period may be about to take place, but Arkansas coach Eric Musselman and his staff are getting in a flurry of activity before it arrives.
The Razorbacks hosted former North Little Rock star and current Montverde Academy standout Moses Moody (6-6, 185), one of the nation's top 25 2020 prospects, per ESPN, on Sunday for an unofficial visit.
Transferring Delaware freshman Ithiel Horton (6-3, 200) arrived in Fayetteville on Monday for an official visit.
Former Jacksonville star and Cleveland State sophomore transfer Tyree Appleby (6-1, 165), who averaged 17.2 points, 5.6 assists, 3.7 rebounds and 1.4 steals last season, is scheduled for an official visit to Arkansas on Tuesday-Wednesday.
"I just wanted to explore other options and just try to find a better opportunity for my career going forward," Appleby said.
Musselman took over for former Arkansas coach Mike Anderson, who had been the Razorbacks' coach the previous eight seasons.
"I just wish I got the opportunity earlier," Appleby said. "I just talked to the head coach a minute ago. It sounds like he is pretty high on me."
Appleby, who said he grew up a Razorbacks fan, would love the opportunity to finish his college career in his home state.
"Always been a fan," Appleby said. "It would be crazy."
Appleby shot 78 perfect from the free throw line last season, 38.9 percent from 3-point range, 44.2 percent from the floor and was named second-team All-Horizon League.
He scored 30- plus points twice, had 11 games of 20 points or more and was in the top five in the league in points, steals and assists.
"(My strengths) are scoring, ability to create and leadership," Appleby said.
He averaged 25 points, five rebounds and four assists for Jacksonville as a senior, capping off his high school career by scoring 32 points while knocking down 8 3-pointers and being named the MVP of the Metro All-Star Classic.
Appleby averaged 11.8 points, 4.0 assists, 2.4 rebounds, and 1.3 steals as a freshman at Cleveland State.
Raheem Appleby, Tryee's older brother, was a first-team All-Conference USA selection while scoring 1,700 career points for Louisiana Tech.
He is now playing professionally for USK Praha in the Czech National Basketball League.
• • •
Horton arrived in Fayetteville around noon on Monday and has his decision down to Arkansas and Pittsburgh, where he officially visited on Sunday, according to CBS college basketball insider Jon Rothstein.
He averaged 13.2 points per game, shot 40.9 from 3-point range, 76.6 percent from the free throw line and 43.3 percent overall while playing in 32 games his freshman season for the Blue Hens (17-16).
Horton was the leading freshman scorer in the Colonial Athletic Association conference.
Discussion
Have a comment on this story? Join the discussion or start a new one on the Forums.