Arkansas DL target Vernon Broughton nears decision
Published: Tuesday, July 2, 2019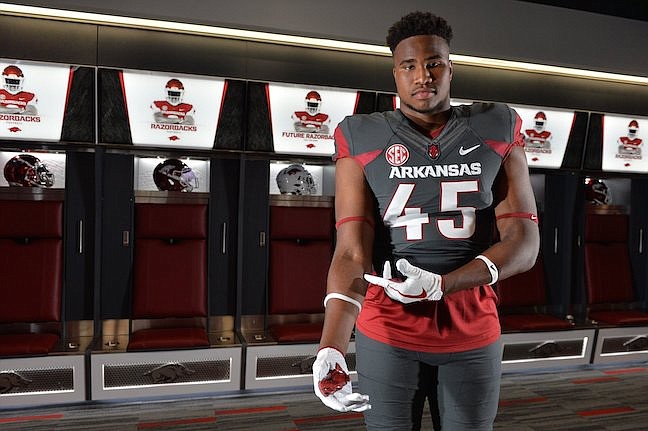 FAYETTEVILLE — With his five official visits and a family reunion out of the way, Houston (Texas) Cy Ridge defensive lineman Vernon Broughton is now at The Opening in Frisco, Texas, and looking at making his college decision soon.
Broughton (6-5, 286), regarded as the nation's 79-best prospect in the 2020 class, according to ESPN, has taken official visits to Arkansas, Ohio State, Texas, Texas A&M and LSU this spring and summer.
"I think in about a week from now my mom and my grandmother are going to go to a nice restaurant, bring a notebook … and pencil and write down and see where I'm going," Broughton said during a Tuesday afternoon interview session at The Star, the Dallas Cowboys' state-of-the-art practice facility.
Broughton visited Arkansas on May 31-June 2 with around eight family members making the trip with him. He described it as 'amazing.'
"I like Arkansas a lot," Broughton said. "It is just an instinct to be honest. I'm good with Coach (Chad) Morris from Arkansas. He and I are like cool friends."
Broughton was asked about the factors that will go into his decision.
"Really, every school is nice," he said. "It's just really where I am going fit in at, living and seeing if I am going to stay in Texas or not. There's a majority of things, and a big family thing. I know every school shows that they love my family, but see where it's really down."
Broughton claims there are some favorites, but no leader among the quintet.
"I mean, I have several, to be honest," Broughton said. "But one? No, not really. That's why we want to sit down, write it all out and see where I'm really focused at."
Texas A&M is promising him he could play defensive end while the other schools see him as a defensive tackle.
"I know I'm going to grow some more, so people are saying d-tackle, but I don't care, to be honest," Broughton said. "I just want to be on the field. That's all I've got to say."
Vernon's younger sister is a rising basketball recruit and has talked of going to the same school.
"She does want to follow me," Broughton said. "My mom wants us to stay close to each other. It could be a good chance."
Discussion
Have a comment on this story? Join the discussion or start a new one on the Forums.