Pro Hogs:
Keuchel searching for right 'rhythm' with Braves
Published: Sunday, July 7, 2019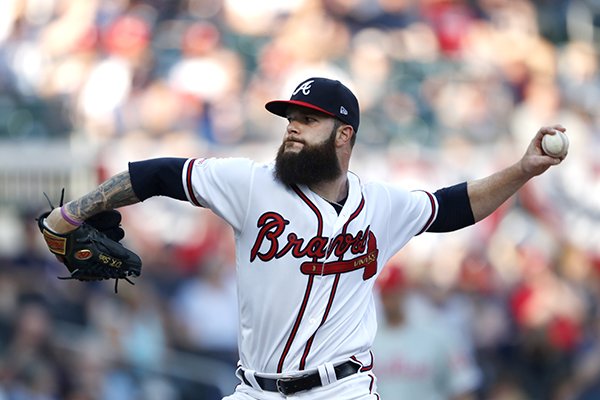 Atlanta Braves starting pitcher Dallas Keuchel works in the first inning of the team's baseball game against the Philadelphia Phillies on Tuesday, July 2, 2019, in Atlanta. (AP Photo/)
It's been an eventful summer for two-time All-Star and former Arkansas pitcher Dallas Keuchel.
He signed a one-year, $13 million contract with the Atlanta Braves in June after seven seasons with the Houston Astros. Keuchel spent the early part of June in the minors preparing for his call-up.
Once it came, he lost to the Washington Nationals on June 21 before beating the Chicago Cubs at Wrigley Field a week later. Then came his home debut, a 2-0 loss to the Philadelphia Phillies on Tuesday.
Over 172/3 innings in the major leagues, he's thrown 283 pitches, 170 of them (60%) for strikes.
"I think I've held my own," Keuchel told Emmanuel Morgan of The Atlanta Journal-Constitution. "I'm just trying to get a good flow for myself and then get into the rhythm of the game. I think I'm there physically and mentally, so hopefully we can start rolling."
One teammate agrees.
"He just keeps us in the game," first baseman Freddie Freeman said. "You know you're one pitch away from getting a ground ball no matter what the situation is."
Freeman said Keuchel has been a good mentor for the Braves' young pitching staff.
"We've got a couple of young guys that know what they're doing on the mound, too, but when you have a veteran like that, you can only make yourself better," Freeman said.
Discussion
Have a comment on this story? Join the discussion or start a new one on the Forums.