Pro Hogs:
All-Star McCann having best season of career
Published: Sunday, July 7, 2019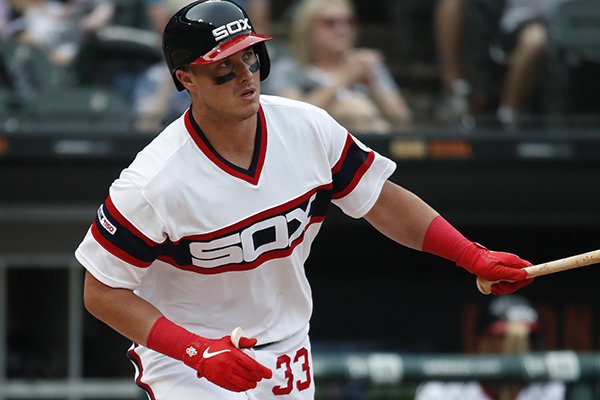 Chicago White Sox catcher James McCann (33) stands in the batters box during a baseball game against the Minnesota Twins Sunday, June 30, 2019, in Chicago. (AP Photo/Jeff Haynes)
When catcher James McCann agreed to a one-year, $2.5 million contract with the Chicago White Sox in December, his career was at a crossroads.
As a member of the Detroit Tigers in 2018, he hit .220 with a .267 on-base percentage. Despite throwing out 36.5% of attempted base stealers, the Tigers didn't tender him a contract.
"This offseason, there was a lot of soul searching, a lot of 'Who am I as a player? Who am I as a hitter?' " McCann told Brian Sandalow of the Chicago Sun-Times. "Just staying within myself, figuring out who James McCann is and being content with that. And honestly, that's what's led to the success so far."
McCann will appear in the All-Star Game in Cleveland on Tuesday for the first time. Entering Saturday, his .318 batting average is .68 points better than his career .250 average. He also has hit nine home runs and drove in 30.
His 3.0 wins above replacement in half a season with the White Sox already has eclipsed the 2.8 he posted in 452 career games with the Tigers. He's on pace to cruise past his career highs in all major offensive categories — not that he has any specific statistical goals.
That said, he didn't seem too surprised that his game has taken a leap.
"I felt like I hadn't reached my potential," he said. "I felt like there was more in there. Whatever the ceiling is, I just work daily to keep getting better, and one day when I'm done with my career, I'll be able to look back and tell you what that ceiling was."
Tuesday will be a special day for McCann.
"It's a dream come true," he said. "You dream as a little boy to play in the big leagues. It's a dream on another level to be in an All-Star Game. To be able to have that kind of reality, it's a special feeling."
Discussion
Have a comment on this story? Join the discussion or start a new one on the Forums.