Bryant's Wallace ponders possible Arkansas pledge
Published: Saturday, July 27, 2019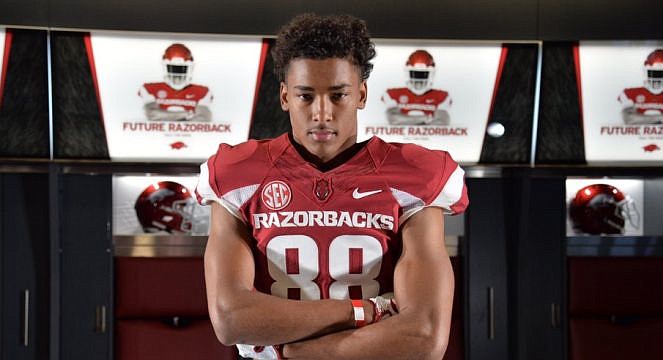 FAYETTEVILLE — Bryant linebacker Catrell Wallace admitted that he was tempted to commit to Arkansas coach Chad Morris on Friday, but decided to slow down just a bit.
Wallace (6-5, 212) was one of 30 or so top 2020 and 2021 prospects in Fayetteville for the Razorbacks' Fall Kickoff Cookout - also known as the Woo Pignic.
"There was (a moment) when I was talking to Coach Morris, but I'm going to think it over some more," Wallace said. "It was great. I loved it."
Wallace said there was plenty to love about the event, including how he always loves visiting with the Arkansas coaches.
"The attention that was given to me and my family, we had fun and got to take pictures in the new uniforms," Wallace said of the highlights. "(We) had a scavenger hunt around the campus. Just a fun time."
Wallace had 79 tackles, 3 tackles for loss, 2 sacks, 3 quarterback hurries, 1 forced fumble, 1 recovered fumble and 2 pass breakups this past season for Bryant, which won the Class 7A state championship.
While Arkansas' coaches were not pressuring him to commit, Wallace was clear about how much the staff wants him in a Razorbacks uniform.
"They were just telling me everything I'd get school-wise and sports-wise," Wallace said. "Told me how the state would treat me after I was done playing and had a degree."
Wallace is one of six in-state prospects in the 2020 class to have been offered by Arkansas with Hazen defensive end Blayne Toll (6-6, 244) and Jonesboro defensive end Jashaud Stewart (6-1, 220) already committing to the Razorbacks.
"I got to hang out with some of the other recruits and get to know them and learn some more about the campus," noted Wallace, who was making his second unofficial visit to campus in the last few months.
He has plans to visit Nebraska and Virginia during his senior season and potentially Ole Miss in addition to Arkansas.
Discussion
Have a comment on this story? Join the discussion or start a new one on the Forums.