Arkansas strikes after chasing Lodolo
Published: Saturday, June 1, 2019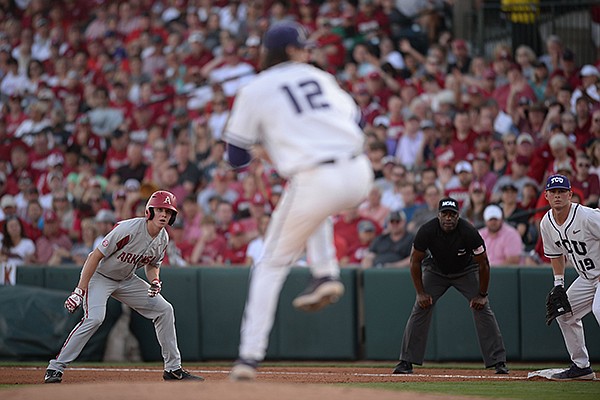 (
Andy Shupe
)
Arkansas outfielder Heston Kjerstad watches as TCU pitcher Nick Lodolo throws a pitch during an NCAA regional game Saturday, June 1, 2019, in Fayetteville.
FAYETTEVILLE — TCU left-hander Nick Lodolo will be one of the first pitchers taken Monday in the MLB draft, but he was only the second-best starter in Fayetteville on Saturday night.
Arkansas starter Isaiah Campbell (11-1) out-dueled Lodolo in a winner's bracket game. The Razorbacks won 3-1 to move within a victory of a super regional berth.
Lodolo, a 6-foot-6 junior whose first pitch of the night was a 97 mph fastball, lost his command in the fourth inning and had to exit in the sixth, when the Razorbacks scored all three of their runs.
"Yeah, I mean, honestly around the fourth inning I just lost it there," Lodolo said. "I couldn't tell you why…I feel like when I regained it was when I needed to. Luckily I made some pitches when they had the bases loaded to keep them off the board."
While Lodolo got through the fourth unscathed, his pitch count got high with 28 thrown in the fourth and 24 more in the fifth. TCU coach Jim Schlossnagle took him out after 93 pitches after Heston Kjerstad singled to lead off the sixth.
Schlossnagle brought in Haylen Green in hopes of getting some ground balls. H did, but an error and two hits, including Casey Opitz' two-run single and Trevor Ezell's RBI double, did enough damage.
"I just thought that Nick was out of gas," Schlossnagle said. "We were going to try and stay left-handed the whole game because of those guys in the middle of the order. Even though we stay left-handed, we threw kind of a different lefty hoping that Haylen could get some ground balls, which he did.
"He got the come-backer that we dropped, he got a ground ball single to left and then he got a ground ball up the middle. It just wasn't meant to be."
Opitz came into the game hitting just .240, but has had several clutch hits.
"You give him a lot of credit,' Schlossnagle said. " It doesn't matter...a .240 hitter but he's an experienced player - competitive at-bats. When you play high-level Division I baseball and you're an everyday player for a national-seed SEC team, you're going to be ready for those moments.
"That ball could have easily been a foot left and it's a 6-4-3 or a 6-3 double play, but it wasn't. We set the table for them with the error....In this game, with the level of pitching that was on the field, that's what it's going to come down to is a timely hit. There was good pitching. For the most part there was good defense - really good defense on their end. It's just going to be a timely hit."
Ezell was 4-for-5, following up a three-hit game in the regional opener Friday. The only time he was not on base Saturday came on the first at-bat of the game, when he made Lodolo work.
"Obviously he's a guy who makes them go, you know" Schlossnagle said. " Switch-hitter, good from both sides. Tough to — I mean, I haven't looked at his numbers lately, he doesn't punch out much. You can tell he's a fighter, a competitive player.
"Anybody who's not the biggest guy playing first base for an SEC school, that tells you that he's a grinder. He's a winning player. They have a team full of those guys. (Dominic) Fletcher's that same kind of player. So that's why you play for national titles. Or that's how you play for national titles. He's a good one."
Lodolo, MLB.com's No. 8 prospect in the draft and who had 125 strikeouts and 21 walks in 98 innings coming into the game, is just 6-6 this season.
He allowed 4 hits and 1 unearned run while fanning 6 and walking 4.
"He's been awesome and he's had a lot of extra rest," Schlossnagle said. "His last two starts have been on one day's less rest between the Texas Tech weekend and then the conference tournament.
"You know, I don't think it had anything to do with the crowd. If anything, I think he was really fired up in the first inning. I think he hadn't thrown 97, 98 mph for a long time, since maybe the third or fourth week of the season. If the crowd had any effect, it had him maybe spending a little too much energy in the first inning. Then he kind of came down off of that."
Campbell was brilliant while going a career-high tying eight innings. He allowed just 1 run on 4 hits, fanning 8 and walking only 1 on 108 pitches before turning it over to closer Matt Cronin in the ninth.
Campbell is MLB.com's 45th-best prospect, while Cronin comes is No. 71.
"He needs to be pitching in a higher league," Schlossnagle said of Cronin. "That was pretty awesome.
"It is fun when you a guy coming out throwing that hard and throwing strikes. He's awesome, fun to watch, just not in our dugout."
TCU, which was the home team, lamented not getting more runs across.
"We had a chance in the ninth inning against a great closer, but he did a nice job," Schlossnagle said. "I'm OK how everything went in that ballgame from our standpoint, a pitching standpoint, with the exception of wishing that Lodolo could have gone deeper in the ballgame."
TCU will face Central Connecticut on Sunday at 2 p.m. The winner will move on to face Arkansas at 8 p.m., while the loser will be eliminated.
The Horned Frogs and Blue Devils both must win three games while the Razorbacks are just a win away from the regional title.
"Maybe we will get to play the Razorbacks again, but Central Connecticut State played great today so nothing is guaranteed," Schlossnagle said.
Discussion
Have a comment on this story? Join the discussion or start a new one on the Forums.