Williams shifts tone for PA duties in Fayettevile Regional
Published: Sunday, June 2, 2019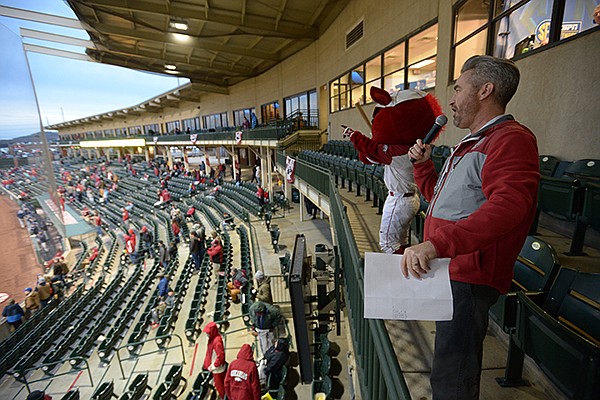 (
Andy Shupe
)
Jon Williams, public address announcer at Baum Stadium, leads the opening day crowd in Take Me Out to the Ballgame during the seventh-inning stretch Friday, Feb. 16, 2018, during the Razorbacks' game with Bucknell.
FAYETTEVILLE — As an all-in fan and former Arkansas player, Baum-Walker Stadium public announcer Jon Williams has a different directive in the booth this weekend.
The excitable Williams, one of Northwest Arkansas' longest-running radio personalities who is in his fifth year as the PA voice of the Razorbacks' baseball team, has to treat everyone in the Fayetteville Regional fairly and not show any favoritism.
That's because while Arkansas has home-field advantage, the stadium is technically a neutral site controlled by the NCAA during regionals or super regionals.
"I am unapologetic, unabashed, not objective guy who loves the Razorbacks and wears it on my sleeve," Williams said. "That is what makes the regionals and super regionals super-charged and challenging for me, because I normally let people know this is not a neutral stadium thing.
"I am literally wearing Razorback jerseys while I am doing the PA, but doing the regionals and super regionals, I just change a bit and dial it down a notch, or two."
WIlliams got a tutorial early from Arkansas assistant athletics director Kevin Trainor on what the NCAA allows and doesn't want.
"The first time I did a (super) regional in 2015, Kevin Trainor sat me down," Williams said. "I am obviously very partisan when I do Razorback games that are not NCAA events. So he said, 'Look, this is neutral site deal, but the NCAA says you can be excited for the Razorbacks, but you have to match that same level of excitement for every other team.'
"So I think that is the way I go with it. I want to be as excited for all four teams as I am for the Razorbacks."
Williams, who also handles PA duties at Arkansas' gymnastics and women's basketball events, admits that he enjoys the regionals and super regionals even if he has to tone it down.
"The regionals are fun because you get to see and meet all the fans for the other teams who usually have never been to Baum-Walker Stadium, never really experienced SEC baseball and never experienced the Omahog fans, who are just another level," Williams said, "especially Hognoxious (Bobby Smittle) and the other guys behind the third base dugout who are just so hard on the other team. It is just a whole new thing for them."
Williams, who is celebrating his 25th year as a radio host in the Northwest Arkansas market, coined the phrase Loyal and Royal Army. He sees his his role for Arkansas coach Dave Van Horn as part of the army.
"I am a loyal solider and I just follow orders," Williams said. "I know one thing: everything that they tweak has always made it better whether it is (the mascot) or the RBI girls or the music that they play. I think it is the best atmosphere in college sports."
He loves the team that makes up the in-stadium atmosphere. Williams works closely with assistant communications director John Thomas, senior production manager Alyssa Traxson and Jimmy Sanchez, who heads marketing, promotional, creative, social media and in-game entertainment efforts for Razorback Baseball.
"I love getting to work with guys like Liz Traxson and Jimmy Sanchez and John Thomas and the entire team with the Razorbacks, and they are just the best in the business," Williams said. "It's not just one person, it is everybody that makes it as fun as it is.
"A lot of that is stuff we have been doing for years, whether it be Jimmy or Alysssa or John Thomas, and it has become traditional for the five years I have been here."
Williams moved from Colorado to Arkansas to play baseball for Norm DeBriyn in 1990. He is the third public address man in the 24-season history of the stadium, following the late Larry Shank and Pat Kelly, who stepped aside after the 2014 season.
"A lot of the stuff has been going on from Larry Shank to Pat Kelly to myself and we have a lot of fun with it and have traditions," Williams said. "I am honored and flattered just to be a part of it."
Williams is getting his fill of baseball this weekend.
"It can be two games Friday, two games Saturday, two games Sunday and possibly one game Monday," Williams said. "That's a lot of baseball, but I love it."
Discussion
Have a comment on this story? Join the discussion or start a new one on the Forums.