Big Zabowski powers Ole Miss to win
Published: Sunday, June 9, 2019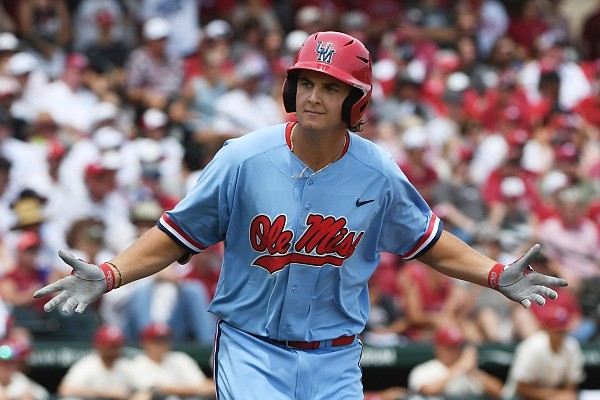 Mississippi batter Cole Zabowski reacts after hitting a three-run home run against Arkansas during the first inning of Game 2 at the NCAA college baseball super regional tournament Sunday, June 9, 2019, in Fayetteville, Ark. (AP Photo/Michael Woods)
FAYETTEVILLE — With Ole Miss' season on the line, Cole Zabowski jump-started the Rebels in the opening inning and Arkansas could not keep even.
Cole Zabowski's three-run home run wiped out a quick Arkansas two-run lead. The Rebels hit three more homers in a 13-5 win over the Razorbacks Sunday to force a winner-take-all game Monday for a berth in the College World Series.
Cooper Johnson, Grae Kessinger and Tyler Kennan also hit round-trippers and freshman pitcher Doug Nikhazy gutted through five innings one day after Arkansas routed Ole Miss 11-2 in the opening game of the Fayetteville Super Regional.
"I'm proud of our guys the way they bounced back from yesterday's game which was so one-sided," Ole Miss head coach Mike Bianco said. "We needed a huge performance on the mound and Doug gave us that. I think this wasn't his sharpest day with all his pitches but a really gutsy performance. Like those who have watched him pitch all year have seen, that's why he's so good.

"There's days where he's not as sharp stuff-wise, but he's always able to make a pitch and get off the field and he did that today."
The result will have Arkansas (45-18) and Ole Miss (41-26) meeting for the eighth time this season.
"Both teams are going to be on their toes," Nikhazy said. "They're going to be giving it their all and everyone's trying to get to Omaha. So I expect it to be really good game and I expect it to be something that's going to be really special."
Ole Miss has won four of the first seven meetings this season and Zabowski is looking for a battle.
"I bet a good baseball game," Zabowski said. "We're two really good teams. We've seen that the past two days. We can both hit, we can both pitch and we can both field. So tomorrow I think it's going to be a good game."
The Razorbacks will send freshman left-hander Patrick Wicklander (6-2, 4.29 ERA, 88 strikeouts and 34 walks in 65 innings) to face Rebels freshman right hander Gunnar Hoglund (3-2, 4.64, 52 strikeouts and 34 walks in 72 innings).
"(Hoglund) has pitched just about every game three for us almost the whole year and really, as you have seen in this league, some of the freshmen get better as the year goes on and he has certainly been that guy," Bianco said. "His last three of four outings, he has been terrific for us and we feel probably like they do. Wicklander is probably similar to where he has come on at the end of the year and solidified their rotation.
"So probably both scenarios for both of those guys."
Ole Miss' win was its fifth in as many elimination games since the start of the SEC Tournament.
"I will say one thing that is a big factor is they don't look nervous," Bianco said. "I think if you were in the dugout they look like a team who's won four in a row, won five in a row. Somewhere along the line we talked about it, sometime in the SEC Tournament we kind of found that and maybe in the most pressure-packed parts of the game they do play loose and with a lot of confidence."
Zabowski, whose homer was his 12th of the season, believes the season has developed his team's mentality to thrive in win-or-go-home situations.
"I think it comes from the challenges we face throughout the season," Zabowski said. "…When we get in that situation we're able to handle it because we've been through it. We have experience there."
Nikhazy thinks Ole Miss does a good job of staying in the moment.
"I think we perform best … Kind of like the mantra to this whole postseason is we don't know what tomorrow's going to bring, and we have to make sure we do our jobs today," Nikhazy said. "We can't look past today. That's kind of what kept us on our toes. We were never really comfortable. Not to say we weren't comfortable, but we weren't ever content with what was going on and we were always trying to make sure we were really pouring it on them."
Nikhazy (9-3) gave up 5 runs on 10 hits and fanned 8 while throwing 108 pitches.
Each team had 12 hits, but the Rebels' two pitchers walked only one and hit one while the Razorbacks' four hurlers issued nine free passes, including eight walks.
"Today really the story is on Doug day you usually talk about Doug but today was really the offense," Bianco said. "Starting with (Zabowski), a huge home run after they got two in the first, I thought that was big. And we extended it with homers, a big homer by Coop and Keenan and of course Grae at the end."
Zabowski and Johnson both homered off Arkansas freshman starter Connor Noland (3-5), who faced seven batters, threw 20 pitches and allowed four runs before being lifted for Kole Ramage with nobody out in the second.
Noland, spotted a two-run lead on Dominic Fletcher's home run in the top of the first, also hit a batter.
"The pitch was a changeup," Zabowski said of his homer. "The pitch before it was also a changeup. With a guy like Noland, he likes to throw the changeup, likes to throw the breaker. I was just trying to see him up in the zone and get a good pitch to hit."
Ole Miss used a five-run second against reliever Ramage to open up an 8-2 lead.
Ramage allowed four runs on three hits while walking six batters.
Arkansas pulled to within 8-5 on consecutive RBI doubles by Trevor Ezell, Casey Martin and Matt Goodheart in the fifth.
Ole Miss reliever Houston Roth pitched four scoreless innings to finish up for the Rebels while his offense handed him runs during his time on the mound.
"We scored eight early and then they put some zeroes up, but I don't think we had a bad approach," Bianco said. "I don't think we had bad at bats. It's just, let's face it, they're really good and you can't score every inning. I'm glad that we stayed locked in the whole game because you need to.
"Doug said it, this is it. You win and you keep moving on. You lose, you go home. They know that, they don't need to be reminded that, but I was proud of the way we continued to swing throughout the game."
Discussion
Have a comment on this story? Join the discussion or start a new one on the Forums.