Analysis: Good things come for Toll after wait
Published: Saturday, June 29, 2019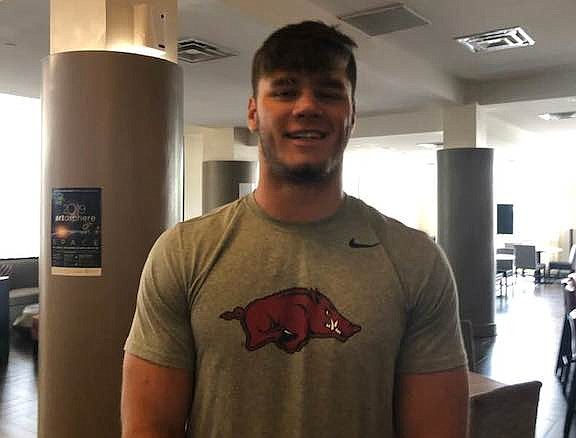 FAYETTEVILLE — Once upon a time, versatile Halen defensive end prospect and mid-term graduate Blayne Toll (6-6, 242 pounds) was dead set on becoming a Razorback, just waiting for an offer to jump on board.
But along the way to fulfilling a dream, several other teams jumped into the mix with offers before Arkansas, and it gave the ESPN four-star and top-300 prospect pause.
Did Arkansas really want him that much? Might he be better served heading out of state to Oklahoma, Tennessee or one of the other 20-plus schools that showed interest?
In the end, Arkansas coach Chad Morris and assistants Barry Lunney, Jr., Mark Smith and defensive ends coach Steve Caldwell made it clear to Toll that he was wanted, needed and loved.
That's a big reason why the Hazen Hulk publicly committed to the Razorbacks on Friday after coming to the conclusion that Fayetteville was still the place he wanted to go to college and further his career.
Toll, arguably the state's best prospect and dubbed that by ESPN and 24/7's composite rankings, is versatile enough that he plays quarterback for Hazen.
He led his team to 13 straight victories to open the 2018 season before Junction City topped Hazen 36-22 in Class 2A state title game.
Toll had 75 tackles, 12.5 sacks, 18 stops for lost yardage, forced two fumbles and intercepted a pass as a junior. He also rolled up 756 rushing yards, 8 touchdowns, 601 passing yards, 6 touchdowns and 5 catches for 101 yards and a touchdown as the signal caller on offense.
Toll has a 78-inch wingspan, a 4.88 40-yard dash time and is viewed as both a tight end and defensive end prospect by colleges. He would likely would be successful at both positions.
Getting Toll to pledge to Arkansas gets the program a potentially great player who will arrive in Jan. 2020, but there's more to it than that.
It seems that Toll likely would have ended up at Tennessee or Oklahoma if he had decided to head out of state. That would have been a blow perception-wise seeing as how 2019 Camden Fairview offensive lineman Stacy Wilkins, whose self-stated dream to be a Razorback turned into him being a Sooner in the end, was after Toll.
Wilkins did his best - publicly and privately - to help Oklahoma coach Lincoln Riley convince Toll he should make the Arkansas-to-Norman pipeline continue.
It seemed to be working for a while, but then Tennessee - the only place aside from Arkansas that Toll officially visited - seemed to make a move to the front of the line.
But Toll bleeds Razorback red to his core and Arkansas gets a much-needed and much-wanted prospect to add to its program.
Toll becomes the Razorbacks' 10th overall pledge in the 2020 class and the second in-state commit along with Jonesboro defensive end Jashaud Stewart (6-2, 220).
Arkansas has offered Conway offensive lineman Robert Scott (6-5, 300) and North Little Rock tailback Brandon Smith (5-10, 190), but they have committed to Ole Miss and Memphis, respectively.
They also offered Morrilton quarterback Jacolby Criswell (6-2, 210), but he committed to North Carolina after the two sides drifted apart.
Arkansas still has an offer out to Bryant linebacker Catrell Wallace (6-5, 215), a player the Razorbacks hope will join the mix soon.
It was clear how happy Razorbacks coaches were on Friday as evidenced by their joy on social media.
In the end, the bell tolled for Arkansas.
Discussion
Have a comment on this story? Join the discussion or start a new one on the Forums.