Florida wins SEC championship, leaves Arkansas with first winless season
Published: Saturday, March 2, 2019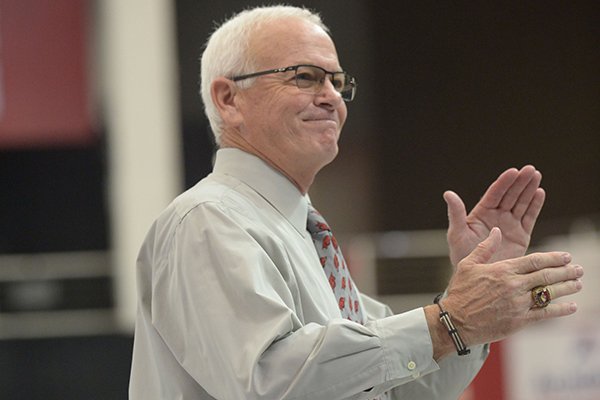 Arkansas coach Mark Cook cheers his athletes Saturday, Jan. 5, 2019, during the Razorbacks' meet with No. 2 Oklahoma in Barnhill Arena in Fayetteville.
FAYETTEVILLE — No. 4 Florida extended its domination of the University of Arkansas in gymnastics and clinched the SEC championship on Friday with a convincing victory at Barnhill Arena.
The Gators (8-3, 6-1 SEC) won their 19th consecutive meet over the No. 20 Razorbacks with a 197.225 to 196.35 decision before a crowd of 3,016 on Gymback Alumni Weekend. Florida took sole possession of the SEC championship due to Auburn's loss at Alabama.
Arkansas (1-10, 0-7) suffered its first winless conference season since the program got rolling in 2003 under Coach Mark Cook and his ex-wife Rene Lyst, who was part of the alumni celebration.
The Razorbacks have two more meets — the Elevate the Stage quad meet in Birmingham and the Arkansas Quad — prior to the SEC Championships in New Orleans on March 23.
Florida's Alicia Boren and Trinity Thomas powered to scores of 39.625 and 39.55, respectively, to take the top two spots in the all-around. Arkansas junior Jessica Yamzon placed third in the all-around with a 39.325 and freshman Kennedy Hambrick was fifth at 39.175.
The highlight for the Razorbacks came on the floor exercise, where Sydney McGlone and Sophia Carter both posted 9.925 to tie Boren and Thomas for the event title.
Arkansas scored 49.375 on the floor to follow a disappointing 48.8 on the balance beam.
Boren won the vault with a 9.925, ahead of the Arkansas duo of McGlone and Sarah Shaffer, who had matching 9.85s.
Yamzon tied for third on the bars with a 9.875 and led the Razorbacks with a 9.85 on the balance beam to lead the Razorbacks and place fourth.
Florida, which notched its 11th SEC title, shot out of the gate with a 49.425 on the uneven bars to take control of the meet while the Razorbacks were scoring 49.05 on the bars.
Arkansas' bars score of 49.125, led by Yamzon, Michaela Burton's 9.85 and Hailey Garner's 9.8 was one of its best of the season. The Razorbacks pulled within 98.375 to 98.175 after two rotations, thanks to Florida's stumble to a 48.95 on the vault.
However, rotation three clinched the meet, as the Gators went for a 49.475 on the floor exercise.
Discussion
Have a comment on this story? Join the discussion or start a new one on the Forums.