Arkansas completes sweep of Missouri
Published: Sunday, March 17, 2019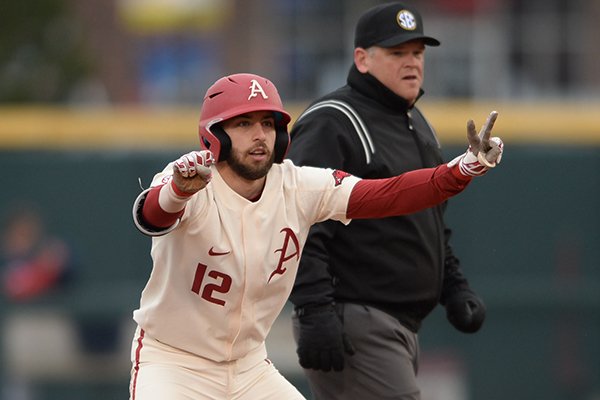 (
Andy Shupe
)
Arkansas catcher Casey Opitz signals to the Razorback dugout after hitting an RBI double Stony Brook Saturday, March 2, 2019, during the inning at Baum-Walker Stadium in Fayetteville.
How sweep it is - no matter how you get the broom out of the closet.
Even though Arkansas coach Dave Van Horn might not use this weekend's three-game sweep of Missouri for a teaching video, he was happy to get through his team's SEC opener unblemished.
Casey Optiz' one-out, walk-off RBI single in the bottom of the ninth lifted the No. 10 Razorbacks (17-2, 3-0) to a 3-2 win over the Tigers (1-8, 0-3) Sunday and a sweep at Baum-Walker Stadium.
"I thought it was a great ballgame," Van Horn said of a game that was scoreless through five innings. " … Obviously when you win three games, you're excited about it, but it's like I told the team, we have to clean up some things. We have to pay attention to details if we're going advance because the competition is just going to get better and better and it's tough to win on the road if you don't do everything correct."
Arkansas, riding a six-game winning streak, faces No. 11 Texas on Tuesday and Wednesday in Austin before heading to Alabama next weekend.
Opitz was 0-of-7 with three walks and a hit by pitch for the weekend and just 1 of his last 25 this season until his game-winning hit that plated pinch-runner Curtis Washington Jr. on Sunday.
The hit was aided by Missouri second baseman Mark Vierling taking a step away from where the ball was hit right before the pitch.
"That was close, I was watching it and kind of freaking out," noted Opitz, who saw four curveballs in the at-bat. "But, they were playing up the middle a lot, so I knew once I pulled it that it had a pretty good chance of sneaking through there."
Heston Kjerstad led off the bottom of the ninth with a single, the Razorbacks survived a failed bunt in which Washington just got back to first, and got a catcher's interference with Dominic Fletcher at the plate setting up Opitz to be the hero.
Opitz was down 1-2 in the count against Missouri reliever Cameron Dulle before jumping on the pitch.
"At that point, any ball that was in the zone I was going to swing at it and hopefullly get a hit," Opitz said.
Opitz' hit was needed because Missouri designated hitter Paul Zimmerman had blasted a game-tying, two-run homer off Arkansas reliever Jacob Kostyshck over the center field wall with one out in the ninth inning.
Zimmerman, who had just missed a couple of other homers during the weekend and was the last out of Saturday's 4-3 Arkansas win, crushed the pitch from Kostyshock (1-1), who got both a blown save and a win.
"He had a fastball middle, we were trying to go away," Opitz said. "Kosty's pitch kind of two-seamed into the barrel and that thing got hit pretty hard man. But, you can't let that get to you, we got ABs (at-bat) the next half-inning so we get up there and we do what we did."
Zimmerman had made contact, but not gotten over the fence until his last at-bat of the series.
"Zimmermann, who is awfully, awfully strong, got a fastball up and hit it out dead center and we're tied," Van Horn said. "Just proud of the team for rallying the troops there in the bottom of the ninth, getting a leadoff single, two strikes on the hitter."
Missouri left-hander Tyler LaPlante was pitching a perfect game through five innings with 15 Razorbacks up and 15 down, but didn't make it into the seventh inning.
Arkansas second baseman Jack Kenley launched a solo homer, his fourth of the season, to start off the bottom of the sixth to break up the perfect game, the no-hitter and the shutout.
The Razorbacks added a second run in the sixth inning when Jacob Nesbit singled and eventually scored on Kjerstad's infield single and an error that occurred after Nesbit froze between third and home.
"Yes, I had a little brain fart for sure," Nesbit said. "I was a little confused by it. We were fortunate to get that run in and after everything simmered down, it was really cool.
"I wasn't quite sure (if Kjerstad was out). I just turned around and then all of a sudden the play was still going on and I just ran and scored."
Van Horn was impressed with LaPlant, who gave up three hits, two runs with one unearned, and finished with three strikeouts and no walks.
"I thought there would be a little more fireworks today," Van Horn said. "Maybe a little more offense. But LaPlante didn't give us much the first four or five innings. Quick at bats and didn't throw very may pitches. And after five innings I guess it looked like he might throw a complete game the way he was being so efficient just getting us out. He wasn't too concerned about striking us out, just getting us out.
"He pitched like a senior, a veteran. He kept moving our around. Every time we thought we were getting a change up he'd bust a fastball in on us and we never really got good swings.
"I think we had two or three balls maybe deep to the warning track but we didn't have any line drive type hits until Kenley got hold of a fast ball. It looked like he tried to slip one by him after a couple of breaking balls and a changeup. Jack didn't miss it."
He was also impressed with his own pitching with Arkansas starter Cody Scroggins going five inning of scoreless baseball while allowing three hits, walking two and fanning seven.
Five of those whiffs came in a row during the second and third innings.
"Scroggins was really good," Van Horn said. "His first two innings, he hits a batter to start the game, but really the first three innings his stuff was electric. He was throwing the ball in the mid 90s with a plus-plus change up and a really good slider and racked up a lot of strikeouts. But also his pitch count got up because of that."
Kevin Kopps relieved Scroggins and went 1 2/3 innings for Arkansas while allowing one hit and Kotyshock tossed the final 2 1/3 innings of the weekend.
Arkansas pitching allowed just five runs in three games with each team having just five hits on Sunday.
"Unbelievable," Opitz said. "The most we gave up was three runs a game…It was unbelievable what they were doing out there. Every single guy, I had so much confidence in them and our defense played unbelievable behind them. It was a lot of fun being back there with this kind of staff."
Discussion
Have a comment on this story? Join the discussion or start a new one on the Forums.