Hazen's Toll feeling right at home in Fayetteville
Published: Wednesday, March 20, 2019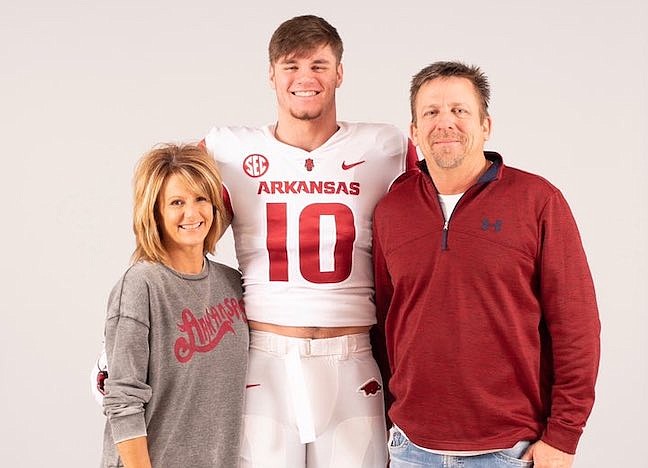 FAYETTEVILLE — When he arrived at one of Arkansas' summer camps in 2018, Hazan's Blayne Toll was an outstanding-looking prospect, albeit not a very well-known one.
But when the current junior defensive end visited the Razorbacks earlier this month, that certainly was not the case.
Toll (6-6, 242), who also plays quarterback for the Hornets, is regarded as the best 2020 prospect in Arkansas by ESPN and has a wealth of offers.
Those include the Razorbacks, LSU, Tennessee, Oklahoma State, Baylor, Louisville, Memphis, Arkansas State and others.
"It really has been something, all the attention coming my way and I just feel very honored and blessed," Toll said. "It's really been something."
During his last visit, Toll felt like he might could be a tour guide after his numerous treks to Fayetteville for games and unofficial visits with the Arkansas coaches.

"It was good," Toll said. "It's always good when I'm up here in Arkansas. Just like family up here. I've been up here so many times I could probably give a tour to myself."
There were some new facets to view, including Arkansas' updated state-of-the-art locker room.
"They made some improvements around the locker rooms and stuff," Toll said. "It's just new stuff they keep adding on."
Toll has visited Arkansas several times and Tennessee and LSU once each. He was scheduled to visit LSU on March 16, but a baseball tournament kept that from happening.
Toll had thought at first he might end the process early, but has slowed things down.
"I don't really know where I am going to go yet," Toll said. "It's just a long process. I'll talk to God about it and that will answer my question."
Hazen was 13-1 last season with the only loss coming in the Class 2A state championship game to Junction City 36-22.
Toll expects to challenge for the title again this season despite him losing all of his starting offensive linemen.
"I feel like we'll be pretty good," Toll said. "We've got great skill guys all around. We have some really good linemen, but they didn't start last year so they don't have the experience, but they are pretty big and strong."
Discussion
Have a comment on this story? Join the discussion or start a new one on the Forums.