Arkansas bashes Alabama to take series opener
Published: Friday, March 22, 2019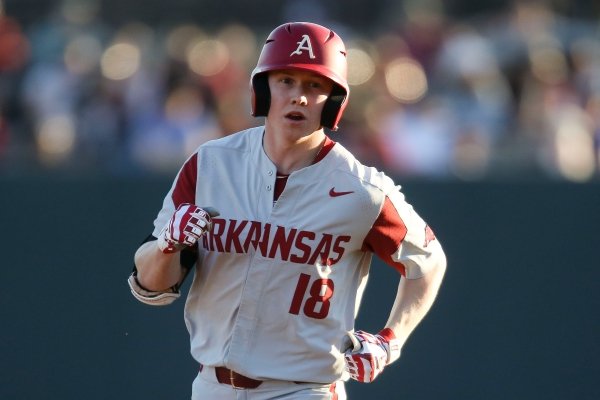 Arkansas' Heston Kjerstad (18) runs around the bases after hitting a solo home run against Alabama during an NCAA college baseball game in Tuscaloosa, Ala., Friday, March 22, 2019. (Gary Cosby Jr./The Tuscaloosa News via AP)
TUSCALOOSA, Ala. — After an SEC series sweep of visiting Missouri based mostly on its pitching last weekend, Arkansas took its bats on the road and unloaded the lumber Friday night in Tuscaloosa.
Heston Kjerstad homered and drove in four runs the first two innings as the No. 9 Razorbacks (19-3, 4-0) had 15 hits, scored seven early runs and cruised to 12-3 win over Alabama at Sewell-Thomas Stadium.
Arkansas ace Isaiah Campbell (5-0) pitched seven shut out innings in the first game of the three-game series while Jacob Nesbit hit a two-run homer in the eight for the first of his college career and Dominic Fletcher also homered in the ninth.
"It was really good to get going early and get a good start on the weekend," Razorback head coach Dave Van Horn said. "We got some hits, got good pitching and just kept it going."
Kjerstad battled Alabama starter Sean Finnerty (2-2) for nine pitches as the second batter of the game before the 10th one delivered to him was sent over the right field fence for his fourth of the season and a 1-0 lead.
The floodgates then opened against the Crimson Tide (18-5, 1-3) in the second as the Razorbacks used six hits to score six, two-out runs.
Matt Goodheart and Jack Kenley, who like Kjerstad had three hits each during the contest, both singled to get things going.
Christian Franklin, who had another great night defensively, followed with an RBI single to make it 2-0 before Casey Martin was hit by a pitch to the load the bases.
With a 3-2 count and the runners all off with the pitch, Kjerstad hit a single into right center that plated all three runners for a 5-0 edge.
"The fastest guy (Martin) on the team is on first base and scores from first on a single," Van Horn said. "That is hard to do. It was good hustle from Martin, especially after getting drilled on the inside of the knee. You could hear it. It sounded like it hit a wood bat. That was not good and a little spooky."
Trevor Ezell added a run-scoring double and Fletcher an RBI single to push it to 7-0 before the inning was over.
"Obviously they have a veteran pitcher on the mound and he has escaped some jams in his career," Van Horn said. "He was just one out away from getting out of it, but we just kept putting the bat on the ball, fouling it off and got some big hits.
"We just kept chipping away and next thing you know we have scored six runs and we are up 7-0 with Campbell on the mound and we are feeling pretty good and we're like, 'we just have to manage this.'"
Campbell would need 91 pitches to get through his seven innings while allowing five hits, fanning seven, walking one and hitting one.
"He wasn't as good as he has been the last three weeks, but it was good enough," Van Horn said. "He battled and got out of a couple of jams and we spotted him a seven-run lead after two and I think that freed him up.
"So while his stuff was not as good as it had been and he knew it, he still threw a lot of strikes. And that is what you do when you are winning. You have to throw the ball over the plate and make them hit it."
Campbell, who was followed to the mound by Elijah Trest, Evan Taylor and Marshall Denton, wanted to do just that in his outing.
"I definitely did not have my best command and I had to rely heavily on my cutter tonight," Campbell said. "If I had not had that, it would have been real tough. But I battled and got my team seven scoreless innings and gave us a chance to win."
The six-run second inning helped immensely, according to Campbell.
"It was awesome," Campbell said. "It just makes it easy for you and you just to throw strikes. Our hitting has been great all year. To get a win like this on Friday night in the SEC is fantastic."
Franklin had two great catches that may have saved as many as five runs.
"Franklin made a beautiful catch going back and made a great catch on a ball slicing away from him," Van Horn said. "He is a center fielder playing left field and he saved us some runs."
Goodheart, Kenley, Nesbit and Franklin, the bottom four in the Razorbacks' batting order, had nine of the team's 15 hits.
"We are getting a lot of production at the end of the order and it seems like we are getting more and more," Van Horn said. "At least once a game they are driving in runs and being a big part of the inning.
"Really the whole lineup is getting after it. Martin is struggling a little bit, but we are winning without him getting big hits, but he is playing great defensively and it will turn around."
Arkansas will send out true freshman Connor Noland (0-0, 3.80 ERA) against Alabama redshirt junior Brock Love (2-0, 2.30) Saturday at 2 p.m.
"Connor will go tomorrow and the good thing is we feel like we are getting our arms back rested up from last week and Tuesday night," Van Horn said. "Hopefully Connor can go out and give us a good outing and then we can match up with them from that point on."
Discussion
Have a comment on this story? Join the discussion or start a new one on the Forums.