Alabama returns favor, hammers Arkansas in Game 2
By: Joey Chandler, Special to the Democrat-Gazette
Published: Saturday, March 23, 2019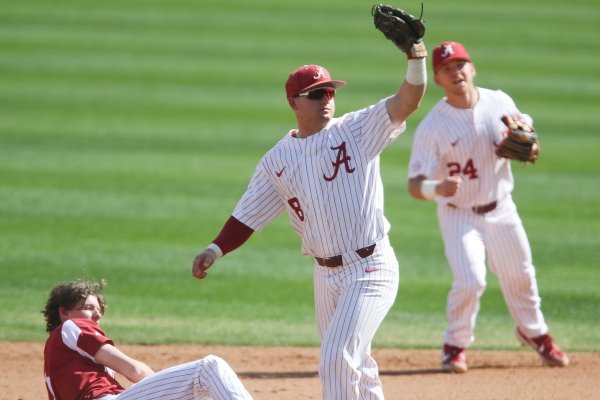 Alabama second baseman Morgan McCullough (8) holds up the ball after tagging out Arkansas' Jacob Nesbit (5), who attempted to advance on a mishandled ball by the catcher during a college baseball game Saturday, March 23, 2019, in Tusacloosa, Ala. (Gary Cosby Jr./The Tuscaloosa News via AP)
TUSCALOOSA, Ala. — No. 9 Arkansas (19-4, 4-1 SEC) struggled early and often in a 10-0 loss to Alabama (19-5, 2-3) to even the three-game series on Saturday afternoon at Sewell-Thomas Stadium.
Starting pitcher Connor Noland (0-1) picked up the loss in 1 2/3 innings. The freshman allowed 3 hits, 3 runs and walked 2 batters. The Razorbacks used five more pitchers, but were unable to be effective against Alabama's offense.
"We just got off to a bad start on the mound. Our starting pitcher was behind and didn't have his breaking ball today," Arkansas Coach Dave Van Horn said. "They were hitting a lot of balls hard, so it wasn't looking good from the start as far as getting them out. They just kind of took it to us offensively."
A big sixth inning allowed Alabama to pull away for the shutout, its first over Arkansas since a 5-0 victory on April 6, 2013, in Tuscaloosa. The Crimson Tide scored 6 runs in the sixth, scattering 5 of their 9 hits and taking advantage of 3 walks.
"Once they punched in the first couple and it was 5-0, it was already not looking good for us," Van Horn said. "After that, we came in with a couple of guys just to try and get us through the inning, and after that we just kind of threw out there some of our younger guys trying to save our bullpen. We needed to get ourselves back in it offensively, which we didn't do, so we tried to save some bullpen guys for tomorrow."
Keith Holcombe led off the second inning with a home run to left field to give Alabama a 1-0 lead. Kolby Robinson hit a two-run single with two outs to make it 3-0.
"I felt like we just had a better approach in the box," said Robinson, who finished with two hits and three RBI. "We weren't trying to do too much throughout the lineup, just trusting the guys behind us and not trying to do too much and just get on base any way you can."
The Razorbacks left six runners on base. Trey Harris doubled to left field in the second inning, but Arkansas was unable to string together any hits. Casey Martin, Dominic Fletcher and Jacob Nesbit each singled for the other three Razorbacks' hits.
Brock Love (3-0) picked up the victory. In 5 1/3 innings he allowed 2 hits, walked 3 and struck out 1 batter.
Game 3 is scheduled for 1 p.m. today.
"Bottom line is Alabama just kind of took it to us today," Van Horn said. "You just have to learn from what happened today. You've got to think about it, and then just move on to the next day. That is what you have to do in this league because nobody is really going to give you anything. You've got to take it. We are on the road and it's a Sunday game. It's a tough game for us and we are going to have to play a perfect game to win tomorrow."
Discussion
Have a comment on this story? Join the discussion or start a new one on the Forums.