Adversity made Warrick a better player
By: STEVE ANDREWS Special to the NWA Democrat-Gazette
Published: Friday, March 29, 2019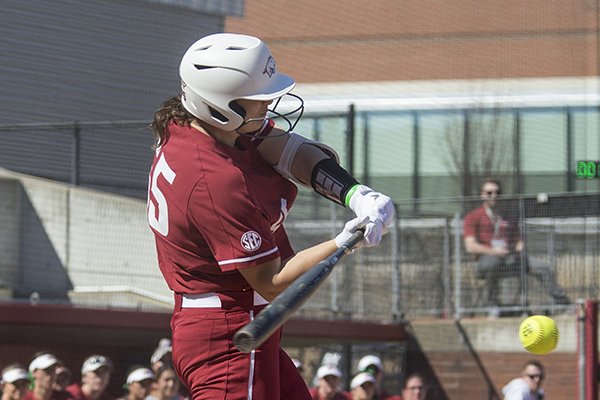 Arkansas outfielder Katie Warrick bats during a game against South Carolina on Sunday, March 17, 2019, at Bogle Park in Fayetteville.
FAYETTEVILLE -- Adversity is all about how you handle it.
For Arkansas softball slugger Katie Warrick, adversity, and her ability to handle it, has single-handedly molded her into the player and teammate she is today.
At A Glance
College Softball
At Bogle Park, Fayetteville
FAST FACTS
No. 13 ARKANSAS
COACH Courtney Deifel
RECORD 23-10, 4-5 SEC
EYE ON RHP Mary Haff (12-7, 6 Shutouts, 3 Saves, 128 Ks), 1B Ashley Diaz (.364, 6 HRs, 31 RBIs), DH Danielle Gibson (.389, 7 HRs, 32 RBIs).
No. 18 KENTUCKY
COACH Rachel Lawson
RECORD 21-11, 6-3 SEC
EYE ON 3B Abbey Cheek (.481, 9 HRs, 33 RBIs), SS Katie Reed (.363, 6 HRs, 27 RBIs), RHP Meghan Schorman (4-0, 2.24 ERA, 35Ks)
SERIES SCHEDULE
TODAY Kentucky vs. Arkansas, 6 p.m.
SATURDAY Kentucky vs. Arkansas, 1 p.m.
SUNDAY Kentucky vs. Arkansas, 1 p.m.
SHORT HOPS Arkansas junior pitcher Autumn Storms now has an 11-3 record and has lowered her ERA to 1.98 with 109 strikeouts. … Razorback sophomore Hannah McEwen has got a hit in all but three games this season, including a 14-game hit streak, the longest by any Hog this season. … In Bogle Park's 10th season, Arkansas has played 243 games with an overall record of 134-109. … Kentucky coach Rachel Lawson is in her 12th season and already ranks as the winningest head coach in school history. … The Wildcats have nine run-rule wins this season.
ONLINE arkansasrazorbacks.com
— Steve Andrews • Special to the NWA Democrat-Gazette
"Every day, every game, every at-bat is a chance to do something special," the 6-foot senior Warrick said. "I try to do the best I can in anything I do."
She may not get the fanfare, but she has proven to be a vital part of the Arkansas softball program's revival over the past three seasons.
Despite missing the first 18 games of last season with an injury, Warrick still finished second on the team with eight home runs and a .560 slugging percentage, and then earned All-SEC Tournament honors after hitting .444 with two doubles in Columbia.
Taking over right field duties this season, she leads the team with eight doubles and is again second with six home runs. But no swing has been bigger than her smash in the fourth inning last Saturday at No. 5 Tennessee when she muscled an inside fastball over the left field wall. Her solo homer, along with Mary Haff's dominant pitching performance, led the No. 13 Razorbacks to a 1-0 victory.
After going 3-for-3 with a pair of doubles in the first game of Tuesday night's doubleheader at UT-Arlington, Warrick hopes to stay hot against No. 18 Kentucky this weekend at Bogle Park. The first of a three-game series begins at 6 p.m. today.
"Katie is just someone who continues to get better in her role," Arkansas coach Courtney Deifel said. "The biggest growth we have seen in Katie is just in the confidence that she now sees in herself.
"But as talented as she is on the field, she is one of the best people that I have ever had the privilege of knowing. She really has as true of a heart as you can get."
Warrick began her love of the game in the backyard of her family's Unionville farmhouse, in central Tennessee, playing baseball with her brothers Gabe and Joseph. The boys quickly found out that their younger sister could hit and had a great fastball.
"We started out when we were young, hitting rocks and that kind of thing," Warrick said.
As a 12-year-old, Warrick was the only girl on a youth baseball team that won a national championship. But when she turned 13, she was informed she could no longer play baseball.
"They said that I had to play softball, so I was so heart-broken; I cried," Warrick now says with a giggle. "But I decided to try softball, and it's worked out for me."
She grew up admiring her oldest brother, who was four years older.
"My brother Joseph is one of the most inspirational people I have had in my life," Warrick said. "He was just the best person I had even been in contact with. He was always the best person he could be in school and in everything he did."
Warrick began to excel as a hitter and pitcher in both high school and on the travel-ball circuit. But it was early adversity that would change her life forever.
First, she had to battle back from a broken leg she suffered her sophomore year at Forrest High School in Chapel Hill, Tenn. Then in August 2014, the worst heartbreak of her life occurred when her 21-year old brother Joseph died in a car accident.
"My senior year of high school, I started off so depressed, but everyone kept telling me to play for Joe, so that's what I did," Warrick said. "He was my biggest fan, so I know he was there with me every game, and still is."
Overcoming the loss was the biggest obstacle she has ever had to overcome, but through faith, family, friends and softball, she got back into the game.
"Joseph was always there to encourage me, so it just motivates me to this day to try and emulate him and always do my best in anything I am doing," Warrick said. "He has taught me to take every day like it means something to you and not take anything for granted. It definitely changed my life forever."
Warrick was voted a Max Preps All-American her senior year in high school and was also selected to the USA Junior Olympic Pool. She accepted her lone scholarship offer to play at Tennessee-Martin.
Despite having a stellar freshman season for the Skyhawks, she felt that bigger things lay ahead. So when Deifel offered her an opportunity to transfer to Fayetteville, Warrick was accepted with open arms.
"We knew her ability, and we saw the numbers she put up at Martin," Deifel said. "She is one of the strongest girls you will ever see, she is a great teammate, and she has just continued to get better since she has been here."
After graduating, Warrick plans to move back to central Tennessee to teach school and, hopefully, coach softball. But she is quick to point out that first, there are still things to accomplish this spring.
"This is the best teammates and group of girls that I have ever been a part of," Warrick said. "This is special team and coaching staff.
"Honestly, I think we can go to the World Series. We got what it takes, so we just have to believe."
Sports on 03/29/2019
Discussion
Have a comment on this story? Join the discussion or start a new one on the Forums.