New Arkansas hoops coach will find talented in-state 2020 class
Published: Saturday, March 30, 2019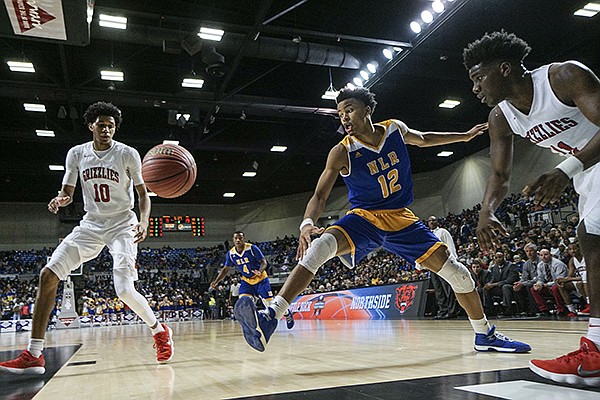 (
Mitchell PE Masilun
)
North Little Rock's Moses Moody (12) kicks the inbound pass during the Boys 7A Basketball Championships at Bank of the Ozarks Arena in Hot Springs Thursday, March 8, 2018.
FAYETTEVILLE — No matter who the next head basketball coach at Arkansas is, he will need to get to work quickly on both the 2019 and 2020 recruiting classes to make his new job easier.
There's no way right now to tell which players on the current roster will stick around, although freshman Keyshawn Embery-Simpson is the only one so far to put his name in the NCAA transfer portal.
But as much as the new hire might have to supplement his 2019-2020 roster with signees this spring, it's the opinion here that 2020's recruiting class could greatly jumpstart his success.
That's because the 2020 in-state class is loaded with big-time difference makers, including two of the nation's top 60 players, per ESPN, and four of the top 150, per Rivals.
That group will have the opportunity to sign in November, even before the first game of the 2019-2020 season.
If it were me, my first calls would be to former North Little Rock and current Montverde, Fla, Academy junior guard Moses Moody (6-5, 180), West Memphis junior forward Chris Moore (6-6, 220), Jacksonville junior point guard Davonte Davis (6-3, 170), Fort Smith Northside junior center Jaylin Williams (6-10, 220), Marion junior Detrick Reeves (6-3, 180) and Bryant point guard Khalen Robinson (6-0, 170).
Moody, Moore, Davis and Williams will all play for the Woodz Elite AAU program this spring and summer. All had offers from former Razorbacks coach Mike Anderson.
I would also make a call to Tulsa Booker T. Washington guard Bryce Thompson (6-5, 175), but that ship may have sailed with the firing of Anderson and the intent to look around by Embery-Simpson, Thompson's close friend and former AAU teammate.
Moody is ranked as a 5-star prospect and the No. 26 overall prospect in the country by ESPN - just 60 players so far in its 2020 rankings - 36th nationally by 24/7 and 48th by Rivals.
Moody and Montverde are currently preparing for the GEICO National High School Tournament April 4-6 in New York City and trying to defend the title with a new group.
That tournament will be televised on ESPNU, ESPN2 and ESPN with Montverde Academy opening Thursday against University School of Florida, who has Duke signee Vernon Carey (6-10, 270).
Davis, who committed to Oklahoma State back on Dec. 3, is ESPN's 53rd-best player nationally, 24/7's 96th-best overall, Rivals' 128th and a four-star prospect.
He chose Oklahoma State over Arkansas, Florida, Oregon, Auburn, Ole Miss, St. Louis, SMU and others.
Moore is ranked 132nd nationally by Rivals, 138th by 24/7 and is being coveted by Memphis, Ole Miss, Auburn and others.
Memphis coach Penny Hardaway was in to see Moore earlier this week.
Williams is the prospect who has likely improved most in the past year, having gone from averaging 8 points and 7 rebounds as a sophomore to 18 and 10 as a junior.
He played his best basketball at the end of the regular season and in the state tournament. He grabbed MVP honors while leading Northside to its second state title in three years.
Williams, who is likely to see his ranking rise due to more exposure this spring and summer, has offers from Oklahoma State, TCU, Tulsa and Lamar.
Reeves is being recruited by Baylor, Oklahoma State, Arkansas State and Southern Miss and led his team to the Class 5A state championship game this season.
There is only one senior slated to be on the Arkansas roster right now, so there might not be room for everyone.
But you have to go get some of them at least or they will be winning games against you and not for you.
Discussion
Have a comment on this story? Join the discussion or start a new one on the Forums.