6 UA teams record perfect score in NCAA grading system
By:
WholeHogSports
Published: Wednesday, May 1, 2019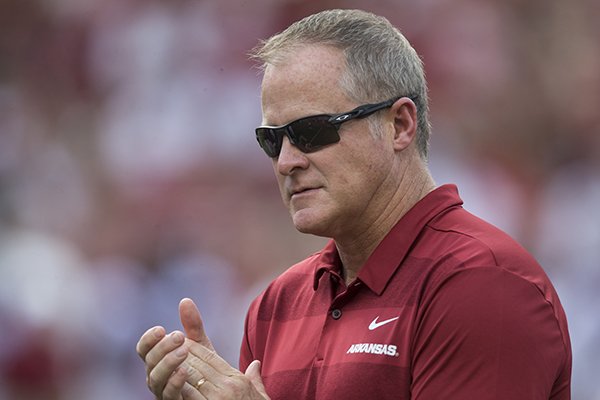 Arkansas athletics director Hunter Yurachek is shown during a football game against Eastern Illinois on Saturday, Sept. 1, 2018, in Fayetteville.
A record six University of Arkansas athletic programs — all women's sports — earned public recognition from the NCAA for academic performance, the UA announced on Wednesday.
The Razorbacks' six women's sports that were honored by the NCAA for being in the top 10 percent for their Academic Progress Rate (APR) multi-year scores included cross country, golf, gymnastics, softball, tennis and volleyball.
All six sports earned a perfect score of 1,000 based on results from the 2014-15 through 2017-18 academic years.
APR scores are a measure used by the NCAA based on points each semester for student-athletes maintaining eligibility, remaining at the same school and graduating.
The NCAA will announce APR scores for all sports for all Division I teams next Thursday, May 8.
Arkansas' previous high was five sports earning public recognition in the same school year from the NCAA in 2011-12.
"To be recognized among the top 10 percent of programs in the nation is a tremendous accomplishment and a credit to our student-athletes, coaches and staff," Arkansas athletics director Hunter Yurachek said in a news release. 'Congratulations to all those who have contributed to this remarkable accomplishment.
"We look forward to even greater success to come as Razorback Athletics continues to focus on student-athlete success on the way to achieving our mission of building champions and Razorbacks for life."
Arkansas' women's golf team was in the top 10 percent of the APR scores for the sixth consecutive year and 10th time in the 14 years since the NCAA began using the system.
The gymnastics team earned its fifth award and volleyball its fourth and first since 2013-14. Tennis has earned back-to-back awards while cross country and softball are being recognized for the first time.
Arkansas has earned a public recognition award in 13 of 14 years.
Discussion
Have a comment on this story? Join the discussion or start a new one on the Forums.