Musselman hopeful about recruiting prospects
Published: Thursday, May 2, 2019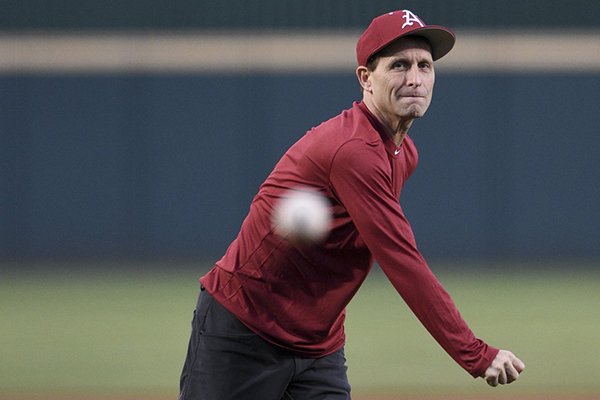 (
Charlie Kaijo
)
New Arkansas basketball coach Eric Musselman throws the ceremonial first pitch prior to the Razorbacks' baseball game against Mississippi State on Thursday, April 18, 2019, in Fayetteville.
Even though we are about the same age, I'm not sure whether new Arkansas basketball coach Eric Musselman is as much a fan of the late Tom Petty as myself.
But one thing that is clear, Musselman has the mentality that fits in Petty's hit "Won't Back Down."
That's evident by the fact that he has offered several five-star and highly regarded four-star prospects in the 2020 class since arriving in Fayetteville.
Those prospects include at least six junior five-stars in Montverde, Fla., Academy guards Moses Moody (6-6, 190) and Cade Cunningham (6-7, 215), Phoenix, Ariz., Hillcrest guard Kyree Walker (6-6, 200), Lakewood, Calif., guard Josh Christopher (6-4, 200), Leander, Texas, Vandergrift forward Greg Brown (6-9, 195) and Orange, Calif., center Mukar Maker (7-0, 235).
Musselman should be getting visits from a pair of possible 2019 additions next week in Daytona State's Khadim Sy (6-10, 245) and California transfer Connor Vanonver (7-3, 235). The UA coach told Andy Katz on his March Madness 365 podcast that his new home gives him several reasons to think he can land the nation's best.
"When you are at a place like Arkansas, you have the ability to recruit four- and five-star players," Musselman said. "We want to aggressively do that."
Musselman has officially hired one assistant in Corey Williams, while former Nevada assistant Anthony Ruta has been in Fayetteville helping the new head coach, although he has not been officially announced as on staff.
"We are going to put the time in," Musselman said. "Because obviously when you recruit, high-, high-level basketball players, there needs to be an incredible time commitment from the head coach as well as your assistant coaches. We need to do that and we will do that because that is how you have to compete at a high level in a conference like this."
West Memphis forward Chris Moore (6-6, 220) and Fort Smith Northside junior center Jaylin Williams (6-10, 220) are two of the four-stars and players seen in the past two days by the new Arkansas staff.
Williams was offered by Auburn and elevated to a four-star prospect and Top 100 player nationally on Wednesday by Rivals.
Other four-star Arkansas targets offered are Phoenix Hillcrest guard Dalen Terry (6-6, 200), Duncanville, Texas, small forward Micha Peavy (6-6, 180), Baltimore, Md., Mount Zion Opera power forward Woody Newton, (6-9, 190), Short Hills, N.J., Blair Academy guard Jabari Abdur-Rahim (6-6, 180) and Napa, Calif., guard Nimari Burnett (6-4, 180).
He got to see many of the above-mentioned prospects this weekend as a live recruiting period saw him visit AAU tournaments in Atlanta and Dallas.
"It felt awesome," Musselman said. "It's obvious that the brand carries weight and we recognize that whether you go into a restaurant, whether you are in a gym, it's obvious the name brand just carries so much weight.
"It is important in recruiting that there is recognition right away. I certainly feel like with the regular players that they understand who Arkansas is and now it is our job and get not only people who recognize it, but get them overly excited about it as well."
Musselman believes there are several things about Arkansas that allow him to think big in terms of recruiting.
That includes Arkansas talents such as former North Little Rock star Moody, Moore and Williams, whose stock is likely to rise as he plays for the Woodz Elite AAU organization this spring and summer.
"When you look at the program as a whole, you start thinking about fan support, you think about recruiting in your area, what type of players you are after talent-wise and what you can hit within driving distance, there are just so many factors," Musselman said.
"And then the rich, rich tradition and all the great players that have played here, Arkansas is a really, really, really good job. The resources, the facilities. I have never been at facilities like this at all. The facilities that we have are better than what I saw at the NBA places I was at."
So even in a world that might keep on pushing him around and stands him up at a place once known as the gates of "40 minutes of Hell," Musselman looks ready to stand his ground and not back down.
That's even if there is no easy way out.
Dudley E. Dawson can be reached at ddawson@nwadg.com .
Discussion
Have a comment on this story? Join the discussion or start a new one on the Forums.