Arkansas softball:
Razorbacks down No. 23 Auburn, win series
By: Brandon Davis, Special to the NWADG
Published: Saturday, May 4, 2019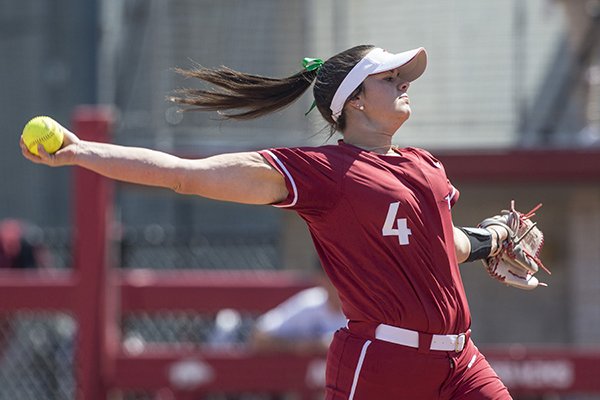 Arkansas pitcher Mary Haff throws during a game against South Carolina on Sunday, March 17, 2019, in Fayetteville.
FAYETTEVILLE — The No. 20 University of Arkansas softball team secured a home series win with a 7-1 victory over No. 23 Auburn.
After multiple attempts to score, the Razorbacks got hot behind Ryan Jackson's double off the wall in left-center and never looked back.
"I was just trying to keep it simple," Jackson said. "We had two outs and I was just trying to put the ball in play."
Entering the sixth inning, the Razorbacks (37-17, 11-12 SEC) made three hits and left four runners on base. After a throwing error by Auburn (35-17, 10-13 SEC), Arkansas tied it up 1-1. With two outs and facing a 2-2 count, Jackson's connection on a RBI double was enough to bring Sam Torres, Kayla Green and Sydney Benz home for a 4-1 lead.
While facing those two outs, the Razorbacks continued to make contact and was able to put the game out of reach for the Tigers. Hannah McEwen and Danielle Gibson made back-to-back RBI plays to score four more runs.
Arkansas pitcher Mary Haff (18-11) allowed four hits, did not walk a batter and struck out four. For Haff, the key to success was her team being on the same page for seven innings.
"They (Auburn) are really gritty," Haff said. "We knew that we had to have our A-game because they were ready to play."
Auburn's Casey McCrackin scored the only run for the Tigers in the third inning following a Torres error. Pitcher Ashlee Swindle (9-8) gave up only three hits going into the sixth and struck out two Razorbacks. Lexie Handley came in to relieve Swindle after Ashley Diaz's single.
Now that the regular season comes to a close with Senior Day on Sunday, Arkansas coach Courtney Deifel would like to have all of the momentum as the SEC Tournament looms next week.
"It would be huge for us going into the tournament," Deifel said. "Regardless of win or lose, I like how we're playing and how we're fighting."
SHORT HOPS: McEwen has made a hit in 49 of the last 54 games. … Arkansas moves up to 16-1 when it has scored at least five runs. … The Razorbacks have scored 57 out of 275 runs in the sixth inning. … After being hit in the sixth inning, Nicole Duncan now has the most hit by pitches in a single season with 17.
ON DECK: Arkansas plays its final regular-season home game at Bogle Park on Sunday at 1 p.m. Admission is free to the public.
Discussion
Have a comment on this story? Join the discussion or start a new one on the Forums.