Arkansas' opening game at SEC Softball Tournament delayed until Thursday
By:
WholeHogSports
Published: Wednesday, May 8, 2019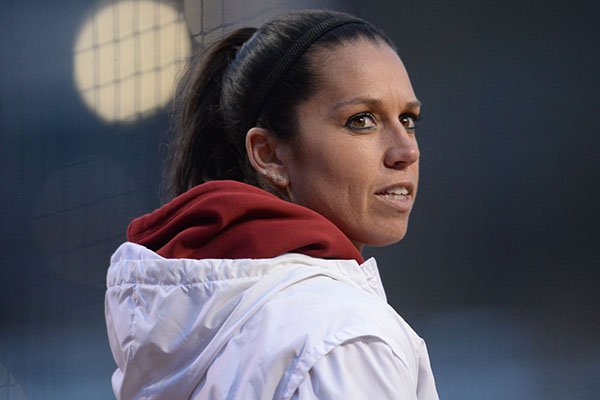 Arkansas coach Courtney Deifel watches from the third-base coaches box against Southeast Missouri Thursday, Feb. 21, 2019, during the fourth inning at Bogle Park on the university campus in Fayetteville.
Due to weather delays, Arkansas won't play in the SEC Softball Tournament until Thursday.
Arkansas, the No. 9 seed in the tournament, will play No. 8-seed Georgia at 10 a.m., Thursday on SEC Network. The winner of the game is scheduled to play No. 1-seed Alabama later Thursday at 8 p.m.
All games at the tournament are single elimination.
The Razorbacks were scheduled to play the Bulldogs at 5:30 p.m., Wednesday, but weather delays in College Station, Texas, forced the postponement of two of the five games.
Heavy thunderstorms persisted in College Station throughout the day and a possible tornado was reported near the city's Easterwood Airport on Wednesday afternoon. Only one had been completed by the scheduled 6 p.m. restart of Game 2 between South Carolina and Florida, which was delayed nearly five hours.
Discussion
Have a comment on this story? Join the discussion or start a new one on the Forums.