Duplantis homer lifts LSU past Arkansas
Published: Saturday, May 11, 2019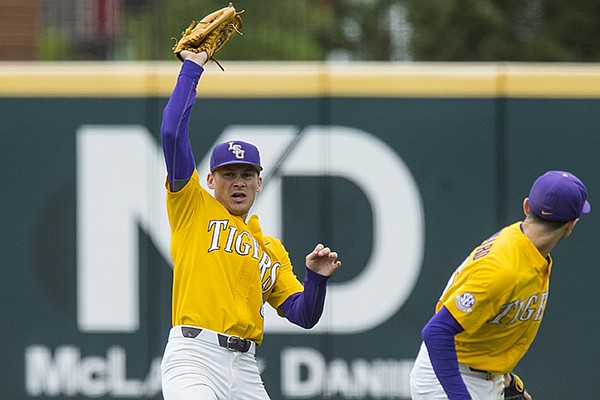 (
Ben Goff
)
LSU outfielder Antoine Duplantis makes a catch during a game against Arkansas on Saturday, May 11, 2019, in Fayetteville.
FAYETTEVILLE — LSU three-hole hitter Antoine Duplantis lifted his team's spirits and kept the skidding Tigers from a completely lost weekend.
Duplaintis' three-run blast off Razorback reliever Jacob Kostyshock proved to the game-winning blow as LSU rallied for a 3-2 win before a crowd of 11,037 at Baum-Walker Stadium.
It kept No. 4 and SEC Western Division leading Arkansas (39-13, 19-8) from a sweep and taking over the overall conference lead from Vanderbilt and ended a five-game losing streak for No. 15 LSU (31-21, 15-12).
"It was unbelievably huge," Duplantis said. "This has been a tough streak that we have been on, a downhill tear, but just being able to finally scratch one for the pitchers, who pitched their ass off today was good. I'm just glad we put enough runs together to get a win."
Duplantis was not sure he had gotten enough of the ball to clear the fence in right field.
"I didn't try to be too big and I was not trying to hit a homer," Duplantis said. "I just choked up, knew he was throwing hard and just tried to put a good stroke on it.
"Obviously that is what happened. I was running down to first and said a curse word, but then it ended up going over."
Arkansas had won the first two games of the series 14-4 and 11-6, rallying for wins in both games.
It was LSU's turn to rally on Saturday after being handcuffed by Arkansas starter Connor Noland. The freshman hurler pitched 5 1/3 innings and now has gone over 22 consecutive innings at home without giving up an earned run.
"It was a phenomenal atmosphere here all weekend and the Arkansas faithful support their team completely," LSU head coach Paul Mainieri said. "It was high energy the whole weekend, but we won the final game so that was a big win for us."
LSU got five strong innings from freshman starter Landon Marceaux and struggling Todd Peterson finished up the game with four scoreless frames to set the stage for Duplantis' heroics.
"What Peterson did and what Duplantis did was extraordinary stuff and to win in this league, especially on the road, you have got to do extraordinary stuff," Mainieri said.
Marceaux gave up seven hits and walked three, but managed to limit the damage.
He left the game with the bases loaded and no outs, but Peterson did not allow any inherited runners to score.
"Marceaux was the key," Mainieri said. "He got in a couple of jams and we were able to get out of them and then we were in a bases-loaded, no-out situation when Peterson came in and he was able to get out of that one. He got a force out at the plate and then that home to first double play."
Peterson only allowed one hit in his four innings of work while fanning three, walking a pair and throwing 60 pitches, including the one that ended the losing streak.
"It was so big," Peterson said. "It means everything. To give us one win here on the road in a very tough environment is big. To get out of here with one win, we are leaving with our heads up instead of heads down."
Arkansas got the tying run on with one out in the bottom of the ninth when Casey Opitz walked, but Peterson got Christian Franklin to line out and whiffed Trevor Ezell to end the game.
"That was a good win," Peterson said. "Coming in here and losing like we did the first two games was tough. Marceaux went out there and gave it everything he had and we competed the whole time and never gave up."
Mainirei noted he has stayed with Peterson during the season when LSU faithful had not been behind him.
"I have been an advocate for Todd Peterson all year when everybody else has wanted to throw him in the trash," Mainieri said. "You just can't be that up and down with kids. You have to be concerned with kids you believe in and I have always believed in him because he is unselfish, he has worked hard, he is committed, he will always take the ball and he's got talent.
"There have been struggles at times this year and everybody has wanted to throw him on the scrap heap and then your belief in him is rewarded when he goes and does something like he did today. Today was phenomenal, it was legendary stuff in this environment against that quality a team, especially a hitting team like that was amazing."
Mainieri is not used to his team being on the NCAA bubble.
"I don't think in terms of series, wins or losses or sweeps," Mainieri said. "They all count the same in the schedule. It was our 15th win in the league so we can finish no worse than .500 and we have one week left at home and if we have a successful weekend we can have a chance to be in the NCAA Tournament.
"I don't know that we would host, but maybe we could win the SEC Tournament and the NCAA committee might look at you differently."
Mainieri admits his heart was pounding in the ninth as his team tried to avoid the sweep.
"My heart has seen a lot," Mainieri said. "It was pounding like it has a thousand other games. I told the kids after the game that we have had a lot of big wins up here, won series and it is always a great environment and great competition against Arkansas.
"I have the utmost respect for (Arkansas head coach) Dave (Van Horn) and their program and for all these years we have just had some awesome competition. We didn't really keep up our end of the bargain in the first game, making it a good competition, but that has happened before.
"I remember we came here in 2009 and Dallas Keuchel shoved it against us. They hit about five home runs in the first game, (Andy) Wilkins and (Brett) Eibner and all those guys, but we came back and won the next two games."
Mainieri tried to sell his team on Saturday being a new day.
"You know each game is an entity to its own," Mainieri said. "I told our kids last night after the game that I thought they fought really hard, but the score was not really indicative of the kind of game it was and I expected today we would come out and play with a lot of enthusiasm, energy and confidence."
Discussion
Have a comment on this story? Join the discussion or start a new one on the Forums.