'Kind of surreal': Vanover transferring home to Arkansas
Published: Wednesday, May 15, 2019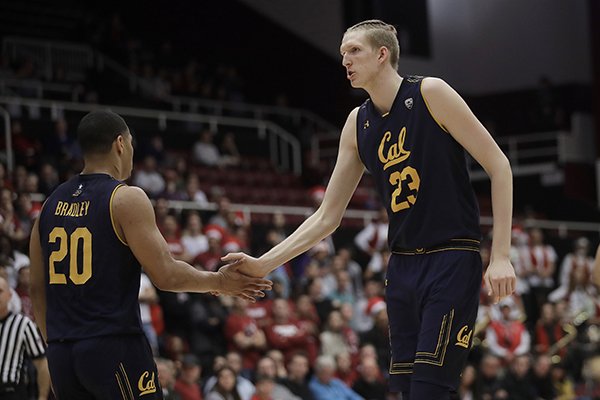 California guard Matt Bradley (20) celebrates with center Connor Vanover (23) during the first half of the team's NCAA college basketball game against Stanford in Palo Alto, Calif., Thursday, March 7, 2019. (AP Photo/Jeff Chiu)
FAYETTEVILLE — Arkansas native and California freshman transfer Connor Vanover is coming home to finish his college basketball career.
Vanover (7-3, 225 pounds) announced his decision to join new Razorback head coach Eric Musselman's program via Twitter on Wednesday. He also considered Vanderbilt and staying at California under new head coach Mark Fox.
Vanover, who will arrive in Fayetteville on May 28 and have three years of eligibility remaining, expanded on that decision on Wednesday afternoon while still in Berkeley, Calif.
"It is kind of surreal," Vanover said. "My mom (Robyn Irwin Vanover) played basketball there, so it kind of seemed like it was natural that I would go there, but it just didn't work out. But it is this time and the opportunity to play for Coach Musselman and put on that Razorback jersey is just too great to pass up.
"I just think it is the best place for my personal development as a person and an athlete and obviously it is a lot closer to home and my family will have the chance to see me play more."
Vanover confirmed his intention to apply for an NCAA waiver for undisclosed reasons. The waiver would allow him to be eligible immediately instead of sitting out the 2019-20 season.
"That's really all I want to say about it right now, that I will be applying for a waiver," Vanover said.
Musselman is excited about the addition of Vanover, who is a inside-outside player with exceptional shooting touch and who scored 1,000 points, 700 rebounds and 300 blocked shots while playing three years and winning two Class 4A state championships for Baptist Prep in Little Rock.
He averaged 17.1 points, six rebounds and 2.7 blocks in an average of 28 minutes in his final three games at Cal and over 12 points overall after coming back from a broken nose and concussion he suffered in early December.
"Connor has tremendous upside," Musselman said. "He is an incredibly unique player. At 7-3, he can stretch the floor offensively by shooting the 3-pointer and be a rim-protecting shot blocker on the defensive end."
Vanover is pleased with what he hears for Musselman, a former NBA head coach who went 110-34 the last four years at Nevada.
"He wants me to fill that big-guy spot for them, but also be a really good passer and be able to hit 3-pointers when we go 5 out," Vanover said. "He likes spacing the floor out and have me shooting the ball, doing dribble handoffs, playing inside and out. He sees a lot of things that I can do with my versatility."
Vanover, who starred at Baptist Prep in Little Rock and completed his prep career at Findlay Prep in Henderson, N.V., while playing alongside current Razorback Reggie Chaney, had not met Musselman until two weeks ago.
"He had not recruited before, so the first time I met him was when he came out here to Berkeley to see me the week before I took my official visit," Vanover said. "I was really impressed with his drive, and his passion for the game is really something I had not seen before. It was just really spectacular to see and I was really excited about what he has planned for me. "
Vanover is excited about teaming back up with Chaney.
"He is a great teammate," Vanover said. "He is a 6-8 big guy that is pretty versatile, very athletic and very strong. I think we complemented each other at Findlay Prep and will again at Arkansas."
Vanover averaged 6.8 points, 2.9 rebounds and one block per game for the Bears as a freshman. He shot 42 percent from the field and 32 percent from 3-point range.
Vanover started the final 15 games for Cal last season while averaging more than 12 points and seven rebounds. The Bears finished the season 8-23 overall and 3-15 in Pac-12 play.
That all came after suffering a broken nose and having a concussion in December that kept him from playing for almost a month.
"I broke my nose and got a concussion while diving on the floor for a loose ball," Vanover said. "...I couldn't do anything for three weeks, but came back for the first game of conference play and things went really well for me. i was playing confident and really feeling good about myself and that continued."
He looks back on the year at California with fond memories, but is also excited about his future at Arkasas.
"I think this last year was just a life lesson, to learn more about myself and I think that is the biggest thing I take out of it. I got to make a lot of close friends out here. Altogether it was just a great experience."
Discussion
Have a comment on this story? Join the discussion or start a new one on the Forums.