Musselman discusses new roster additions
Published: Thursday, May 16, 2019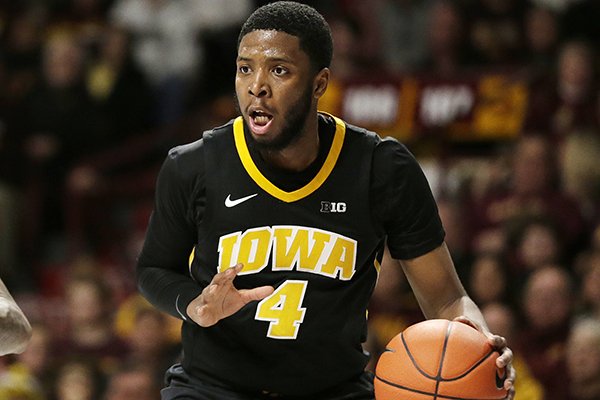 Iowa guard Isaiah Moss during an NCAA college basketball game against Minnesota Sunday, Jan. 27, 2019, in Minneapolis. Minnesota defeated Iowa 92-87. (AP Photo/Andy Clayton-King)
FAYETTEVILLE — The roster revitalization under Arkansas coach Eric Musselman continued Wednesday with the commitment of two more transfers into the program.
Iowa graduate-transfer guard Isaiah Moss (6-5, 208 pounds) became the third transfer to announce his decision, just hours after California center Connor Vanover (7-3, 225) did the same.
Arkansas also has added UNC-Wilmington graduate-transfer power forward Jeantal Cylla (6-7, 215).
Moss and Cylla will be eligible for the Razorbacks during Musselman's first season. Vanover will request a waiver to play immediately. He has an ill grandmother in his hometown of Little Rock.
"Certainly we'd be ecstatic if he could play next year," Musselman said. "But if it's a year from now, that's great, too, where we can work with him from a player development standpoint.
"Obviously Connor is a unique player at his size, being able to rim protect and be able to make three balls and the fact that he is really young and has such high upside. He is going to continue to get better and better as a basketball player."
Moss, who shot 39 percent from 3-point range, will join Mason Jones and Isaiah Joe as a 6-5 guards with excellent 3-point touch.
"Isaiah Moss is a guy that is going to stretch the defense out," Musselman said. "He is an excellent 3-point shooter and has had huge games against big-time programs.
"He is going to give us some veteran leadership and allow us to play with some flexibility because now with three guys that are 6-5...I think all three of those guys can really shoot the ball."
Musselman plans to play all three together at times with Joe, who shot 41.4 percent (113-of-273) from 3-point range last season, playing some at point guard.
"I think they will cause some mismatch problems and we can play those guys together, which is what we have planned," Musselman said. "We might be a little undersized at times, but we can also play big and play Isaiah Joe at point guard for short stretches in games, maybe two- or three-minute stretches a half and put him in a lot of pick-and-roll situations where he is a ball handler."
Cylla, who started his career at Florida Atlantic before transferring, averaged 13.7 points per game last season for UNC-Wilmington and shot 31.3 percent from 3-point range and 84.3 percent from the free throw line.
"Cylla is a guy that gives us experience, somebody that can play the four or the three at 6-7, and another guy that is a 3-point threat on the perimeter," Musselman said.
Musselman plans to add one more player to his 2019 class, which also includes Little Rock Christian point guard Justice Hill (5-11, 170), who enrolled at Arkansas in January.
"We have one more that we are going to explore, probably be a guy that sits out," Musselman said. "The high school market at this time, there is not a lot out there and we don't want to take a guy just to take a guy.
"So we are still looking at a proven Division I guy that might have more than one year to play."
One other possible addition is Phoenix Hillcrest Prep guard Kyree Walker (6-4, 200), who is ESPN's No. 12-ranked player in the 2020 class and is considering reclassifying as 2019 graduate.
Musselman, who plans to finalize his staff hires in the near future, also has his sights set on prospects in future classes.
"We are certainly excited about some of the players that we are involved with and want to continue to develop relationships with a lot of the 2020s and 2021s," Musselman said.
Keyshawn Embery-Simpson announced his intentions to transfer before Musselman was hired, while fellow freshman Ibby Ali recently put his name in the NCAA Transfer Portal.
Musselman expects the other players on the roster to stay in Fayetteville.
"I think so," Musselman said. "Obviously everybody has got to fit into a culture and we are getting to know each other. Ibby is really the only guy since I have stepped on campus (to leave). You want guys to buy in and you want them to really enjoy their school and being on campus and all that, the things that go into the transfer portal.
"Everybody thinks it is always just about the sport they are playing and it's not. The three guys that have committed here, it's not just basketball, it's not just playing for a certain coach or with certain teammates. It is about do you fit into a program academically and culturally, all those things are really important for current players and the ones you are bringing in."
Discussion
Have a comment on this story? Join the discussion or start a new one on the Forums.