Setbacks motivated Maria Fassi to return, win NCAA title
By: Doug Ferguson, The Associated Press
Published: Tuesday, May 21, 2019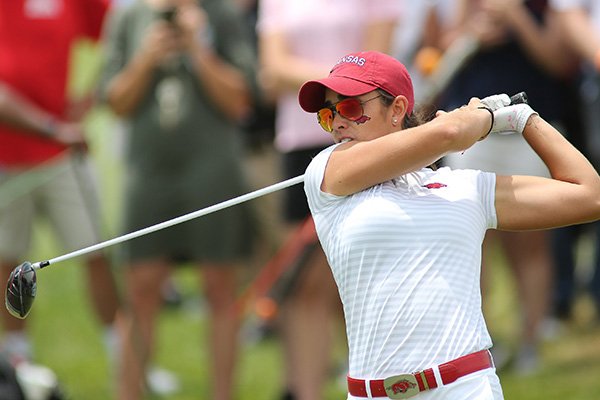 Nothing drives Maria Fassi like failure.
Fassi was the Annika Award last year as the best player in women's golf as a junior at Arkansas, only to play some of her worst golf in the NCAA championships. She returned for her senior season, motivated to atone for the way last year ended, especially with the NCAAs at Blessings Golf Club, the home course of the Razorbacks.
Fassi, with her high energy and a powerful swing, delivered a bogey-free round of 68 to win the NCAA individual title by four shots. She is the first woman from Arkansas to win the NCAA title since Stacy Lewis in 2007.
"After a pretty perfect year that my junior year was ... and then heading to nationals and playing pretty bad golf was not fun," Fassi told Golf Channel. "It was a feeling that I never wanted to feel again. I think I just grew from that. I don't like feeling that way, I don't like finishing second. I think those are things that fuel me. They make me wake up early, go work out and stay here to dark practicing. I think those are the things that have helped me this year."
Arkansas advanced to the eight-team portion of match play for the first time.
Last year wasn't the only failure motivating Fassi.
She had plenty of national media attention at the Augusta National Women's Amateur, where the final round at Augusta National became a duel with one of her best friends, 2018 NCAA champion Jennifer Kupcho of Wake Forest.
They were tied until Kupcho hit it close on the par-3 16th for birdie and Fassi's tee shot stayed on the top shelf, leading to a three-putt bogey.
"I think not winning at Augusta was probably the best thing that could have happened to me," Fassi said. "I can say that now that I have reflected. I know that not winning was probably what needed to happen because I knew I was going to learn a lot more from coming in second versus pulling that one off. Of course I hate losing, but coming here I knew what I was going to be put up against."
The next step for Fassi is to play for pay.
She played the LPGA Q Series late last year and earned a card, and then deferred her LPGA membership until after the college season. Fassi makes her pro debut next week in the U.S. Women's Open, and she is likely to have plenty of attention because of how hard she hits the ball.
"I think coming back was the best decision I ever made, and it paid off," she said.
Discussion
Have a comment on this story? Join the discussion or start a new one on the Forums.