Jones, Joe stand out in Hogs' opener
Published: Tuesday, November 5, 2019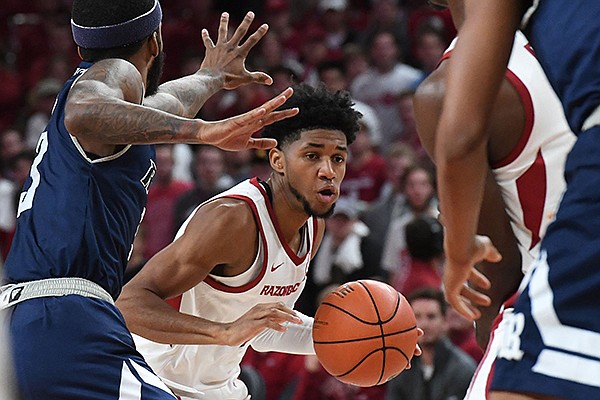 (
J.T. Wampler
)
Arkansas guard Isaiah Joe (1) drives with the ball during a game against Rice on Tuesday, Nov. 5, 2019, in Fayetteville.
FAYETTEVILLE — Mason Jones and Isaiah Joe outscored Rice by themselves but still were not satisfied with their shooting on a night when Arkansas put up a lot of points.
Jones had a career-high 32 points and Joe added 24 as the Razorbacks opened the season with a 91-43 thrashing of the Owls at Bud Walton Arena.
"This was the first game and a good showing, but I am not satisfied, Isaiah is not satisfied and the team is not satisfied," Jones said. "We have bigger things this year that we want to do and me and (Joe) have things we want to do, so just looking at this game, we can really learn from it."
The two combined to shoot 22-of-36 overall and 8-of-19 from 3-point range.
The Razorbacks were 10-of-25 from beyond the arc and shot a sizzling 55.2 percent from the floor. Rice shot just 28.6 percent (16-of-56 overall, 2-of-25 from 3-point range).
"We can do better," Jones said. "We had a couple of looks that we should have made - Isaiah had a couple of looks and I had a couple of looks. We have been pushing ourselves to be pros and pros don't miss open shots. We missed some open shots…but we want to get back in the gym and we want to be perfect.
"We know we are not going to perfect, but we want to be close so knowing that we missed a couple of shots, we will look at film. Being 10-of-25 was just OK to be honest with you."
The outcome was pleasing to first-year Arkansas coach Eric Musselman in his first game at the helm of the Razorbacks.
He loved what he saw from the duo of Jones and Joe.
"I thought that they both did a great job of sharing the basketball," Musselman said. "Behind closed doors, those guys have been phenomenal playing together. Obviously, with the makeup of our team, we are going to need those guys on the floor a lot. They create mismatches because of their shooting.
"You know, you really have to give Mason a lot of credit. For his whole career, he's been a 3 or a 2, small forward/off-guard, and we are asking him to play power forward. It's no secret, that's what he played the whole game tonight, and he accepted that. We have a guard-laden team, a guard-laden roster, and we need him to play the power forward spot."
Musselman was happy with everything except for having 21 turnovers on a night when Rice had 27.
"Now we had 21 turnovers so if we could 10 of those back and have a shot on goal maybe we score a little bit more," Musselman said. "Defensively I thought we were locked in; probably only had three or four defensive missed assignments which is very few for an opening night."
Adrio Bailey, a 6-6 senior, started at center and had 8 points and a team-high 9 rebounds as Arkansas won the board battle 45-27.
Joe's 7 assists were part of 19 the team had on a night when the ball movement was good.
"I think the count on our passes was right around 254 when our goal is 200," Musselman said. "It's the most passes that I've ever had a a college team have. So really good ball movement. They shared the ball. They had fun, they competed, they played with energy. They played with effort. They played with enthusiasm."
Joe was pleased with his seven assists.
"I have been working on other aspects of my game and playmaking has been one of them, being able to facilitate and create for my teammates because we have a lot of firepower and you just have to figure out how to utilize it, get people open and things of that sort," Joe said. "The system that we run that Coach Musselman has created for us is great and it works great in the system that we have."
Jones was also pleased with his defense.
"This summer, to be honest, was up and down for me because I was still trying to get used to the system," Jones said. "One thing Coach Musselman always did, and I will always appreciate him, is (stress) defense. He told me last year I really didn't play defense like that. I wanted to come in and prove I can rebound, that I can play defense, that I can get steals and I can do other things than offense."
Jones said they both appear good fits for a Musselman-coached team.
"We are going to get up a lot of shots," Jones said. "The offense we run is designed to get a lot of shots up. Some nights we might not be on, like today when we did miss some open shots, but we also made some big ones and I feel like the flow of the offense is just going to give us a lot of open shots."
Jones made it a point not to press in the opener.
"I was just letting the game come to me and the team had trust in me and knowing that Coach Musselman just wanted me to have fun and play," Jones said. "This year, I just want to have fun. Last year, I pressed myself and I was inconsistent. I was overthinking a lot and so this year I just want to have fun and let the game come to me and let the cheerios fall where they may."
Discussion
Have a comment on this story? Join the discussion or start a new one on the Forums.