Best web comments of the week
By:
WholeHogSports
Published: Saturday, November 9, 2019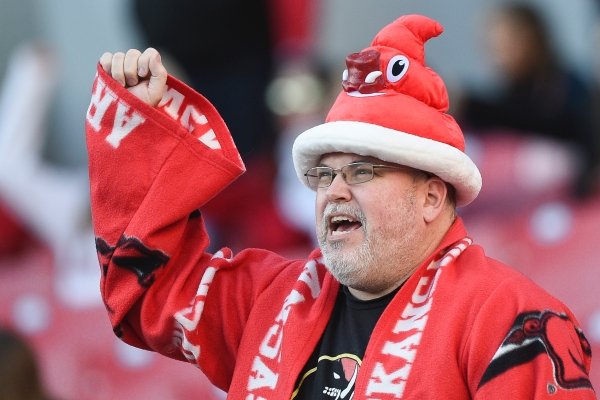 An Arkansas fan reacts, Saturday, November 2, 2019 during the third quarter of a football game at Donald W. Reynolds Razorback Stadium in Fayetteville.
Selected comments from the message boards at WholeHogSports.com:
First, the good news. KJ Jefferson led Arkansas to a touchdown on his first collegiate possession at quarterback
armyhog: K.J. sure has some speed. The Hogs need this type of spark early in games.
generalhog: He is the future of the program. What I saw proved what I've heard about him for a while now.
RichardDavenport: Running the run-pass option is his strength and not surprising he did well in that area. …Can K.J. pass effectively when teams load up the box to stop the run? That will be the key for him.
youdaman: K.J. has a lot of potential. He obviously can run the football. What will be the determining factor … can he learn how to put touch on the ball, read defenses … to get us in the correct play? This all takes a lot of time. He will not have the best of offensive lines to work behind.
Slapout: That was great … next year he is a redshirt freshman. The future looks good on offense. Give the linemen on both sides of the line of scrimmage a year or two in the weight room and things should be much improved.
nlrbuzzard: The kid has got talent, but he's still raw.
And the bad news. Arkansas' defense was ineffective.
batonrougehog: For every (well, certainly almost every) team that we have played for the past two years to have done so well on offense against us, there has to be a (several?) basic flaw(s) somewhere.
worldseriesofporker: What defense?
poochpunt: Speed and strength.
SwineFusion: You can't win the Kentucky Derby with a donkey. We don't have the horses. However, even if you do have the horses, if they're blowing assignments, taking bad tackling angles and lining up wrong you're still going to get gashed. When you have talent deficits AND systemic problems … you give up 640 yards to Moo U.
harleyhawgidson: Some of the defense's problems are on the offense. …In the first half, our offense was 0-5 on 3rd downs. Defense was on the field over 20 minutes. Second half, offense was better while D was tired and still bad. Yes it's a bad defense compounded by a bad offense. That makes for a very bad team.
Fans discuss the youth movement with John Stephen Jones and K.J. Jefferson being named the No. 1 and No. 2 quarterbacks this week.
bushhog: Jones is scrappy and all and we love him, but KJ was electric in his debut and arguably the future with NFL potential if developed. So KJ makes some growing pain mistakes? It's not like we are going bowling.
neastarkie: We haven't seen either KJ or JSJ much, but I have no problem starting Jones. As dynamic as KJ looked, it was still a very limited time. I expect we'll see both.
deltahog: Maybe they are asking these guys to earn it and not just giving it to someone. They must think that JSJ has earned it. I hope they have to earn it.
DudleyDawson: It's time for KJ to play, but is it time for him to start? I don't think JSJ has done anything that he should be passed over for to this point.
doghog72: the crowd seemed excited to see JSJ come in too.
DudleyDawson: I think they were most happiest to see Ben Hicks join Nick Starkel on the sidelines.
thehuntinhog: For sure! He could have put you in at QB and I would have been cheering.
generalhog: I love Jefferson, but agree it might be better right now to let JSJ get the start. He's definitely shown he's ready to do so. But I'm sure we'll see a lot of Jefferson Saturday.
razorwill: It won't matter who we start at quarterback. Heck, they can start me or Dudley … if the defense is as pathetic as it was last week.
Hog fans celebrate the first NFL win for former Razorback quarterback Brandon Allen.
coloradohog: BA looked as he last did as a Hog. He made the plays that needed to be made … He did not turn the ball over and just had a very solid NFL game that his team won. Commentators said Denver would not have won with their other QBs and that BA's mobility and smart play made the difference on offense. He is now the toast of Denver. He is loved. Of course, we know how quickly that can and probably will change, but right now he is 1-0 in the NFL.
armyhog: It's always nice to see a Hog have an impact on the NFL!
MattJones: I thought it was interesting to hear the analyst say that Brandon told him that his strength was not committing turnovers. I remembered back to 2013 when he was getting roasted for throwing interceptions and hearing people say he would never amount to anything. Once his shoulder healed up and he got some experience, he turned into a pretty good QB.
ClayHenry: I don't watch a lot of NFL football, but I did (Sunday). Enjoyed the Denver game and also thought the night game with Lamar Jackson out-playing Tom Brady (and I think he did) was terrific theater, too.
Score predictions for today's game
LoudLoyd: Who knows? WKU 31, Arkansas 14.
Bakedhog19741: Until they prove me wrong: WKU 35 (Storey five TD passes) AR 0.
sweetchildofswine: 28-27, WKU, Storey has his poetic redemption.
jacksonreid: 27-23, Hilltoppers with the win.
georgiahawg: Four straight predictions for WKU. How far we have fallen. JSJ gets a W in his first start. KJ rushes for 127 yards and throws for 150 and two TDs. AR 38, WKY 31
bobghawg: I agree, we are horrible, but even we can win this game, ugly win but finally a win: 31-24.
sdhog: I think some of the predictions are wishful thinking. Hogs 35, WKU 21.
lilhawg: I agree with you sdhog. Hogs play well and win ,34-21.
razorwill: New quarterback pair for Arkansas, a transfer quarterback from Arkansas for WKU. Great story lines. The two questions: Can John Chavis design a defensive game plan that we can execute? Can Joe Craddock design a watered down play book offense that puts points on the board? So far, neither has succeeded. Until proven otherwise, WKU 27, Hogs 24.
neastarkie: Unless the team has indeed quit, I think we win. I'm not confident in that prediction – who could be? – but I'll predict something like 38-24 Hogs.
white25: ARK 36, WKY 29. A win is a win is a win is a win…
generalhog: Arkansas 52, WKU 10.
bballhawg: Close game for a half. Morris questions the team's manhood. 38-17, Hogs.
coloradohog: The two young QBs will make it more exciting, but will also make mistakes (can't be worse than the old ones). Therefore, I predict the Hogs will score some, but the defense is about as good (not quite) as air and much slower. Hogs 30, WKU 45.
hogwild1975: Arkansas 28, WKU 24. Jerry Jones walks on the sidelines and motivates JSJ to a touchdown drive and win.
razormac: KJ look like Cam Newton in the 2nd half. We win the game on the last drive of the game because they cant stop him. Club Dub reopens! Let's dance, everybody!
eaglehog5: Defenseless Hogs squander a decent offensive performance. A storybook homecoming for Ty Storey. WKU 34, Hogs 31.
Discussion
Have a comment on this story? Join the discussion or start a new one on the Forums.