How we see it: Arkansas-Western Kentucky predictions
By:
WholeHogSports
Published: Saturday, November 9, 2019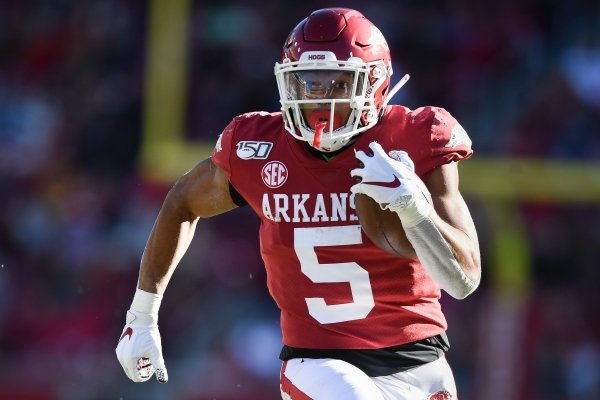 Arkansas running back Rakeem Boyd (5) carries the ball for a 52-yard touchdown during a game against Mississippi State on Saturday, Nov. 2, 2019, in Fayetteville.
Clay Henry, Hawgs Illustrated
I like Rakeem Boyd's prediction that we will see KJ Jefferson again this week against Western Kentucky. Boyd also said Jefferson can do it all. At this point, that's all that matters. Arkansas, 27-20
Matt Jones, Whole Hog Sports
A lot of attention will be paid to the offenses, but this has makings of a relatively low-scoring game. For the first time in weeks the Razorbacks have an opponent they can beat at the line of scrimmage. Arkansas, 24-16
Scottie Bordelon, Whole Hog Sports
I don't feel good about a prediction either way, but I think we really see the future of Arkansas football shine in this game. Quarterback KJ Jefferson and receivers Treylon Burks and Trey Knox make plays to bring the Razorbacks' losing streak to an end. Arkansas, 27-17
Seth Campbell, Whole Hog Sports
Ty Storey will join a long list of players that look like Heisman candidates when they play the Razorbacks. Western Kentucky, 35-20
Harry King, Hawgs Illustrated
A pick based mostly on SEC vs. Conference USA. Arkansas, 27-24
Tommy Craft, The Morning Rush
This game has the feel that a lot more than a win is at stake. Can the defense regroup from last week and spoil a homecoming for Ty Storey. Arkansas, 34-28
Dudley E. Dawson, Hawgs Illustrated
Amazingly, ESPN's GameDay is headed to Tuscaloosa for the game between No. 1 LSU and No. 2 Alabama instead of coming to Fayetteville. What's up with that? The Ty Storey Redemption tour arrives. The former Razorbacks quarterback has completed almost 70 percent of his passes and thrown for 1,479 yards for the Hilltoppers in seven games. You just know he is going to have a career game. Western Kentucky, 24-21
Tye Richardson, Half Time
Ty Storey's return could spell trouble. The defense did not show up against Mississippi State. It will against Western Kentucky. Arkansas, 38-24
Bart Pohlman, The Hog Pod
After winning four straight games, Western Kentucky has dropped two in a row. Former Razorback Ty Storey is completing 70 percent of his passes for the Hilltoppers after completing just 57 percent last season for the Hogs. Arkansas is in desperate need of a win, but after six straight losses, it'll be tough—and in doubt throughout. Arkansas, 27-24
John Nabors, The Morning Rush
The Hogs avoid losing a seventh straight game. It will be a nail biter. Arkansas, 21-20
Chip Souza, NWA Democrat-Gazette
A game many last summer circled as a sure win now looks like a toss-up as the floundering Hogs continue to circle the drain. Last week, true freshman quarterback KJ Jefferson and redshirt freshman John Stephen Jones came off the bench and gave fans a glimmer of hope. This week, the young pups will be front and center for 48 minutes. Arkansas, 17-14
Discussion
Have a comment on this story? Join the discussion or start a new one on the Forums.