SEC Roundup: LSU top in West; Florida, Georgia record shutouts
By: The Associated Press
Published: Saturday, November 9, 2019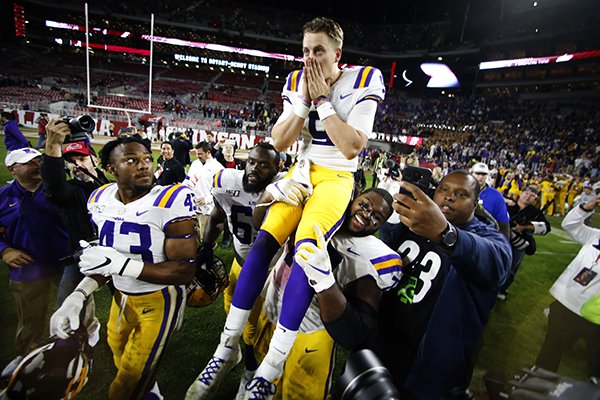 TUSCALOOSA, Ala. — Joe Burrrow sprinted toward the LSU fans to celebrate a monumental victory, and moments later was hoisted on the shoulders of two beefy teammates.
They carried him only partway across the field. The ride isn't finished for Burrow and No. 1 LSU but the quarterback's masterful performance Saturday in a 46-41 victory over nemesis and second-ranked Alabama marked a huge step toward the Tigers' championship goals.
Burrow passed for 393 yards and three touchdowns, answered challenge after challenge and helped end the eight-year string of futility that started with the national title game in January 2012. Now, their sights are set on another shot at national and Southeastern Conference championships.
LSU coach Ed Orgeron said that for the first time he told his players pre-Alabama, "You're the better team."
"We've finally got the tools that we need to beat those guys," Orgeron said. "To have a championship team, you've got to have a championship quarterback."
The Tigers (9-0, 5-0 Southeastern Conference, No. 2 CFP) are no longer second fiddle in the SEC West, or maybe in the playoff rankings. And Burrow stamped himself as the Heisman Trophy front-runner with a gutty performance when he answered every challenge from 'Bama.
And the challenges were plentiful.
That came as no surprise to Burrow.
"I knew they were going to come back," he said. "That's Alabama on the other side, dynasty. I was really happy with the way we responded."
The Crimson Tide (8-1, 5-1, No. 3 CFP) rallied from a 33-13 halftime deficit to three times to pull within a touchdown in the fourth quarter. It kept going from game seemingly over to game on.
The showdown lived up to its billing as a duel between two high-powered offenses and star quarterbacks with President Donald Trump attending. Tua Tagovailoa launched an 85-yard touchdown pass to DeVonta Smith with 1:21 left after the Tigers' own scoring march.
Justin Jefferson recovered the onside kick and LSU ran out the clock, finally triumphant over their SEC West nemesis.
Burrow completed 31 of 39 passes. ran for 64 yards and was carried most of the way off the field by two teammates.
The ride isn't over for LSU. Burrow said titles are what he was after when he transferred to LSU from Ohio State.
"We're not done yet," the two-year starter said. "It's Game 9. We've got three more regular-season ones and the SEC championship. This was never our goal. We've got bigger goals than this."
Clyde Edwards-Helaire ran for three touchdowns and caught a scoring pass, getting emotional on the sideline after a late touchdown that appeared once again to put the game away.
Tagovailoa, 20 days removed from ankle surgery, was 21 of 40 for 418 yards and four touchdowns with an interception and a fumble. He was called a "game-time decision" all week, looked shaky early and appeared to be limping after the game, but he kept Alabama in it.
Coach Nick Saban said Tagovailoa practiced all week without any issues.
"He said he could play in the game, he wanted to play in the game and he thought he could go out and do a good job," Saban said. "I think he was a warrior in terms of what he did."
Smith had 213 yards and a pair of touchdowns on seven catches for Alabama.
LSU outgained Alabama by a slender 559-541. The Tigers had scored just 39 combined points in the last five meetings, but this was an entirely different offense.
FLORIDA 56, VANDERBILT 0
GAINESVILLE, Fla. (AP) — Kyle Trask didn't really know what to call his first touchdown pass of the day.
He thought about it for a few seconds before settling on "kind of a free throw shot." If so, his last two scores were breakaways dunks.
Trask threw for a career-high 363 yards and three touchdowns — the best passing performance by a Florida quarterback since Tim Tebow's college finale — and the 10th-ranked Gators overcame a lackluster start to thump Vanderbilt 56-0 Saturday.
"I think we could have put up a lot more," Trask said.
Florida (8-2, 5-2 Southeastern Conference) was sluggish early, failing to convert a fourth down on the opening possession against the league's worst defense, missing a field goal and throwing two interceptions. It looked like another version of the "Cocktail Party Hangover," which seems to happen every year after losing to rival Georgia in the game dubbed the "World's Largest Outdoor Cocktail Party."
But the Gators responded with their most dominant quarter of the season, turning a 14-0 lead into a laugher in the Swamp. They ended up outgaining Vanderbilt 560-128 and winning their sixth straight in the series and 28th in the last 29 years overall.
"It was a good feeling to get the bad taste out of our mouths," said safety Donovan Stiner, who had two interceptions in Florida's third shutout of the season.
Trask completed 25 of 37 passes, with TD passes to Lamical Perine, Trevon Grimes and Kyle Pitts. The junior also ran for a score before giving way to Emory Jones.
Trask stumbled on the one to Perine before delivering an overhand flip for a 1-yard score.
"He's no Jamelle Holieway," said coach Dan Mullen, referring to the shifty Oklahoma quarterback from the 1980s.
Maybe not, but Trask's passing yardage was the most by a Florida quarterback since Tebow threw for 482 yards in the 2010 Sugar Bowl against Cincinnati.
He got Florida's offense rolling with a screen pass to Trevon Grimes on the team's first play of the second half. Grimes stiff-armed a defender and raced 66 yards for a 21-0 lead.
Trask connected with Tyrie Cleveland and Kyle Pitts on consecutive plays on their next possession, the second one for a 15-yard score. Jon Greenard then scooped up a fumble on the ensuing drive and rumbled 80 yards for a score.
"Shaking out the cobwebs," Pitt said of the second-half surge.
Freshman Mohamoud Diabate, filling in for injured linebacker Jeremiah Moon, notched three sacks — including one that led to Greenard's fumble return. And Stiner picked off both Vanderbilt quarterbacks.
Junior Deuce Wallace made his first career start for Vandy but was far from effective. He completed 7 of 18 passes for 60 yards and was sacked six times before giving way to freshman Allan Walters. They were on the field because Mo Hasan and Riley Neal are recovering from concussions.
Vanderbilt had a chance to avoid the shutout, but Ryley Guay badly hooked a 50-yard field goal attempt with 3:54 remaining.
"I just don't like what I see all the way around," Commodores coach Derek Mason said. "There are things that have to be changed. We'll make sure we get it right."
APPALACHIAN STATE 20, SOUTH CAROLINA 15
COLUMBIA, S.C. (AP) — Appalachian State just keeps adding to its rich, college football history.
The small school champions that took down mighty Michigan in the Big House 12 years ago has now beaten two Power Five programs — and its first Southeastern Conference opponent — after a 20-15 victory at South Carolina on Saturday night.
"Yeah, definitely means a lot," said Zac Thomas, the Mountaineers junior quarterback. "It's remarkable coming from a Group of Five conference. A lot of people don't do that. It makes you feel good."
Thomas ran for a 1-yard touchdown and safety Nicholas Ross scored on a 20-yard interception return for a 20-15 win at South Carolina, the program's second Power Five win this season.
Chandler Staton added field goals of 40 and 47 yards and Appalachian State's defense held off the Gamecocks' late rally.
Appalachian State's time in the college football spotlight looked finished after last week as it lost its national ranking, its undefeated start and a chance at the Cotton Bowl with a 24-21 home loss to Georgia Southern.
Instead, they bounced back the best way possible and added this Power Five takedown to their to their 34-31 victory at North Carolina on Sept. 21.
The Gamecocks (4-6) rallied from 20-9 down in the final quarter on Bryan Edwards' 23-yard touchdown with 2:58 left and drove to the App State 11 in the final seconds. But Ryan Hilinski pass to Edwards in the end zone was too high, touching off the latest improbable celebration for the Mountaineers.
"This team is something special," Mountaineers tight end Collin Reed said. "We've been building for a long time."
South Carolina's chances of making a bowl took a serious hit. The Gamecocks now must win at Texas A&M (something they've never done) and No. 4 Clemson in their final two games to make their fourth postseason trip under coach Will Muschamp.
Things turned right before halftime when Hilinski's hard throw over the middle bounced off Xavier Legette's hands and was intercepted by safety Nicholas Ross and returned 20 yards for a touchdown to put Appalachian State ahead for good 13-6.
Hilinski, the Gamecocks freshman, had not thrown a pick in his past five games until Ross got the deflected ball and took it in for the score.
Appalachian State defense took away what was expected to be the Gamecocks biggest edge in the run game. Season starter Rico Dowdle, who had missed the previous two games with an ankle sprain, had zero yards on 10 first-half carries in his return.
The Gamecocks came in averaging 184 yards a game on the ground but gained just 21 on 27 carries. South Carolina played without leading rusher Tavien Feaster, who sustained a groin injury last week.
"When we don't have the ability to run the ball, we're going to struggle," South Carolina coach Will Muschamp said.
Edwards finished with nine catches for 90 yards, the senior surpassing Alshon Jeffery for the school's all-time receiving yardage mark. Asked about his record, Edwards said simply, "We lost."
TENNESSEE 17, KENTUCKY 13
LEXINGTON, Ky. (AP) — Jarrett Guarantano has endured his share of setbacks, which has helped him appreciate the comeback that has Tennessee on the brink of postseason eligibility.
Guarantano threw two third-quarter touchdown passes for the lead that the Volunteers' defense preserved with a late goal-line stand as Tennessee rallied past Kentucky 17-13 on Saturday night.
Trailing 13-3 at halftime, the Volunteers (5-5, 3-3 Southeastern Conference) replaced Brian Maurer with Guarantano at quarterback to start the third and quickly got two TD drives totaling just 6 ½ minutes. Receivers had little room for error on both scores, with the second requiring a second look.
Officials initially ruled Josh Palmer out of bounds on his 12-yard catch from Guarantano before replay review showed he got a foot down inbounds on the right sideline on the go-ahead score. His TD followed Marquez Callaway's fine 17-yard TD grab that capped a 75-yard drive covering just 2:57.
"Some of the throws were there and we made a change and obviously we were better there," Tennessee coach Jeremy Pruitt said. "We didn't change any calls. We executed better."
That says a lot about the growth of Guarantano, a junior who made 22 starts for Tennessee before being benched earlier this season for Maurer.
He took heat for a fumble in a loss against Alabama. He broke a bone in his left (non-throwing) hand in a win over South Carolina.
Guarantano had no turnovers or injuries this time, just pinpoint accuracy that the Vols needed. Teammates surrounded him at game's end.
"Happy I am able to get on a roll and the team is on a roll," Guarantano said. "It doesn't make a difference as long as we are winning. I don't care if I'm coming first, third or fourth (quarter)."
Added Pruitt: "He knows what we are trying to do. He's smart. He did a great job tonight and has done a great job throughout the year. He's a guy that wanted to play well tonight and did."
The Wildcats got a final chance after Marquan McCall recovered Ty Chandler's fumble at the Tennessee 45 and drove to the 1. But quarterback Lynn Bowden was tackled for no gain on fourth-and-goal at the 2 with 1:17 remaining, the last of Kentucky's three failed fourth-down attempts after halftime.
"An extremely disappointing loss," Kentucky coach Mark Stoops said. "It comes down to a goal-line stand. Our players fought extremely hard. You come up a yard short and it's a very, very difficult, tough pill to swallow."
Tennessee was outgained 327-296 but topped Kentucky 160-129 in the second half to win for the fourth time in five games and reach .500. The Vols are within a win of bowl eligibility after missing the postseason last year.
Gaurantano completed 7 of 8 passes for 115 yards and rushed six times for 30 yards. Maurer was 7 of 16 for 98 yards. Callaway had four catches for 103 yards.
The Wildcats (4-5, 2-5 SEC) took the initial lead with touchdown runs by A.J. Rose and Kavosiey Smoke of 2 and 22 yards respectively but were shut out after that. A missed extra point on Smoke's TD loomed large, forcing Kentucky to go for a touchdown late instead of possible tying field goal.
GEORGIA 27, MISSOURI 0
ATHENS, Ga. (AP) — Georgia's defense didn't settle for just beating Missouri.
The Bulldogs added to their growing collection of shutouts with a late goal-line stand.
Jake Fromm threw two touchdown passes to George Pickens and No. 6 Georgia posted its third shutout, dominating a Missouri offense missing two of its biggest playmakers in a 27-0 victory Saturday night.
Georgia (8-1, 5-1 Southeastern Conference, No. 6 College Football Playoff) moved closer to its third straight berth in the SEC championship game. The Bulldogs can clinch the SEC East by beating No. 12 Auburn next week.
"It will be a big game, and our players have an opportunity to be at their best when their best is needed," said Georgia coach Kirby Smart.
Missouri (5-4, 2-3) fell to 0-4 in road games with its third straight loss. Quarterback Kelly Bryant and leading receiver Johnathon Johnson did not play.
Bryant's status had been in doubt due to a hamstring injury suffered in a loss at Kentucky two weeks ago. He participated in pregame warmups and then watched as backup Taylor Powell and Connor Bazelak led the offense.
Powell played the full game before Bazelak, a freshman, led the Tigers to their only red-zone appearance late in the game.
Bazelak, playing in only his second game, led the Tigers to the Georgia 1. Bazelak's passes on third and fourth down from the 4 were incomplete.
The Bulldogs have three shutouts for the first time since 1981. Georgia remains the nation's only FBS team to not allow a rushing touchdown this season.
Smart said his players were "all kind of chopping at the bit at the end to make it tough to score. ... I thought they showed some competitive character there at the end with that stand."
The Bulldogs bolstered their claim as the league's top defense. Georgia leads the SEC in total defense , rushing defense and scoring defense.
The Bulldogs held the Tigers to 198 yards and 11 first downs, including only five through three quarters.
Missouri coach Barry Odom said the Bulldogs are "better up close and in person."
"I knew they were good, but I think they're a little bit better than they may get credit for nationally," Odom said. "Georgia is as good and as solid as a team as I've gone against in a long time."
Johnson was held out due to an illness. Odom said he expects Bryant and Johnson to play next week.
Georgia also lost its top receiver when Lawrence Cager hurt his shoulder making a 30-yard catch late in the first half. Cager had six catches for 93 yards before the injury.
Between Pickens' touchdown catches of 25 and 18 yards in the first and fourth quarters, respectively, the Bulldogs relied on Rodrigo Blankenship's four field goals.
OTHER SCORES
Ole Miss 41, New Mexico State 3
Discussion
Have a comment on this story? Join the discussion or start a new one on the Forums.