Whitt enjoying his second time around at Arkansas
Published: Tuesday, November 12, 2019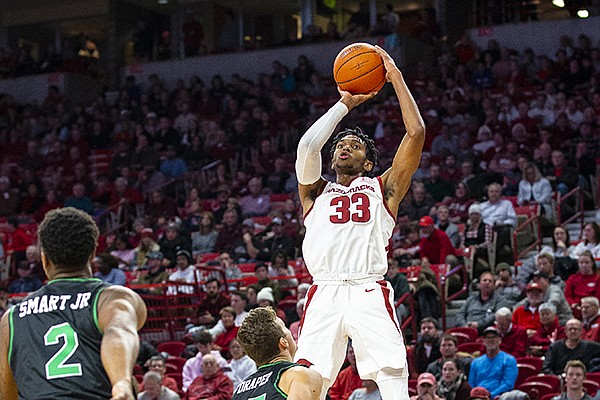 ( David Beach )
Arkansas guard Jimmy Whitt shoots a shot during a game against North Texas on Tuesday, Nov. 12, 2019, in Fayetteville.
FAYETTEVILLE — Whether you like the Bing Crosby, Frank Sinatra or Shalamar version of the song called "The Second Time Around," it fits for Arkansas senior guard Jimmy Whitt.
Whitt began his career at Arkansas, spent three seasons at SMU and now is back in Fayetteville to finish his career as a graduate transfer.
He had nine of his 13 points in the first half of Arkansas' 66-43 victory over North Texas on Tuesday at Bud Walton Arena.
"It feels great," Whitt said of being back at Arkansas. "I feel the love. I feel the energy. I love that I get to spend it with these guys - guys that I know. I've known Adrio (Bailey) since my freshman year, so I think it's cool how life has come full circle. I'm enjoying every moment. I enjoyed the Rice game, I enjoyed this game.
"I love going out and battling with these guys and seeing the energy in the building. I really like that. I feel like it's picked up from my freshman year, and I love to see it and love that I get to end my career like this."
Whitt, who was 5-of-10 from the field and 3-of-4 from the free throw line, also had 3 steals, 2 rebounds and an assist in the win.
Arkansas coach Eric Musselman used the 6-3 Whitt in the post frequently against the Mean Green.
"We just kind of put the ball in Jimmy's hands and let him back down a little bit kind of like (former NBA star point guard) Jason Kidd used to do, where we emptied out the whole right side and tried to play him out of the post a little bit and get right in that sweet spot for him, which us 8 to 12 feet," Musselman said. "So he got some good, clean looks, I thought. We're going to need him to post up for us."
Arkansas has held its first two opponents to 43 points. It is the first time since the 1949-50 season that the Razorbacks have held consecutive opponents to less than 50 points in the first two games of the season.
It is also the first time in 12 years that the Razorbacks had held teams under 50 points in back-to-back games.
"I thought we played with great defensive enthusiasm tonight," Musselman said. "We're through two games now and we've held our opponents to 4-of-42 from three-ball, so we've done a great job of taking away that three-point line thus far in an early two-game season....So that's a phenomenal job from a defensive standpoint."
Arkansas led 28-16 at halftime and then reeled off a 15-2 run early in the second half to take full control of the game.
"I'm really proud our team not to panic and not to come out and try to rush things, because the pace of the game was so slow," Musselman said. "They did a really good job defensively of defending us. Eventually we made that spurt there in the second half and opened up the game."
With a smallish team that starts no one taller than 6-6, Whitt knows the Razorbacks have to rely on their defense.
"When you have small numbers like we do, defense is going to take you a lot farther than offense is, especially late in the season and legs get tired," Whitt said. "It is a little harder to hit shots, a little harder to get to the basket, but you can always play hard on defense and you can always be in the right spots.
"We feel like that is one of the things that we know we are going to have to be great at. When you are undersized like we are and the numbers, we have to be good, we have to be solid on defense. We know if we try to predicate our identity on offense, we won't get as far as we want to. We have to build an identity around defense and we have done that with these first two games."
Whitt, who has now started 75 games in his college career while averaging 10 points, 4 rebounds, 3 assists and 2 steals per contest, respected his foe on Tuesday night. North Texas (1-1) came into the game following a close loss to No. 25 VCU. The Mean Green began the season 20-4 last year.
"You have got to tip your hat off to them," Whitt said. "They are a good team and played really good defense. They are really solid. Everybody knows their positioning and everybody plays hard."
Mason Jones and Isaiah Joe both had 16 points for Arkansas, with 22 of their combined 32 points coming in the second half after Whitt led the scoring in the first half with nine points.
"I think for me, I just like to see how the game is going and I felt like I needed to be a little bit more aggressive because they were really zoned in on guys like Isaiah and guys like Mason, they know those are our primary scorers," Whitt said.
"For me, however the game is going, I try to do what I did, I felt like I needed to be a little aggressive to open it up for those guys. I felt like they worked for us and I felt like I got going a little early and then those guys had the second half where they really picked it up. I feel like that was my mindset really going into it."
Discussion
Have a comment on this story? Join the discussion or start a new one on the Forums.