Wisener: Lunney grabs UA's fraying rope tightly
Published: Wednesday, November 13, 2019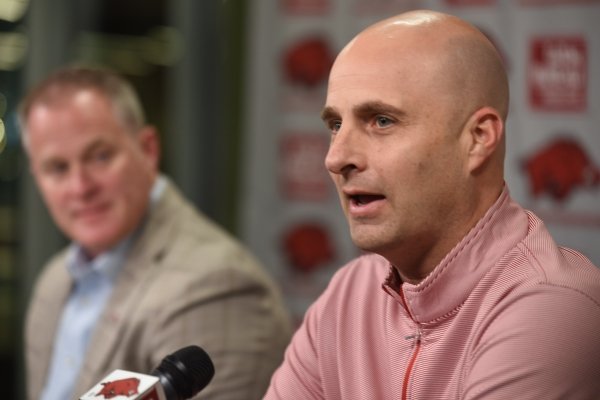 (
David Gottschalk
)
University of Arkansas Athletic Director Hunter Yurachek (left) listens to new interim head coach Barry Lunney Jr. on Monday, November 11, 2019, during a press conference at the Broyles Athletic Center in Fayetteville. Lunney is replacing Chad Morris.
Give Barry Lunney Jr. credit for "winning the press conference" when officially introduced as the Arkansas Razorbacks' interim head football coach Monday.
Now, with two chances remaining, can the Lunney-led Razorbacks win a Southeastern Conference game?
As much as anything, his 0-14 SEC record contributed to Chad Morris' firing Sunday after 22 games at Arkansas. The SEC losing streak that began under Bret Bielema is up to 17 games, and Lunney becomes the fifth Razorback sideline leader in this decade.
With buyouts to Morris and former coaches factored in, that's as expensive as it is dramatic. And, said Hunter Yurachek, the man who hired and fired Morris, "we can't be doing this again three or four years from now."
With a battlefield promotion from UA tight ends coach, Lunney set modest goals for his team even if Razorback Nation must look somewhere other than the scoreboard for encouragement right away.
With a week off before a road game against No. 1-ranked LSU, "I want us to play our best football game of the year at Baton Rouge," Lunney said. "I don't really care what it looks like. I just want it to happen."
To that end, he said, Arkansas has more realistic hopes against Missouri in the season finale on Thanksgiving Friday in Little Rock.
Until then, Lunney pledged to work on restoring morale in a fractured locker room after seven straight losses. "We don't owe anything to anyone but (uplifting) our players," he said. "And I'm very confident we're going to do that."
"We all desperately want our football program to be great again," Yurachek said.
After the first 10-loss season in program history, Yurachek merely asked that Morris' second Razorback team "be competitive Saturday after Saturday." Instead, the Razorbacks became worse week by week, losing both to national powers (Alabama and Auburn) and middle-of-the-road teams alike (Kentucky and Mississippi State).
Morris might have saved his job had Arkansas swept its four nonconference games, all played in Fayetteville against carefully selected opponents. The Razorbacks went 2-2, Portland State and Colorado State going down but San Jose State and Western Kentucky collecting shockingly easy victories along with a $1.5-million appearance fee.
The Western Kentucky game was especially cringeworthy in that native Arkansan and former UA quarterback Ty Storey accounted for 290 yards and three touchdowns, humiliating Morris' program beyond repair.
Yurachek said he felt the season slipping away in the second half of an Oct. 12 SEC road loss to Kentucky, following a week off after a commendable effort (moral victory, some said) against conference rival Texas A&M.
"Losing that one was really tough," Yurachek said, "and you could feel our players losing their belief in the current leadership."
The respective 51-10 and 48-7 losses to Auburn and Alabama were not unexpected. But after Arkansas gave up 99 points to Mississippi State (54-24) and Western Kentucky in half-empty stadiums with the Razorbacks roundly booed, Yurachek had seen enough. Morris was so informed on Sunday.
"We had our regular meeting after the game Sunday," Yurachek said, "and I don't believe it took him by surprise. Chad and I are great friends, and there were a lot of hugs and tears when the meeting was over. But I made what I felt to be a professional decision."
Lunney can draw on his own experience as the son of a former head coach, the elder Barry Lunney leading Fort Smith Southside (Barry Jr.'s alma mater) and Bentonville to state football championships. Lunney, whose grandfather played for John Barnhill's Razorbacks in the 1940s, also can relate to what's happening in the dressing room.
Like Connor Noland from Greenwood, Lunney came to Arkansas in 1992 as a two-sport athlete, both as quarterback and, for the baseball team, a left-handed pitcher taken in the major-league draft. Recruited to Arkansas by Jack Crowe (who along with Morris did not play college football), Lunney, along with shell-shocked teammates, played for an interim coach after Crowe lost his job in a opening 10-3 home loss to The Citadel.
Joe Kines, an SEC warhorse, was promoted from defensive coordinator and the Hogs promptly routed South Carolina on the road in the first SEC game for both schools. Lunney, in his first college start, helped Arkansas stun No. 4-ranked Tennessee in Knoxville. Although not right away, those two wins, along with a season-ending triumph against LSU, triggered something.
"I remember how Joe improved our football team and gave everyone confidence," Lunney said. "We stayed together and, as seniors, we were able to play in the SEC championship game for the first time."
Lunney spent his first hours on the new job gauging attitudes of his players. Said Yurachek: "I firmly believe we have a lot of talent in our locker room" but that many on the 120-man squad "no longer enjoy the experience" of playing college football.
Regardless of his own future with the program, Lunney was on the phone with Razorback recruits. "I told them to sit tight, let the dust settle and see how this thing plays out," he said.
How busy was Selection Sunday? "I don't know what I ate for lunch yesterday or where I ate, but I do know that I ate lunch," Lunney said.
At least he hasn't lost his sense of humor. Asked if he's decided on a starting quarterback at LSU, the Hogs' interim head coach said "we've played so many that we may have to rotate."
Even if it doesn't put points on the board against LSU, winning his first press conference represents a promising start for Lunney, whose football DNA is rooted in Razorback football.
"Whether you're from here [Arkansas] or not, you have to understand this state and its culture," Lunney said.
In the case of the new guy, who in another sense is an old guy, consider it done.
Discussion
Have a comment on this story? Join the discussion or start a new one on the Forums.