Musselman, 2 other Razorback coaches will speak at Tip-Off Club
By:
WholeHogSports
Published: Friday, November 15, 2019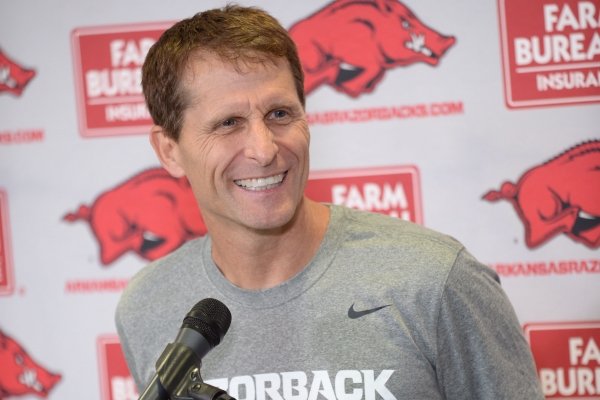 Arkansas coach Eric Musselman speaks Tuesday, Sept. 24, 2019, in the university's Basketball Performance Center in Fayetteville.
University of Arkansas men's basketball Coach Eric Musselman highlights the 2019-20 Downtown Tip-Off Club schedule, which was released Friday.
Musselman will speak Dec. 20 at the North Little Rock's Wyndham Riverfront, a day before the Razorbacks face Valparaiso at Simmons Bank Arena in North Little Rock.
Other speakers at the club include former Razorbacks basketball player and SEC Network analyst Pat Bradley (Jan. 6); North Little Rock basketball coaches Johnny Rice (boys) and Daryl Fimple (girls) on Jan. 13; former Arkansas assistant and Texas Tech basketball head coach James Dickey (Jan. 21); Arkansas women's basketball Coach Mike Neighbors (Jan. 27); former Arkansas assistant and Houston basketball head coach Pat Foster (Feb. 3); Arkansas baseball Coach Dave Van Horn (Feb. 10); University of Arkansas at Little Rock women's basketball Coach Joe Foley (Feb. 18); and former Kentucky and current Ranger College men's basketball coach Billy Gillispie (Feb. 24).
All luncheons will be held at the North Little Rock Chamber of Commerce except for Musselman's speech Dec. 20.
Discussion
Have a comment on this story? Join the discussion or start a new one on the Forums.