Jones, Bailey lead Arkansas over Montana
By:
Scottie Bordelon
,
Chip Souza
Published: Saturday, November 16, 2019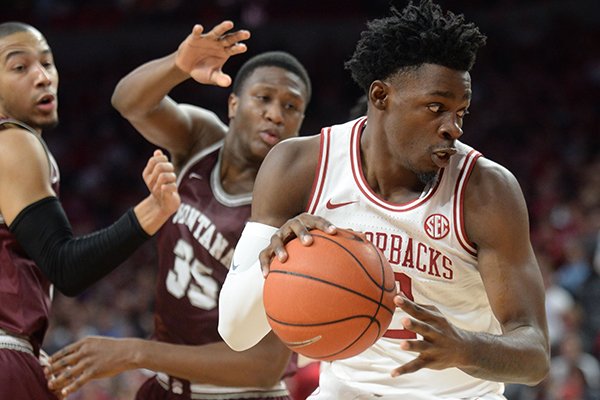 Arkansas forward Adrio Bailey (right) cuts to the basket Saturday, Nov. 16, 2019, past Montana Kendal Manuel (left) and Derrick Carter-Holilnger during the first half of play in Bud Walton Arena in Fayetteville.
FAYETTEVILLE — Eric Musselman admits to being old school when it comes to earning playing time for his Arkansas team.
On Saturday, the Razorbacks' coach used just seven players in the Razorbacks' 64-46 win against Montana in front of 13,058 in Bud Walton Arena. It marked the third straight win for Arkansas, and the third straight game the Razorbacks (3-0) have held their opponent to fewer than 50 points.
"I think if you go look at the box scores at Nevada the last four years, you're probably going to see seven-and-a-half or eight guys," Musselman, who was 110-34 at Nevada, said. "Every coach, every program has their own philosophy on that. I'd rather have a tired Isaiah Joe shooting than somebody else. We'll roll with however many players it takes to win on that night. I might be one of few coaches that believe that 30 college games, with 18- to 22-year old people that play one or two games per week are able to play 37 minutes.
"We're not going to just pass out minutes to pass out minutes. You've got to earn them in practice and you've got to earn them understanding the game plan."
Arkansas got a game-high 19 points from Mason Jones and Adrio Bailey had his first career double-double with 12 points and 11 rebounds to pace the Razorbacks. Jimmy Whitt Jr. had 14 points for Arkansas.
Offensively, Musselman said the Razorbacks struggled, but more than made up for it at the defensive end, limiting Montana (1-2) to 20 of 54 from the field, including just 4 of 20 from the 3-point line.
"We did not shoot the ball well at all," Musselman said. "We weren't pretty offensively tonight, but that's what you have to do on nights when you can't score. You have to up your defensive intensity. Montana really struggled from the 3-point area with our defense. I thought we did a great job closing out the shooters and not giving them any clean looks."
The Razorbacks focused their attention on limiting Montana senior guard Sayeed Pridgett, who was coming in off a 30-point performance against MSU Northern. Musselman said during practice, every time the player on the scout team who portrayed Pridgett touched the ball, a piercing siren would go off.
"Not just if he caught the ball, but even if he tipped it," said Bailey with a laugh. "We heard that siren the whole practice."
Arkansas held Pridgett to 13 points, which was the goal coming in, Musselman said. Pridgett also had seven turnovers.
Arkansas led early and went up by double figures late in the first half before Montana battled back to get within 38-30 on Pridgett's pull-up jumper from the right elbow with 12:55 left in the second half.
The Razorbacks responded, getting a 3-pointer from Joe with 9:35 left to put the Razorbacks up 47-33 and Arkansas cruised from there.
BIG PICTURE
Montana: The Grizzlies only scored 18 points in the first half and did not make a 3-point attempt in the opening 20 minutes. They made just two 3-pointers in the game.
Arkansas: The season-opening three games have been historic for Arkansas. The 132 points the Razorbacks have allowed are the lowest since the mid-1940s that the team has allowed for the first three games of the season. Arkansas surrendered 43 to both Rice and North Texas before allowing 46 on Saturday.
GETTING THE POINT
Jones took the blame for allowing Montana to get an open layup in the first half on a back-door cut. The junior guard said Musselman gave him an earful when he came to the sideline.
"There were a couple of plays in the game where I messed up, but he just got on me and I fixed it the next possession," Jones said. "That's what I like about coach Muss. He pushes us hard and he coaches hard. He just wants the best out of us. He knows we're going to rely on defense this year so he's going to make sure we're on our Ps and Qs."
HE SAID IT
"He's a fun guy," Bailey said of Musselman. "He has a personality. I have a personality, too."
TIP-INS
In the first three games of the season, Arkansas ranks in the top five in the country in a number of defensive categories. … Joe, one of 20 players on the Jerry West Award Watch List, struggled offensively shooting just 2 of 13 from the floor, but his 3-pointer late in the game swung momentum back in Arkansas' favor. … Besides limiting Montana to 2 of 16 from the 3-point line, Arkansas also forced 23 turnovers.
UP NEXT
Montana will host Montana Tech on Monday.
Arkansas is at home Tuesday against Texas Southern.
Eric Musselman
Adrio Bailey and Mason Jones
EARLIER
Arkansas 64, Montana 46 - FINAL
Mason Jones led Arkansas with 19 points and Adrio Bailey followed with his first career double-double as the Razorbacks improved to 3-0 under Eric Musselman on Saturday.
Bailey finished with 12 points and 11 rebounds, continuing his impressive play in the first month of the season.
Montana shot only 32.1 percent in the loss and was 5 of 23 from 3-point range. Sayeed Pridgett, the Grizzlies' top scorer, was frustrated and scored 13 points on 5 of 12 shooting. He finished with seven turnovers.
Arkansas 54, Montana 41 - 4:00 left
Adrio Bailey has his first career double-double. He has 12 points and 10 rebounds - five offensive, five defensive - in 29 minutes today. He continues to give Eric Musselman great minutes.
Jimmy Whitt also has 12 points, and Mason Jones leads the way with 16, which is par for the course for him so far this season. He is 6 of 6 at the line and has four rebounds and four assists as well.
Montana is shooting 32.7 percent from the floor today and 4 of 19 from 3. The Grizzlies have 21 turnovers, too, and Sayeed Pridgett has seven of them.
Arkansas 49, Montana 35 - 7:52 left
Jimmy Whitt had the Razorbacks' last score prior the media timeout. Isaiah Joe drove to the middle of the lane and went strong to the rim but couldn't finish. Whitt, though, was there for the putback.
Arkansas 47, Montana 33 - 9:22 left
Isaiah Joe finally - finally - gets his second 3 to fall. It comes in transition following a steal by Mason Jones. Jalen Harris found Joe on the left wing in front of the Arkansas bench, and he buried it, bringing the crowd to its feet. Montana then called for time.
That was Joe's first bucket since the 16:10 mark in the first half. Perhaps it gets him and the Razorbacks' offense going a little bit.
Arkansas 40, Montana 33 - 11:30 left
The Grizzlies, led by guard Sayeed Pridgett, are hanging around. Montana just hit its first 3 of the game after 10 consecutive misses to begin the game to pull within seven at the under-12 media timeout. Pridgett has a team-high 13 points on 5 of 11 from the floor.
For the Razorbacks, Mason Jones has a game-high 14 points on 4 of 11 shooting. He has the lone Razorbacks score in better than three minutes. Isaiah Joe just can't buy a bucket. He is 1 of 9 shooting, 1 of 6 from deep and 1 of 3 from the line today.
Arkansas 36, Montana 24 - 15:32 left
Montana finally cracked the 20-point plateau in the 22nd minute of the game on a Sayeed Pridgett layup. He has seven points on 3 of 8 from the floor today.
The Razorbacks are just 2 of 6 from the floor in the opening minutes of the second half. Isaiah Joe's tough day continues. He came up with a steal then missed a left-handed layup on the other end. He is 1 of 7 shooting today. He finally subbed out just before the media timeout, but he is back in after Desi Sills' offensive foul.
Jimmy Whitt has four turnovers today and Sills has three more. Miscues have been a bit of an issue for Sills through two-plus games.
Arkansas 31, Montana 18 - Halftime
The Razorbacks have now held each of their first three opponents under 20 points in the first half. That's a fairly remarkable feat. The Grizzlies shot 25.8 percent from the floor, missed all six 3-point attempts and turned the ball over 12 times.
Mason Jones leads Arkansas with nine points, three rebounds, three assists and two steals. Adrio Bailey continues to play well. He has seven points on 3 of 6 shooting and five rebounds. Jalen Harris also have five points and three steals.
Sophomore guard Isaiah Joe is having an off shooting day - 1 of 6 and 1 of 5 from deep - but he has chipped in a pair of assists. He played all 20 minutes in the first half.
Derrick Carter-Hollinger has a team-high seven points and three rebounds for Montana.
Arkansas 24, Montana 15 - 3:55 left first half
Razorbacks are currently on a 10-2 run, sparked by buckets from Desi Sills, Adrio Bailey and Mason Jones. Jones also assisted on one of Bailey's scores in transition. Jones has a team-high seven points to go with three rebounds and three assists.
Montana already has 10 offensive rebounds in the game, which have led to eight second-chance points. Arkansas cleans up that area of its game defensively, this one will get out of hand. The Grizzlies can't get anything going in the halfcourt. They are 7 of 29 shooting and 0 of 6 from deep.
Arkansas 16, Montana 11 - 7:45 left first half
Jimmy Whitt adding value as a cutter. He slashed backdoor as Isaiah Joe dribbled to the free throw line, and Joe found Whitt under the rim for a dunk. Arkansas is just 5 of 17 from the floor today, but four buckets have been assisted on.
Montana is 6 of 22 from the floor today and 0 of 3 from deep to go with seven turnovers.
Arkansas 14, Montana 11 - 8:45 left first half
Mason Jones added a pair of free throws shortly after the last media timeout. He is 15 of 15 at the free throw line this season and has a team-high five points.
The Grizzlies called for time after Jeantal Cylla was whistled for traveling. They have not scored in the last three-plus minutes.
Arkansas 12, Montana 11 - 11:20 left first half
Jalen Harris has Arkansas' only bucket since the last media timeout. Mason Jones penetrated Montana's matchup zone and found Harris alone in the right corner in front of the Grizzlies' bench and he buried his third 3 of the season in five attempts.
Montana forward Derrick Carter-Hollinger has a team-high five points at the under-12 timeout. Sayeed Pridgett also has four points on 2 of 4 shooting.
Jimmy Whitt and Desi Sills have a pair of early turnovers.
Arkansas 8, Montana 4 - 14:57 left first half
Stop me if you've heard this before: Arkansas is off to a good start on the defensive end. Montana has opened 2 of 12 from the floor and 0 of 2 from deep with a pair of turnovers.
Isaiah Joe and Mason Jones each have a 3 for the Razorbacks in the early going. Joe hit his triple from the left wing after Jones had a layup blocked, Adrio Bailey corralled the miss and found Joe wide open. Jones knocked down his first shot off the bounce moving left. He has four off-the-dribble 3s moving left this season. That's his bread and butter.
Jimmy Whitt got Arkansas on the board with a midrange jumper against Montana's 2-3 matchup zone.
Pregame
Arkansas' starting lineup: Isaiah Joe, Mason Jones, Desi Sills, Jimmy Whitt and Adrio Bailey.
This lineup has not been all that effective on the offensive end in 34 possessions together. It is scoring at a .82 point-per-possession clip through two games, but opponents are operating at a .54 PPP rate over 35 possessions and shooting just 22 percent inside the 3-point line - 33 percent beyond the arc. We'll see if they can get it rolling today.
Montana's starters: Sayeed Pridgett, Josh Vazquez, Kendal Manuel, Kyle Owens and Mack Anderson.
The Grizzlies are 1-1 on the season, opening the year with a loss to Stanford. Pridgett is Montana's go-to guy. He finished with 17 points, 10 defensive rebounds, six assists and six turnovers in Game 1. He scored 30 points in the Grizzlies' last game, a 14-point win over Montana State Northern on Nov. 10.
Discussion
Have a comment on this story? Join the discussion or start a new one on the Forums.