SEC Roundup: Tagovailoa out for year, Georgia wins SEC East
By: The Associated Press
Published: Saturday, November 16, 2019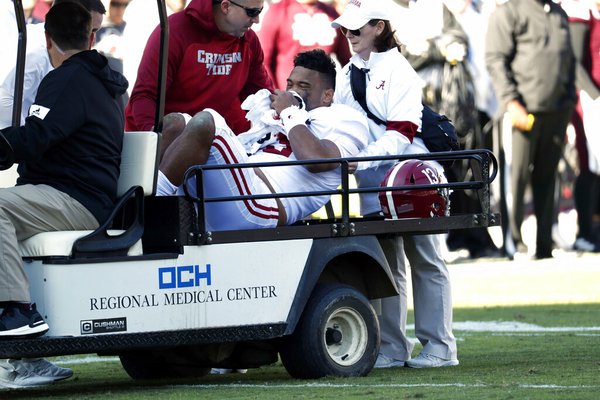 Photo by AP Photo/Rogelio V. Solis
Alabama quarterback Tua Tagovailoa (13) is carted off the field after getting injured in the first half of an NCAA college football game against Mississippi State in Starkville, Miss., Saturday, Nov. 16, 2019.
Alabama 38, Mississippi State 7
STARKVILLE, Miss. — Tua Tagovailoa sustained a season-ending right hip injury being dragged down late in the first half on what was likely his final series of the day in No. 4 Alabama's 38-7 victory over Mississippi State on Saturday.
Tagovailoa dislocated his right hip after a scramble when he was tackled from behind by Bulldogs linebacker Leo Lewis. The star quarterback needed help getting to his feet and was carted off the field with 3:01 left in the second quarter.
The junior had been nursing an ankle injury that needed surgery four weeks ago and caused him to miss a game and a half. Alabama coach Nick Saban said the injury Saturday was unrelated to the ankle. Saban called it a "freak injury." Saban told ESPN at halftime the plan was to remove Tagovailoa from the game before the series when the quarterback was injured. Alabama was already up 35-7, but it was decided to let Tagovailoa play one possession to get some work in the two-minute drill.
Tagovailoa was flown by helicopter to the St. Vincent's Medical Center in Birmingham, Alabama, and was ruled out for the season Saturday night.
Tagovailoa was 14 of 18 for 256 yards and two touchdown passes against Mississippi State, giving him 31 TD passes on the season. He was replaced in the second half by Mac Jones, who went 7 for 11 for 94 yards.
The Crimson Tide (9-1, 6-1 Southeastern Conference) were coming off a 46-41 loss to LSU that nudged it out of College Football Playoff position to fifth in the latest selection committee rankings.
Tommy Stevens passed for 82 yards and ran for 96 for Mississippi State (4-6, 2-5).
Georgia 21, Auburn 14
AUBURN, Ala. — Jake Fromm passed for three touchdowns and No. 5 Georgia's defense produced two late stops, clinching the Southeastern Conference Eastern Division title with a 21-14 victory over No. 13 Auburn on Saturday.
The Bulldogs (9-1, 6-1 SEC, No. 4 CFP) sailed through three quarters with a 21-0 lead before Auburn (7-3, 4-3) rallied in the fourth.
Georgia held on to become the first team to win three consecutive SEC East titles since Florida won five in a row from 1992-96.
Fromm and De'Andre Swift delivered enough offense to keep the Bulldogs on track for a shot at the College Football Playoffs. Most of the way, though, it was clear the game featured two of the league's top defenses.
Auburn scored two touchdowns in the fourth, then had a pair of drives stopped on fourth down in the final minutes. Freshman Bo Nix threw three incompletions and was sacked on the Tigers' final drive starting from their 27.
Fromm was 13-of-28 passing for just 110 yards, but had a 51-yard touchdown pass to Dominick Blaylock and a pair of 5-yarders to Eli Wolf and Brian Herrien. Swift ran for 106 yards on 17 carries.
Nix completed 30 of 50 passes for 245 yards and a touchdown. He also ran 13 times for 42 yards. Seth Williams caught 13 passes for 121 yards.
The Tigers finally scored on Nix's 3-yard touchdown pass to Eli Stove with 10:04 left, taking advantage of a pass interference call on the previous third-down play. Auburn appeared to recover an onside kick but it was overturned upon review because of an illegal block by Anthony Schwartz.
A Georgia three-and-out and three minutes later, Nix dove into the end zone for a 2-yard score after a play fake.
It was the first rushing touchdown the Bulldogs had allowed all season.
Auburn again drove into Georgia territory with Nix running for 8 yards on a fourth-and-5 play. Harold Joiner couldn't collect a pass that was slightly behind him on the next fourth-down play.
LSU 58, Ole Miss 37
OXFORD, Miss. — Joe Burrow threw for 489 yards and five touchdowns and LSU built a big lead and held off Mississippi.
Coming off an emotional 46-41 home win at Alabama last week, the Tigers (10-0, 6-0 Southeastern Conference) scored on four of their first five possessions jump out to a 28-0 lead over the Rebels (4-7, 2-5).
The teams combined for 1,328 yards of total offense, including 714 by the Tigers. Burrow enhanced his Heisman Trophy front-runner status, completing 32 of 42 passes, including touchdown passes of 34, 51 and 61 yards to Ja'Marr Chase (227 yards) and 12 and 7 yards to Justin Jefferson (112 yards).
Burrow completed 17 consecutive passes at one point to set a school record. He threw two interceptions in the second half as Ole Miss climbed closer, but put the game away with a 61-yard touchdown pass to Chase with 5:11 remaining.
Ole Miss freshman quarterback John Rhys Plumlee had 212 yards rushing yards, a school record for a quarterbacks, and three touchdowns and was 9 of 16 passing for 123 yards.
Florida 23, Missouri 6
COLUMBIA, Mo. — Kyle Trask threw two touchdown passes after a sluggish first half by No. 11 Florida and the Gators beat Missouri 23-6 on Saturday.
Trask completed 23 of 35 passes for 282 yards. That was plenty of offense for Florida (9-2, 6-2 Southeastern Conference), which held Missouri to 204 total yards. Linebacker Jon Greenard spent most of the day in the Tigers' backfield, finishing with two sacks and five tackles for loss.
The Tigers (5-5, 2-4) have lost four straight games and haven't scored a touchdown in the last two.
Florida led 6-3 after a first half in which the teams combined for 10 punts. The Gators struggled up front offensively in the first half, allowing four sacks to a team that had only 14 sacks on the season entering the game. They gained just 29 yards on the ground before intermission and finished with 56 rushing yards.
It was a similar story for Missouri, which welcomed Kelly Bryant back at quarterback after he missed last week's game at Georgia with a hamstring injury. Bryant repeatedly slipped out of the arms of blitzers to extend plays, but the Tigers struggled to put drives together without any help from its running game. Bryant completed 25 of 38 passes for 204 yards and one interception. Missouri's only scores came on two Tucker McCann field goals.
The Gators finally got going in the third quarter when Trask connected with Josh Hammond for a 34-yard touchdown pass and hit Lamical Perine for a 15-yard TD. Van Jefferson finished with six catches for 82 yards, and Trevon Grimes had three catches for 66 yards.
Kentucky 38, Vanderbilt 14
NASHVILLE, Tenn. — Kentucky rushed for a season-high 398 yards and kept its bowl hopes alive with a 38-14 win over Vanderbilt on Saturday.
Lynn Bowden and Chris Rodriguez both rushed for over 100 yards for the Wildcats (5-5, 3-5 Southeastern Conference).
Rodriguez led the way, rushing for 129 yards and two touchdowns against the Commodores (2-8, 1-6). Bowden, in his fifth game at quarterback since movng over form wide receiver, added 110 yards rushing and one TD.
Kavosiey Smoke rushed for 95 yards and one TD for the Wildcats in a matchup between two teams near the bottom of the SEC's Eastern Division.
The Wildcats scored 38 consecutive points after falling behind by two touchdowns early in the game.
It was the largest margin of victory in the series since 2001.
Kentucky rambled for 529 yards in total offense and nearly doubled Vanderbilt in time of possession.
Vanderbilt scored two touchdowns in 45 seconds to take a 14-0 lead in the first quarter.
Ke'Shawn Vaughn scored on a 5-yard run with 5:21 left in the first quarter and two plays from scrimmage later cornerback Allan George raced to the end zone on a 67-yard fumble return to extend the Commodores' early lead.
Vaughn rushed for 58 yards, moving him to eighth in career yards at Vanderbilt.
Texas A&M 30, South Carolina 6
COLLEGE STATION, Texas — Kellen Mond threw for 221 yards and a touchdown and ran for a second score as Texas A&M extended its winning streak to four games with a 30-6 win over South Carolina on Saturday night.
Cordarrian Richardson ran for 130 yards, including a 75-yard touchdown, and added a TD reception to help the Aggies to the victory on a night they piled up 319 yards rushing.
With just four wins and one game left the loss guarantees that the Gamecocks (4-7, 3-5 Southeastern Conference) won't make a bowl game for the first time in four seasons.
South Carolina fell to 0-6 all-time against Texas A&M and lost its second straight game this season after falling to Appalachian State last week.
The Aggies led by 10 at halftime and neither team could get anything going after the break, combining for six punts in the third quarter. South Carolina went three-and-out twice and the Aggies punted after just three plays once.
Texas A&M (7-3, 4-2) was finally able to sustain a drive when it capped a 14-play drive with a 40-yard field goal which extended the lead to 16-3 early in the fourth quarter.
The Aggies forced a fourth straight punt by South Carolina after that and Mond made it 22-3 with a 1-yard TD dive with about 10 minutes left. Richardson set up that score when he scampered 31 yards a play earlier.
South Carolina went for it on fourth-and-8 on its next drive and couldn't convert. Richardson's long touchdown ran came two plays later to pad the lead.
Ryan Hilinski threw for 175 yards for South Carolina in a game where the Aggies held the Gamecocks to just 45 yards rushing.
Isaiah Spiller added 129 yards rushing for Texas A&M.
The game was tied early in the second quarter after both teams scored a field goal in the first quarter when Mond found Richardson wide open for a 17-yard touchdown reception to give A&M a 10-3 lead.
Seth Small missed a 42-yard field goal on Texas A&M's next possession, but made one from 30 yards with less than a minute left in the second quarter to leave the Aggies up 13-3 at halftime.
Discussion
Have a comment on this story? Join the discussion or start a new one on the Forums.