Lindsey's time to shine has arrived
Published: Tuesday, November 26, 2019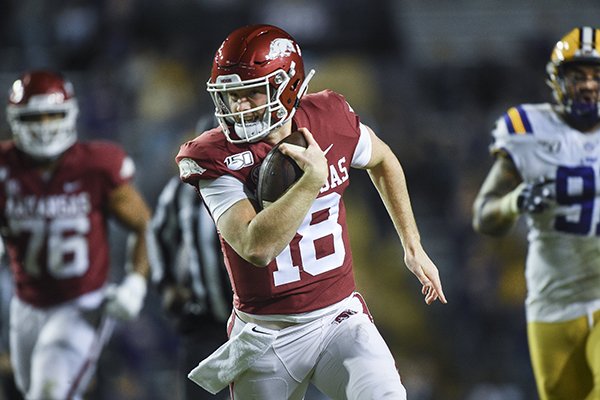 (
Charlie Kaijo
)
Arkansas quarterback Jack Lindsey carries the ball during a game against LSU on Saturday, Nov. 23, 2019, in Baton Rouge, La.
FAYETTEVILLE — Arkansas junior quarterback Jack Lindsey has waited a long time for his chance to be the Razorback signal caller, and that's no exaggeration.
Lindsey, who played for both Fayetteville and Springdale High Schools, bounced off the bench for his first action in four years as a quarterback in the second half of Saturday night's 56-20 loss at LSU, and led his team to touchdowns.
"I hadn't played a game since 2015, Conway High School in the state playoffs," Lindsey said, "so it was definitely very exciting to get back out there and play."
Lindsey, who has been the Razorbacks holder for PATs and field goals, was 3-of-4 passing for 51 yards and rushed three times for 30 yards against the top-ranked Tigers.
He got the second-team reps last week and is splitting the first-team reps this week with both KJ Jefferson and Nick Starkel, who are practicing but still in the concussion protocol.
Arkansas (2-9, 0-7 SEC) will host Missouri (5-6, 2-5) Friday at 1:30 p.m. in Little Rock.
"It was different, just because I've been scout team ever since I got here, since I stepped on campus," Lindsey said. "So that was my first week of actually going through, getting some reps with the offense, so it was nice, it was fun. I enjoyed it."
Lindsey, who completed 201 of 365 passes for 2,226 yards his senior season at Springdale, has kept the same mindset during his time at Arkansas.
"Just staying the course and keep trying to do the little things right, just prepare every week like I was the starter," Lindsey said. "That's what I did. I just tried to make sure I was ready whenever I was given the opportunity."
Arkansas interim head coach Barry Lunney has long been a big fan of Lindsey's, whose grandfather Jim was a star for the Razorbacks, and whose father, Lyndy, played for Arkansas for four seasons.
One of Lunney's first decisions as a interim head coach was to give Lindsey a chance to earn snaps.
"I'm not going to take any credit for that," Lunney said. "Just my observation, being around the kid. I saw him in high school, know his family, I am just a little more familiar with him. I know his DNA, I know who he is.
"I know when he has gotten opportunities in scrimmage, he's always kind of been a guy that made a play a little bit. Now, he hasn't been perfect. If he had, his opportunities may have already come a little earlier.
"But he's just been a guy in a scrimmage, here or there, that makes a play. He's very aggressive in that way he plays and very confident."
Lunney believes Lindsey had solid coaching as he developed in high school.
"He was coached, at both Fayetteville and Springdale, by Zak Clark, a good friend of mine, who thought highly of him as a player," Lunney said. "I thought when we got him on his own dime, we were getting a phenomenal, fantastic walk on; the kind you need here at Arkansas - family ties, legacy, in-state, smart, got physical traits to be successful at this level.
"So for all those things that have kind of come to fruition for him…at least they did the other day."
Clark, who played at Arkansas for two seasons, is also Lindsey's uncle.
"I was 6-2, 165 pounds, really skinny, not athletic," Lindsey said. But I had a really good coach, Zak Clark. I mean he coached (Fayetteville's) Brandon Allen, Austin Allen, he coached (Missouri quarterback) Taylor Powell. He knows what he's talking about. It's been a blessing to have him as a coach.
"He's also an uncle for me, too. So growing up, we would have like Thanksgiving dinners and stuff. Most kids in seventh and sixth grade aren't really worried about football and all that. They're there to get their food, and my uncle is drawing up protection tests for me and different defenses and fronts. It's just a real testament to him."
Like Jefferson before him, Lindsey's first college play at quarterback was a long run for 30 yards.
"It was just a power read play and pre-snap, I knew I was going to keep it," Lindsey said. "The O-line did a great job. Whenever I saw it come open, I got about five yards downfield and I was like, 'Wow, I haven't been tackled yet.' That was just a good start, so props to the O-line."
Lunney has gotten across to the team how important the game in Little Rock is.
"I think he's done a great job," Lindsey said. "He's really emphasized that this is our home stadium. I always loved the Little Rock game. Little Rock game is one of my favorite games of the year. Just so much history there, then they play the state championship there for Arkansas high school football.
"So it's important for me, just playing Arkansas high school football. I'm excited to get there. The Little Rock fans, they do a great job, it's always a really fun atmosphere."
Arkansas will be trying to end an eight-game losing streak in its season finale.
"It'd be great, it'd be nice to get the bad taste out of our mouths going into the offseason," Lindsey said. "I think that'd be really good for the team just to get a taste of winning again because it's been so long. So, it'd be really important."
Discussion
Have a comment on this story? Join the discussion or start a new one on the Forums.