Analysis: Musselman's in-state fall haul brightens Thanksgiving
Published: November 28, 2019 at 2:30 p.m. - Updated: November 28, 2019 at 2:42 p.m.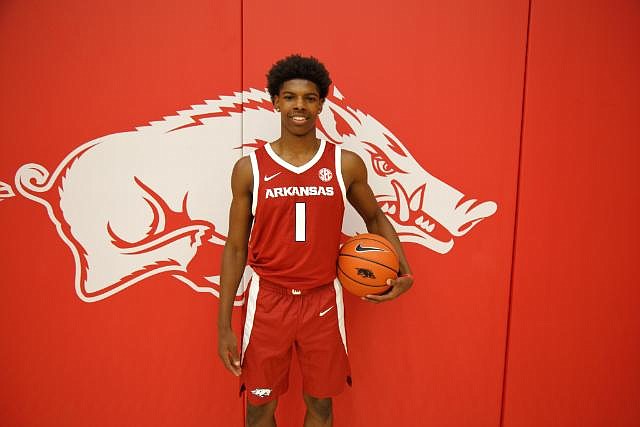 FAYETTEVILLE — No matter what his team does Saturday against visiting Northern Kentucky, Arkansas head coach Eric Musselman has already won the month of November and is feeling plenty blessed this Thanksgiving.
In addition to being victorious in all six games his team has played this month with a road win at Georgia Tech, Musselman and his staff have hauled in a top six class nationally.
The Razorbacks added former Bryant and current Mouth of Wilson, Va., Oak Hill Academy guard Khalen "KK" Robinson (6-1, 170) to their pledge list on Thanksgiving Day when he chose Arkansas over Kansas.
Robinson adds to a fall haul of top 100 players nationally that includes one signee in Jacksonville guard Davonte Davis (6-4, 170) and two commits in former North Little Rock and current Montverde. Fla., Academy guard Moses Moody (6-6, 190) and Fort Smith Northside center Jaylin Williams (6-10, 235).
The fact that Musselman has landed so many in-state prospects is impressive to Arkansas Hawks AAU coach Bill Ingram.
"This is a great group of talent in Arkansas this season and I think that is becoming the norm now in the state," Ingram said. "The fact that Coach Musselman has landed these players is a big thing for the Arkansas program.
"I think every year in the state now there is going to be at least a couple of players talented enough to play in the SEC and if you keep them home, that is just going to be a big deal because so many of them grew up loving the Razorbacks and wanting to play for them."
All have aspirations of developing and playing in the NBA, something that Musselman, a former NBA head coach, and his staff have sold to the four standouts.
"Athletes have aspirations to play beyond college," Musselman said. "There's so many areas I can provide expertise in."
That was a factor with Moody for sure.
"The big factor would be player development," Moody said. "I want to go somewhere that can prepare me to be bigger, quicker, faster, stronger - somewhere I can be successful academically and with a coach I can feel comfortable with. I want an environment I can be successful in.
"Their vision is really maximizing my potential. So wherever it leads me, I'm willing to take the ride. I just feel like when you're around people that's been where you're trying to go, they know the answers."
That list, all four-star prospects who have won at least one state championship, was already in the top six nationally in the ESPN team rankings before the addition of Robinson.
The teams ahead of Arkansas in those rankings are Kentucky, Duke, North Carolina, Tennessee and Oklahoma State.
That's pretty good company to hang with. What makes it even more impressive is that Musselman was playing catch-up with the kids raised in-state.
He still managed to land them all except for West Memphis power forward Chris Moore (6-6, 220), who is taking his talents to Auburn to play for Bruce Pearl.
Moody is ranked 30th by ESPN with Davis coming in at 80, Willians at 87 and Robinson 90th.
The Razorbacks also have several in-state players on the current roster. There is a pair of in-state guards in Fort Smith Northside's Isaiah Joe, former Little Rock Parkview forward Ethan Henderson and Jonesboro's Desi Sills and 7-3 sophomore Connor Vanover.
Vanover, who played his freshman season at California, is redshirting this season after winning a state title at Baptist Prep and finishing his career at Henderson, NV, Findlay Prep.
It is a crew that could be destined for great things as they grow together and should be a class that energizes a return to relevance for the Razorbacks.
"I have to say I really love what Coach Musselman is doing so far on the court and in recruiting," Ingram said. "The biggest difference I see is the attention to detail. They even have a guy in charge of the chairs.
"They are also playing great defense and that travels on the road with you. I really like what I am seeing and the fact that so many Arkansas kids are getting a chance up there is great."
The only thing Ingram is not down with is the fact that three of the guys did not sign in the Nov. 13-20 early signing period and are waiting until the late April 15-May 20 period to do so.
"Look, I'm old school," Ingram said. "If you make a commit and know where you want to play, then go ahead and sign. But I guess that is the new norm these days.
"That's another five months or so to hold on to them and you just have to deal with it and make it happen."
Discussion
Have a comment on this story? Join the discussion or start a new one on the Forums.