Arkansas secondary has matched last season's interception total already
Published: Tuesday, October 1, 2019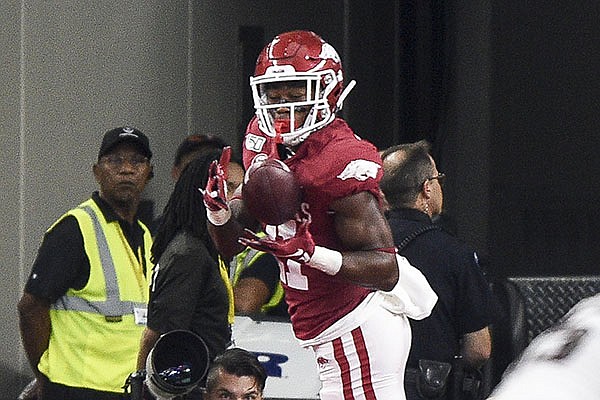 (
Charlie Kaijo
)
Arkansas cornerback Montaric Brown intercepts a pass during a game against Texas A&M on Saturday, Sept. 28, 2019, in Arlington, Texas.
FAYETTEVILLE — In just five games this season, the Arkansas secondary has matched the team's number of interceptions from last season with five, has 10 total takeaways and also scored twice on fumble returns.
That's not to say the Razorbacks have played great at the back end of the defense, but those are at least two positives to build on for Arkansas secondary coaches Ron Cooper and Mark Smith.
"Whenever you can turn the ball over or take it away, whenever you can take it away it always gives you a little energy, a little juice," Cooper said. "The guys know we've made a big deal out of it here. We're going to make a big deal out of it after the game. They take great pride in it and we do, too, as coaches."
Arkansas, which has a bye this weekend, is giving up 251.8 yards per game passing and 396.2 yards overall per contest, has forced nine fumbles and recovered five and has the five interceptions heading into an Oct. 12 game at Kentucky.
The defense forced just 16 total turnovers in last season's 12 games and that was near the bottom of the NCAA rankings.
"There's been some ups and downs," Smith said. "But overall I feel like they've improved from the beginning of training camp to right now, and that's the goal, to get better every day. That's what we've been focusing on. Our emphasis has been on just daily improvement.
"We've definitely had our moments, and there have been some moments that we have learned from and grown from. But overall I'm proud of them. I like where they're at."
Several chunk yardage plays by foes have been an issue with missed tackles having played a part in that.
"We worked on that again today and it is something that we worked on and we have emphasized here for several weeks now," Smith said. "You just keep working at it. We put them in some positions, some really negative positions, where there is a lot of space between them and the ballc arrier, making sure we are tracking the inside hip with our knees bent and our palms up and not over-running the ball and just doing that over and over.
"We have also pointed out in the games where it has not happened and also pointed out the games where they have done it right. So that is just something that we will continue to work on and emphasize, being a great tackling team in space."
Arkansas has spent most the of season with Kam Curl and Joe Foucha at the safeties, Montaric Brown, Jarques McClellion and LaDarius Bishop at the cornerbacks and true freshman Greg Brooks at nickel.
All except Bishop played over 70 plays last weekend in a 31-27 loss to Texas A&M.
Curl has two of the interceptions and a 60-yard strip and fumble return for a touchdown against Ole Miss.
"Kam's been playing really well," Cooper said. "I'm definitely pleased with him. He's made several plays, several checks. He understands the scheme. He's put us in some of the right calls sometimes when we may have needed the right secondary coverage check. I'm really pleased with Kam.
"…Kam has really been playing well. I've had some great safeties in my time and he's working his way into being a dominant guy."
Brown and Bishop, two cousins and former Ashdown standouts, have both had big plays with Brown intercepting a pass in the end zone against Texas A&M and Bishop returning a fumble back for a touchdown in Arkansas' 55-34 home win over Colorado State.
"It was really good," Smith said of Brown's interception. "I was really proud of him and thought he did a great job preparing himself throughout really the week before when we decided to hold him out (due to injury against San Jose State) and then coming back and playing in a game this past week.
"I know he was a little bit sore, but he got out there and really pushed through it and I was really happy for him and proud of him.
"Likewise, I was really proud of DaeDae (Bishop) and the way he came in really his first significant playing time the week before (against San Jose State). I thought he came in and did a solid job. So it is really good and the guys are preparing well as if they are going to go and play every snap in every game and that's important."
McClellion has been solid, but also been called for pass interference on what seemed like 50-50 calls.
"He's been as steady as any of the guys on the back end this season," Smith said. "I think his play has been consistent. Some of those pass interference [penalties], they're going to call that sometimes.
"We want them to be aggressive in the way that they play. Not to the point where we get a penalty, but we want them to play aggressive, and in this league they allow you to do that. So we're going to be as aggressive as we can right to a point."
Brooks arrived in January and went through spring practice.
"You know what, this week was probably his best game," Cooper said. "His factor grade, he plays probably one of the hardest positions on defense. Nickel is a combination linebacker, corner, slot cover."
Brooks and several others Razorbacks struggled against San Jose State, which upset Arkansas 31-24 in Fayetteville.
"Greg has definitely gotten better," Cooper said. "He had a hard game two games ago I think. We did some things technique -- and fundamental -- and alignment-wise to help last week and it totally helped. That position has been a position in this defense that's been mastered by a couple of really good players."
Cooper noted that he had only started one other true freshman in his career and that was an LSU player who went on to be dubbed The Honey Badger.
"I've only played one as a true freshman and that's Tyrann Mathieu," Cooper said. "He played it and played it really well. Other than that, it's taken some guys one or two years to get it. He's the second freshman I've sort of put in there doing it over time, so I'm pleased with his progress."
Fellow freshman defensive back Jalen Catalon came in as a highly-regarded recruit, but has not seen extensive playing time on defense yet.
"I told Jalen today we're going to figure out a rotation to where some of the guys that are backups, that I'm going to name, you're going in this series, no matter what. This series you're going in the second half. They know it going into the game. Guys know and it helps me with getting out of the flow of the game.
"I'm thinking of what's next, making adjustments so you forget about sometimes the substitutions. But we've got to get some of the backups in the game, just to get them some experience. At the same time we've got a group of guys that played all 70 plays this past weekend. That's too many to play."
Catalon, Devin Bush and Malik Chavis are also defensive backs that could see more playing time soon.
"All three of those guys are so far along from there they were when we started," Smith said. "Devin, of course, was here during the spring so he has a little bit more time that he has been here.
"But from when they got here, from whenever that was, to where they are now has been dramatic in those guys and there was a real emphasis on those guys out in practice today to really strain them a little bit more and see where we are going to go. I think we can expect to see some more things from them from here on out."
Cooper knows creating turnovers will be tougher against SEC foes.
"It's going to get harder and harder as we get into conference play," Cooper said. "This conference protects the ball. You'll see that as time goes on. We'll continue to work on it. We worked on it today. We're going to continue to work on stripping the ball, trying to get it out of the running back, receiver or quarterback's hand at the same time. If the ball's in the air, throw a net. Like Busta (Brown) had this week, go after it and go get it."
As disappointed as that loss was to A&M, Smith believes the team has moved on.
"I feel like that are totally over it," Smith said. "There wasn't a thing mentioned about it or said about it today. We kind of have that rule that 24-hour rule that you kind of flush that one whether you won it or lost it and then you move on to the next one. So there wasn't a thing mentioned about that today."
Because of the open date thus weekend, Tuesday was Arkansas' first practice this week unlike most weeks when it is Sunday.
"I thought it was really good," Smith said. "The guys came out and they were focused and sharp. Their attention was where it needs to be and they understand what we need to do and the ideas that we are going to go and win the game. So we have to prepare well for that today in order to go and have our best opportunity to win next Saturday."
Discussion
Have a comment on this story? Join the discussion or start a new one on the Forums.