2021 big man Daimion Collins checks out Arkansas
Published: Monday, October 7, 2019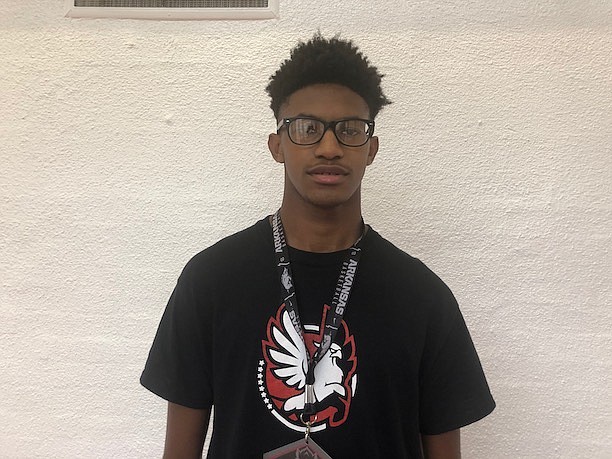 FAYETTEVILLE — Atlanta, Texas junior center Daimion Collins (6-8, 190) is a man of few words, but is also someone whose game does most of his talking.
Collins, a four-star prospect and the 22nd-best player nationally per 24/7's composite rankings, was in Fayetteville Saturday for Arkansas' Red-White game.
He got to tour Bud Walton Arena, the Razorbacks' current playing facility, as well as the Arkansas Performance Center practice facility before watching the game at Barnhill Arena, where Arkansas last played a game in 1993.
"It was pretty crazy and, it wasn't even their biggest gym," Collins said.
Collins has raked in offers from Arkansas, Alabama, Texas Tech, Texas, Oklahoma, Oklahoma State, USC, Houston, SMU, Tulsa and Stephen F. Austin.
"I haven't really just really put my list into an order yet, but they (the Razorbacks) have got me really, really interested," Collins said.
Collins likes what he sees from Arkansas head coach Eric Musselman and assistant Corey Crutchfield.
"Coach Musselman is a pretty cool guy," Collins said. "I like him a lot. Me and Coach Crutch, we have a pretty good relationship."
Collins saw his stock soar this summer from being a top 100 player to a Top 25 on four services while playing AAU basketball with Team Griffin, which won the Peach Jam 16-and-under championship in July.
"It has been just staying in the gym and working out basically and staying humble," Collins said.
Team Griffin also included a pair of other Razorback 2021 targets in Oklahoma City, Okla., Heritage Hall guard Trey Alexander and forward Jaxson Robinson of Ada, Okla.
"We had pretty good chemistry and I would say experience so it was a pretty good playing with all of them," Collins said.
Collins is more of a defensive presence at this time.
"My strengths I think are shot blocking and rebounding and I need to work on getting my jump shot better and my ball-handling," Collins said.
Discussion
Have a comment on this story? Join the discussion or start a new one on the Forums.