SEC roundup: South Carolina takes bite out of Georgia; LSU, Alabama remain unbeaten
Published: Saturday, October 12, 2019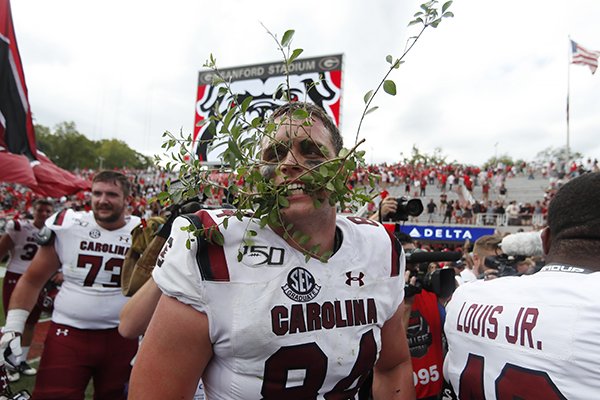 South Carolina tight end Kyle Markway (84) holds a piece of the Sanford Stadium hedge in his teeth as he celebrates defeating Georgia 20-17 in double overtime an NCAA college football game Saturday, Oct. 12, 2019, in Athens, Ga. (AP Photo/John Bazemore)
ATHENS, Ga. — Parker White's 23-yard field goal in the second overtime proved to be enough when Georgia's Rodrigo Blankenship was wide left on his attempt from 42 yards, giving South Carolina its first win over an AP Top 25 opponent since beating Georgia in 2014.
Blankenship's second miss of the game sent South Carolina players charging onto the field to celebrate the upset.
White missed a 33-yard attempt in the first overtime.
Georgia (5-1, 2-1 Southeastern Conference) suffered a big hit to its national championship hopes. The Bulldogs, favored by 24½ points, could not overcome three interceptions and a lost fumble by Jake Fromm. The senior did not throw an interception in the Bulldogs' first five games.
On the second play of overtime, Fromm's pass glanced off the hands of receiver Tyler Simmons and was intercepted by Israel Mukuamu. White's miss from 33 yards kept the game alive for South Carolina (3-3, 2-2).
Fromm led Georgia on a tying 96-yard touchdown drive capped by his 6-yard scoring pass to Demetris Robertson with less than two minutes remaining in regulation.
No. 5 LSU 42, No. 7 Florida 28
BATON ROUGE, La. — Joe Burrow passed for 293 yards and three touchdowns, and fifth-ranked LSU scored three straight touchdowns after falling behind early in the second half to emerge with a 42-28 victory over No. 7 Florida on Saturday night.
Facing a Florida defense that came in leading the nation in interceptions and leading the Southeastern Conference in sacks, the Tigers (6-0, 2-0 SEC) totaled 511 yards without giving up a sack or committing a turnover.
Ja'Marr Chase had 127 yards receiving and the last of his two touchdowns was a 54-yarder to give LSU a two-score lead with 5:43 left. Justin Jefferson caught 10 passes for 123 yards and a touchdown.
Burrow, meanwhile, went 21 of 24, meaning he had the same number of touchdown tosses and incomplete passes. Clyde Edwards-Helaire rushed for 134 yards and two scores on 13 carries.
The Tigers still have yet to score fewer than 42 points in a game this season.
Kyle Trask was 23-of-39 passing for 310 yards and three touchdowns for Florida (6-1, 3-1), but was done in by freshman Derek Stingley Jr.'s interception in the LSU end zone in the fourth quarter, when the Gators were trying to tie the game. Soon after, Burrow spotted Chase running free down the right sideline, and a Tiger Stadium crowd more than 100,000 strong was in virtual delirium.
Florida led 28-21 after opening the second half with an eight-play, 75-yard scoring drive that ended with Van Jefferson's second touchdown catch of the game.
But LSU tied it less than four minutes later on Edwards-Helaire's 5-yard run. Tryron Davis-Price put the Tigers back in front with a 33-yard run on LSU's next possession.
The first half was played to a 21-all tie with Florida using methodical drives to answer each of the first three touchdowns scored by LSU's high-octane attack.
LSU's first touchdown, a 9-yard pass to Chase, took two plays and 32 seconds, starting with Edwards-Helaire's 57-yard run. The Gators responded with a 12-play drive that took more than six minutes, capped by Trask's 5-yard pass to Trevon Grimes.
After Justin Jefferson's 7-yard TD catch capped a five-play drive that covered 82 yards in just 2:09, Florida answered with a 13-play drive that consumed nearly seven minutes, ending with Emory Jones' fourth-and-goal pass under pressure to Lamical Perine, who deftly corralled the ball after it was tipped by linebacker Patrick Queen.
LSU took the lead just 1:29 later when Edwards-Helaire scored on a 39-yard run, and Florida tied it again with an 11-play drive that finished with Van Jefferson's first touchdown on a 6-yard pass from Trask.
No. 1 Alabama 47, No. 24 Texas A&M 28
COLLEGE STATION, Texas — Tua Tagovailoa threw four touchdowns and Alabama's offense kept rolling in the Tide's first game at No. 1 this season.
Tagovailoa threw his first interception of the season but became Alabama's career passing touchdowns leader with his first one of the game, breaking his tie with A.J. McCarron. The junior now has 81 for his career and leads the nation with 27 on the season.
Alabama (6-0, 3-0 Southeastern Conference) trailed briefly in its first game this season against a ranked opponent when Texas A&M scored a touchdown on its first possession.
Tagovailoa then engineered four consecutive scoring drives, which included three touchdown passes that all came on third down, and the Tide were on cruise control against the best pass defense they had faced so far this season. The only blemish was the interception thrown in the Texas A&M end zone late in the second quarter.
Kellen Mond passed for 264 yards and two touchdowns and ran for a score for the Aggies (3-3, 1-2).
Other Final Scores
Tennessee 20, Mississippi State 10
Missouri 38, Ole Miss 27
UNLV 34, Vanderbilt 10
Discussion
Have a comment on this story? Join the discussion or start a new one on the Forums.