LR Parkview sophomore tailback Jointer has bright future
Published: Saturday, September 7, 2019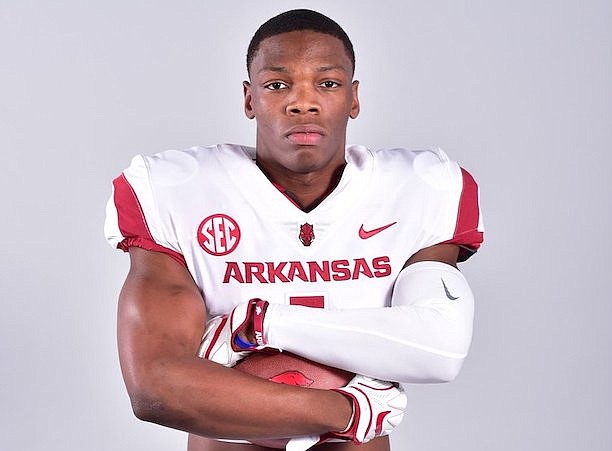 SPRINGDALE — Former North Little Rock and current Little Rock Parkview football coach Brad Bolding has coached some great football players in his 25-year career such as Ohio State's KJ Hill and the late Altee Tenpenny, who played at Alabama.
Bolding believes he has another one that can be right there with those two in sophomore tailback James Jointer (5-11, 198), who has an offer from Arkansas and interest from several other top programs.
"He's a young guy, but you can see he is a strong kid with a lot of speed having run a 4.5 second 40-yard dash as a ninth grader," Bolding said. "We will keep working with him on his pad level and his attention to detail. If he keeps working hard, he has the chance to be one of the best I have ever coached."
Jointer had 8 carries for 40 yards and 2 catches for 27 yards, including taking a screen pass for a touchdown in his team's 24-21 season-opening loss at Springdale on Friday night.
"I really just saw all the work I had put in the (off)season pay off," Jointer said of the screen pass. "The great running back coach we have in Brad Bolding, so it really was no surprise."
Jointer showed off that speed during a game that Parkview led 21-9 with just under four minutes left, but also trusted it too much late in the game as he tried to reverse his field and ended up losing 16 yards to the Patriots' 2-yard line.
It was the second straight year that Springdale had rallied late to down Parkview, who returns 12 starters from a 5-7 squad in Bolding's second year at the school.
"We started off with intensity, not making mistakes, but it went downhill," Jointer said. "At the end of the day, we know we have a lot to work on and it is most definitely a wake-up call for us.
"I have got to say this is not the Patriots. It was mental mistakes. Nothing big, but the little things came back to haunt us."
Bolding noted that Jointer will learn with experience that late in the game you have to go north-south and not east-west.
"He was just trying to make a play for us and it is a lesson he will learn and benefit from," Bolding said. "The one thing we get from him every day is great effort. I love the kid."
Jointer was the leading rusher for Parkview's unbeaten ninth grade team last season and took his first high school carry 60 yards for a touchdown after being moved up to the varsity in the 10th game of the season.
"He has great instincts as a runner and is going to have a great career for us, but he is just young like most of our team," Bolding said. "We brought 35 guys tonight and most of them are sophomores and juniors."
Parkview also has several other players drawing college interest, including senior tailback Thomas McCauley (6-0, 230), junior quarterback Landon Rogers, junior tight end Erin Outley (6-4, 240) and junior nose guard Jared Summons (6-5, 290), the younger brother of former Razorback basketball star Bobby Portis.
"We are working on changing the culture and doing it with young guys," Bolding said. "We are all growing together."
Springdale junior wide receiver Ladarius Wonsley had 15 catches for 183 yards, including a leaping catch at the 1 that set up Gilberto Domniguez's one-yard scoring run with 1:49 left.
Domninguez had 25 carries for 114 yards for Springdale (1-1).
Jointer became the second 2022 in-state prospect to get an Arkansas offer when he was offered on Jan. 26, joining Pulaski Robinson offensive lineman E'Marion Harris (6-6, 305).
On the Fayetteville campus for a prospect day, Jointer admitted breaking down in tears upon getting an offer from the school he has grown up rooting for and remembering the play of former Razorbacks tailback and Arkansas native Darren McFadden.
"I feel like Coach Morris and the team is on the rise," Jointer said. "With the recruits they got, he is most certainly going uphill."
There have been a number of schools getting into contact with Jointer through Bolding, mail and social media.
"Ohio State, TCU, Bama, Baylor, Mississippi State and a lot of others," Jointer said. "But recruiting isn't the first thing on my mind right now. I am trying to get my team to win a championship."
Jointer knows he is still working on getting better in certain areas.
"Most definitely pad level," Jointer said. "I feel like my catching is getting way better. I just have to work on pad level. I mean, I had some good blocks tonight in pass pro, but I feel like I don't want my quarterback getting touched at all.
Discussion
Have a comment on this story? Join the discussion or start a new one on the Forums.