Arkansas-San Jose State predictions
By:
WholeHogSports
Published: Saturday, September 21, 2019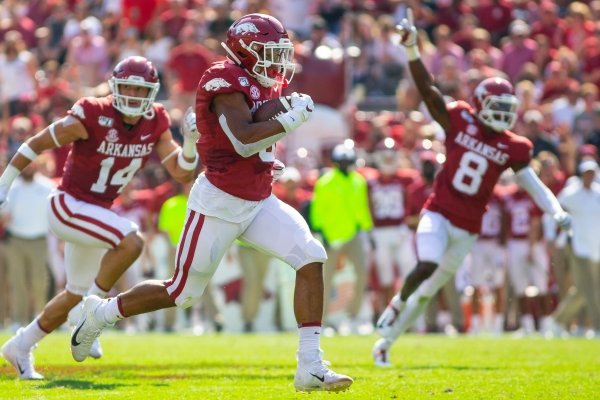 Rakeem Boyd on the way to the endzone fo score a touchdown during a football game, Saturday, September 14, 2019 at Donald W. Reynolds Stadium in Fayetteville, AR.
Clay Henry, Hawgs Illustrated
The offense may have passed the defense with Nick Starkel's improved quarterback play. Freshmen defensive ends need to work out some kinks this week. Arkansas, 48-13
Dudley E. Dawson, Hawgs Illustrated
Arkansas has a chance for a winning streak for the first time with Chad Morris at the helm. San Jose State doesn't seem like a foe that could keep the Razorbacks from winning a modest two in a row. But man does it get tough after that. Arkansas, 51-14
Matt Jones, Whole Hog Sports
The final margin might be similar but it would be surprising to see this Mountain West team give the Razorbacks as close of a call as the one last week. The backups should get playing time against a team that has lost 11 each of the past two years. Arkansas, 44-20
Bart Pohlman, The Hog Pod
San Jose State is not a very good football team. They're coming off a bye week, which … good for them. Arkansas should — and I emphasize the should — be able to handle the Spartans easily. Arkansas, 44-20
Seth Campbell, Whole Hog Sports
The offense continues to put up points as Boyd rushes for over 100 yards for the third time this year, and the Starkel to Knox and Burks connection grows as both freshmen wide receivers score a touchdown. Arkansas, 56-10
Tommy Craft, The Morning Rush
The offense executed better and played with more confidence with Nick Starkel at quarterback. The Hogs will need a complete four quarter performance against San Jose State before returning to SEC play. Arkansas, 35-24
John Nabors, The Morning Rush
Hogs get things rolling with big confidence boost from the CSU win. Starkel looks even better and this team starts to believe they can take on SEC competition successfully. Arkansas, 41-20
Scottie Bordelon, Whole Hog Sports
Offensively, the Razorbacks put together another performance similar to Colorado State. I expect 500-plus yards of offense and plenty of fireworks. Arkansas tightens up on defense after allowing 220 on the ground to the Rams. Arkansas, 49-13
Tye Richardson, Halftime
House of Starkel has taken over. The offense flourishes in this one. Arkansas, 59-24
Harry King, Hawgs Illustrated
An 18-point loser to Tulsa two weeks ago, the Spartans are not as good as Colorado State. Arkansas, 45-17
Chip Souza, NWA Democrat-Gazette
A 3-1 record is where most predicted the Hogs would be after four weeks, and that's where they will be after this one. Halfway to bowl eligibility. Getting three more wins will be a lot tougher. Arkansas 51-17
Discussion
Have a comment on this story? Join the discussion or start a new one on the Forums.