Best web comments of the week
By:
WholeHogSports
Published: Saturday, September 21, 2019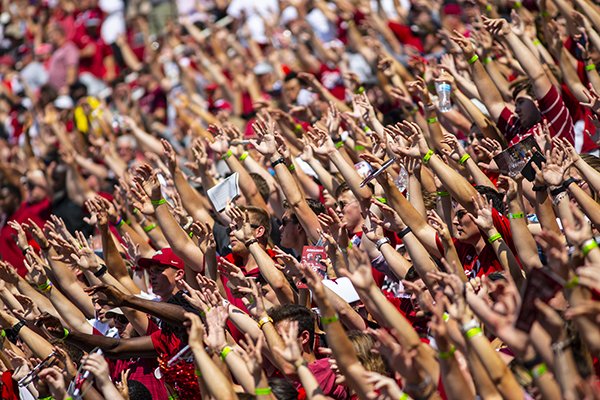 Photo by David Beach
Arkansas fans call the Hogs during a game against Colorado State on Saturday, Sept. 14, 2019, in Fayetteville.
Selected comments from the message boards at WholeHogSports.com:
Should fans boo the opposing team?
bikehog23: I was surprised when our fans booed the Colorado State team when they entered the field.
worldseriesofporker: Not a fan of booing the opposing team either. I don't know if the booing was a reaction to (a CSU player) giving the fans the one finger salute … or if the salute was a reaction to the fans booing. … I noticed he ran the length of the sideline flying the bird. He stopped saluting when the team took a knee for prayer. Guy next to me commented, "He must be asking for forgiveness now."
Arkansas fans discuss improved play on the offensive line
batonrougehog: I was amazed (and elated) to see several times where gaping holes were opened for running backs and the runners made productive use of those holes. Even saw some good pass protection blocking. It was clearly the best that I have seen from this team for several years.
bushog: Hoping they took a major step forward. Would like to see some aggressiveness until the whistle blows and a nasty streak. Seems we watch a little at times. But they definitely held blocks well for Nick Starkel to pass and opened some good holes for backs.
longtimehog: I find it interesting that the true freshman is the one who switches positions when they change the line personnel. Ricky Stromberg plays both guard positions without missing a beat. Really like him.
Posters discuss the up-and-down performance of the defense
Hogmodo: The defense is better, but still a work in progress and nowhere near where it needs to be.
cohog1: Too many young players that are playing some of their first snaps. We need some patience with them and we need to hold out hope for greater health going forward.
jhawg: We weren't very good on third down.
daboar: CSU was four of 14 on third down. Arkansas was six of 12 on third down. Not bad either way for the Hogs.
poochpunt: There were a number of whiffs by defenders on both teams Saturday. Seems to me no matter who you play holding the opposition to field goals is a big win. Tackling in space is the key. There's a lot to be said for being subtle enough to disguise third down blitzes if you want to go that route. Maybe our current group of DBs will develop into an Alabama-like receiver-mauling defense.
jihawg: We have to figure out, freshmen or not, how to stop the runs off tackle and around the end. I love our pressure we bring when it's third and long. It's a thing of beauty.
On Cheyenne O'Grady's 62-yard touchdown play in which he broke five tackles
Eaglehog5: That TD catch was downright bodacious.
ClayHenry: O'Grady's blocking was good too. Good blocking by the tight end sets up everything. He's a complete player right now.
MareThanASquealin: Don't underestimate the magnitude of that effort. It's contagious. You saw the sidelines and the defense respond to it immediately afterward.
Fans comment on the change in the offense with a new quarterback
guyinhawaii: When was the last time the Hogs scored TD's on their first three series? Against Texas Tech in 1979 or so?
MattJones: Texas State, 2016.
Neastarkie: The offense is looking great, but the D needs to get some more stops.
Why are there fewer posts after a win?
hogmaestro: I am a little disappointed to see fewer posts after a win than after a loss.
Hogmodo: After most losses, the vast majority of the posts are either people you never see on the board or the "negative nellies" that always complain regardless of the topic. I find it a waste of time to read the posts after a loss. How many "worst team I ever saw" rants do you need to read unless you enjoy that kind of post? After a day or so, you get posts that point out the bad and the good from the game and can intelligently discuss it without foaming at the mouth.
neastarkie: You nailed it, Hogmodo. There are a few posters who seem to live for the chance to post after a loss or even an unimpressive win. I don't understand the mindset, but there's no doubt some people have it.
bushhog: I think we are all desperate for a winner. Seems every year since finishing number 5 AP, that we look for a big time program on hard times to point to so we say, see it's not just us. But we are unfortunately a common denominator.
Score predictions for Saturday's game
Neastarkie: Hogs 52, San Jose 27
Bobghawg: 42-14 Hogs. Then it gets interesting.
cohog1: Hogs 38, SJS 21
bakedhog19741: San Jose State is in Colorado State's conference. Last year they were one of the two teams from that conference that was considered worse than CSU. They're not picked to be much better this year. Having said that, AR 38, SJSU 20. Much closer than anyone expects.
hogwild1975: Hogs 65, SJSU 6
bobghawg: Ideally I doubt if the coaches want a ton of points, but a good look at the first group and later in the game a look at as many as they would like to see improve and be a big help this year. Scoring 70 points would not be as productive as advancing several back ups into more reliable players.
eaglehog5: Hogs 49, Joses 14. John Stephen Jones will play.
jacksonreid: 41-17 and never in doubt unlike last week.
bballhawg: 44-10. Defense gets two TD's including a pick 6.
white25: Ark 46, SJ 29. Starkel knows the way through San Jose.
golfinhog: Hogs continue to show improvement and play lots of backups. Game not as close as final score of 45-17.
LDhog: Hogs 52-14
georgiahawg: Hogs 59-20. Starkel getting locked and loaded for Texas A&M.
rzbackangler: 48-14. Hogs will roll.
Discussion
Have a comment on this story? Join the discussion or start a new one on the Forums.