SEC Roundup: Rebels rally falls short, Auburn withstands A&M
By: The Associated Press
Published: September 21, 2019 at 3:45 p.m. - Updated: September 21, 2019 at 7:04 p.m.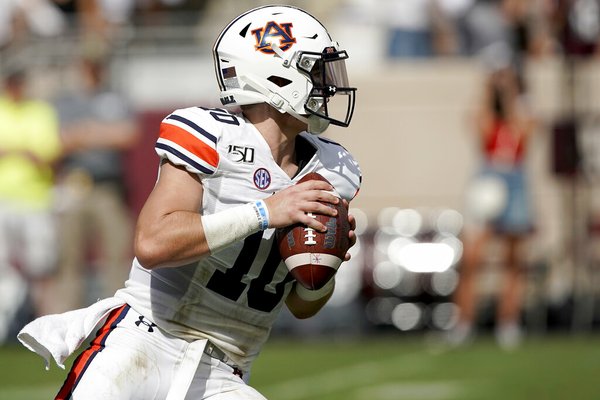 Photo by Sam Craft AP
Auburn quarterback Bo Nix (10) looks down field to pass against Texas A&M during the first half of an NCAA college football game, Saturday, Sept. 21, 2019, in College Station, Texas.
No. 9 Florida 34 Tennessee 3
GAINESVILLE, Fla. — Kyle Trask threw for 293 yards and two touchdowns in his first start in nearly seven years and No. 9 Florida beat slumping Tennessee 34-3 Saturday, extending the Gators' dominance in a series that used to be the most prominent in the Southeastern Conference's Eastern Division.
Trask's first collegiate start was far from perfect, though. The fourth-year junior lost a fumble and threw two interceptions against the Volunteers (1-3, 0-1 SEC)
But he did enough to overcome those miscues and lead Florida (4-0, 2-0) to its 14th win in its last 15 games against Tennessee. Trask completed 20 of 28 passes, none better than the ones that went for touchdowns to Kyle Pitts and Freddie Swain.
Trask connected with Pitts for a 19-yard score on the opening drive of the game and then hooked up with Swain for a 29-yarder to cap Florida's first possession of the second half.
Not bad for a backup.
Trask played behind current Houston starter D'Eriq King at Manvel (Texas) High for three seasons and spent the last three years behind Feleipe Franks, who gruesomely dislocated and fractured his right ankle in a 29-21 victory at Kentucky last weekend. Trask last started a game in 2012 for Manvel's freshman A team.
Tennessee's performance was mostly a debacle, especially early.
Right tackle K'Rojhn Calbert was flagged for a late hit after the Vols picked up their first first down. Cornerback Warren Burrell recovered a fumble with a foot out of bounds, negating the turnover.
Jauan Jennings, the team's top receiver, bobbled a would-be touchdown in the end zone that resulted in an interception. Tennessee had to burn a timeout after coming out of a television break. And then quarterback Jarrett Guarantano threw an interception right to cornerback Marco Wilson after a miscommunication with a receiver.
Guarantano completed 8 of 15 passes for 93 yards with two interceptions and a sack in the first half. He was benched in favor of freshman Brian Maurer to start the second half.
Maurer, who grew up in nearby Ocala, had made his collegiate debut last week against Chattanooga.
Jennings added to Tennessee's woes in the second half. He received a 15-yard penalty for running into punt returner Freddie Swain, who had called for a fair catch.
THE TAKEAWAY
Tennessee: The Vols might have a quarterback quandary moving forward. Maurer played three series before Guarantano returned. Maurer completed 4 of 11 passes for 44 yards with an interception. Guarantano finished 10 of 17 for 104 yards with two interceptions.
Tennessee finished with 239 yards, including 151 passing.
Florida: The Gators turned in their most complete game of the season. They needed a couple of defensive stands to beat Miami in the opener and leaned on Track to orchestrate a late rally and overcome an 11-point deficit at Kentucky.
POLL IMPLICATIONS
The Gators should remain in the top 10 after a dominating performance.
UP NEXT
Tennessee has a bye week before beginning a daunting stretch against No. 3 Georgia, Mississippi State and at second-ranked Alabama.
Florida hosts Towson in the second of two games against teams from the Football Championship Subdivision.
No. 4 LSU 66 Vanderbilt 38
NASHVILLE, Tenn.— Joe Burrow tossed four of his school-record six touchdown passes to Ja'Marr Chase and threw for 398 yards Saturday, leading No. 4 LSU to a 66-38 romp over Vanderbilt in the Tigers' Southeastern Conference opener.
LSU (4-0) beat Vanderbilt (0-3, 0-2) for the eighth straight time and improved to 12-5 all-time in Nashville in the first game between these SEC charter members since 2010.
The Tigers showed off their new high-powered offense, scoring their most points this season and most ever in regulation against an SEC opponent. They needed 2:11 or less on their first seven scoring drives, and LSU scored 4 seconds after Micah Baskerville returned an onside kick 46 yards to open the third quarter on Burrow's fifth TD pass.
Baskerville later blocked a punt he recovered for a TD.
Burrow had a game for the record books.
He became both the first LSU quarterback to throw for 350 yards or more in three straight games, and his 357 yards passing by halftime also was the most in school history. Burrow opened the game hitting 13 of his first 14 for 244 yards before his second incompletion at 9:19 in the second quarter. He finished 25 of 34 before leaving the game early in the fourth quarter.
And Burrow kept throwing to Chase. The sophomore caught TDs of 64, 25 and 51 yards in the first quarter and adding a 16-yarder in the third. He finished with 10 receptions for 229 yards, most by an LSU receiver since Odell Beckham Jr . had 204 against Furman in 2013.
Vanderbilt had never played two of the nation's top five teams within the first three weeks before in program history. At least the Commodores scored on their first drive, which they didn't manage in an opening loss to No. 3 Georgia or a loss at Purdue. They scored their most points yet this season but turned it over twice.
LSU led 28-7 after the first quarter, 38-17 at halftime and 59-31 after the third. Clyde Edwards-Helaire ran for 106 yards and a TD, and John Emery added a TD late.
THE TAKEAWAY
LSU: The Tigers came in second in the SEC defending the run, giving up just 80.3 yards a game. They gave up a 41-yarder to Ke'Shawn Vaughn on Vandy's first offensive play, and he broke loose for a 52-yard TD run in the third quarter — the longest run this season for the SEC's top returning rusher. Vaughn finished with 20 carries for 130 yards.
Vanderbilt: The Commodores came in as the only FBS team without a sack this season, and the closest they came to hitting Burrow early was on a roughing the passer penalty in the first quarter. Then Jaylen Mahoney sacked the LSU quarterback early in the second quarter a play after Burrow had plenty of time to roll to his right before finding Stephen Sullivan on a 30-yard completion. Kenny Hebert also got a sack, and Elijah McAlister recovered an Edwards-Helaire fumble for a touchdown in the final minute of the first half.
UP NEXT
LSU: Open date before hosting Utah State on Oct. 5.
Vanderbilt: Hosts Northern Illinois on Sept. 28.
No. 2 Alabama 49 Southern Mississippi 7
TUSCALOOSA, Ala. — The glaring sun was the only thing that slowed down Alabama receiver Henry Ruggs III early, and that was only for an instant.
Ruggs held up momentarily before pulling in his second long touchdown catch in the second-ranked Crimson Tide's 49-7 victory over Southern Miss on Saturday. He collected it and was off to the races again for a 74-yard score.
Ruggs said it wasn't an underthrown ball by Tua Tagovailoa, who had another huge game.
"The sun caught in my eye," he said. "The ball was right in the sun, so I actually turned around to make sure I secured the catch instead of catching it over the shoulder."
Tagovailoa passed for 293 yards and five touchdowns in just three quarters, including a 45-yarder and 74-yarder to Ruggs in the first nine minutes.
He had his second straight five-TD game and the Tide (4-0) raced to a 28-0 lead in the first 19 minutes in yet another lopsided victory. Last season's Heisman Trophy runner-up completed 17 of 21 passes.
The Golden Eagles (2-2) couldn't keep up with the speedy Ruggs, despite a little help from the sun. He had a career high in receiving yards even before the first quarter ended.
Ruggs finished with four catches for 148 yards, all in the first half and all on four targets. He sprinted to the end zone untouched on a slant pattern for the 45-yarder.
There were plenty of big plays to go around for an offense that had back-to-back 91-yard scoring drives. Alabama scored on its first four possessions in an early kickoff in hot weather against a sizable underdog.
"There's a lot of reasons that the players could have not played well today," Tide coach Nick Saban said. "And I was really pleased with the fact that they were ready to play and got after it."
Najee Harris gained 110 yards on 14 carries to become the Tide's first 100-yard rusher since last season's LSU game. Jerry Jeudy caught a pair of TD passes and finished with 96 yards on six catches.
"I've been coaching a long time, and this is probably the first time I've ever said this: I don't know if I've ever seen an offense with two Heisman Trophy candidates in it," Southern Miss coach Jay Hopson said. "They're good, they're really good. They're going to be one of the best, if not the best, offenses in college football with that type of exploding. The quarterback, I mean he just doesn't make a bad throw."
For Southern Miss, De'Michael Harris had 34 yards rushing with 50 yards and a touchdown receiving. Jack Abraham completed 17 for 26 passes for 174 yards.
ALABAMA INJURIES
Alabama's injuries continue to pile up. Linebacker Terrell Lewis missed the game with a hyperextended knee, but Saban said he's expected back to practice by Tuesday. Christopher Allen started in his place. Nose guard DJ Dale was helped to the locker room late in the first half with a patella tendon strain.
"Doc thinks he may be OK," Saban said.
Placekicker Will Reichard left the game after a kickoff in the first quarter with a pulled hip flexor and Joseph Bulovas handled the duties after that. Saban labeled him as questionable against Mississippi next weekend.
THE TAKEAWAY
Southern Miss: Couldn't cash in with points on three early trips into Alabama territory. Was outgained 514-226 in total yards.
Alabama: Just keeps rolling along, but its toughest games await. Tagovailoa now has 17 touchdown passes without throwing an interception this season. The biggest test for the Tide could be overcoming all the injuries.
HITTING 70
Tagovailoa's fourth TD pass made him the second Alabama quarterback to reach 70. AJ McCarron has the school career mark with 77. Tagovailoa also passed Jalen Hurts and others to move into the top 5 on Alabama's career passing yards list.
UP NEXT
Southern Miss returns home to face UTEP.
Alabama hosts SEC West opponent Mississippi.
No. 23 California 28 Mississippi 20
OXFORD, Miss. — Chase Garbers threw for four touchdowns, but No. 23 California needed a game-saving tackle at the 1-yard line from linebacker Evan Weaver on the game's final play to defeat Mississippi 28-20 on Saturday.
Cal (4-0) was in control until the final six minutes, when reserve quarterback John Rhys Plumlee led Ole Miss (2-2) on a late rally to wipe out a 28-13 deficit. Plumlee was stopped by Weaver for no gain on fourth down at the 1-yard line as time expired.
Garbers completed 23 of 35 passes for 357 yards, including TDs of 9 and 60 yards to Jordan Duncan and Jake Tonges on the opening two possessions of the third quarter, setting up the late defensive heroics.
"Weaver has 22 tackles. When was the last time we didn't talk about what a great player he is? He produces every week," California coach Justin Wilcox said. "Chase was awesome. It's not even close. That's the best game he has played."
The Rebels got strong performances from quarterbacks Matt Corral and Plumlee, who led the final two possessions. Corral had a 1-yard scoring run and was 22-of-41 passing for 266 yards before leaving with a rib injury. The Rebels had 525 yards of total offense but failed on two scoring opportunities with missed field goals.
Plumlee went 7 of 7 for 82 yards in the final six minutes. Jerrion Ealy scored on a 15-yard run with 4:29 left to cap Plumlee's first series. The Rebels went 89 yards in 10 plays in the final 2:45, finished by the game-saving stop from the Golden Bears' defense.
"We had a great opportunity today, but we just didn't make enough plays to win the game," Mississippi coach Matt Luke said. "Matt did well, but we've got to look at the rib injury. John Rhys made the most of his opportunity."
Cal finished with 433 yards of total offense, including first-half touchdown passes by Garbers of 6 and 13 yards to Trevon Clark and Christopher Brown Jr. The Golden Bears were efficient offensively, going 6 for 12 in third-down situations and 3 for 3 in the red zone, capped by touchdowns.
THE TAKEAWAY
California: The Bears overcome a cross-country road trip, an early kickoff time — especially for a Pac-12 team — and a serious late charge to earn the decision. This win should raise expectations about Wilcox's team after flying under the radar nationally early this season.
"When you come down here and play in this environment, against those coaches and athletes and win like we had to win, it builds confidence," Wilcox said. "This is important to us and definitely is a step in the right direction."
Ole Miss: Any margin for error in a bid for postseason play was erased in a second nonconference loss; the first was at Memphis. The Rebels, while showing flashes of improvement, are still a work in progress as the most difficult section of the schedule remains.
POLL IMPLICATIONS
Winning on the road against an SEC opponent, along with the first 4-0 start since 2015, should be good enough for the Bears to move up a few spots.
UP NEXT
California: The Bears return to Pac-12 play by hosting No. 24 Arizona State on Saturday night.
Ole Miss: The Rebels begin a stretch of five consecutive SEC opponents with a visit to No. 2 Alabama on Saturday.
No. 8 Auburn 28 No. 17 Texas A&M 20
COLLEGE STATION, Texas — Bo Nix threw a touchdown pass and JaTarvious Whitlow ran for a score as No. 8 Auburn built a big lead and withstood a late charge from Texas A&M to get a 28-20 win over the 17th-ranked Aggies on Saturday.
Nix didn't put up flashy numbers against the Aggies, but he looked poised and didn't make any big mistakes in his first true road game in front of a rowdy crowd of 101,681. Fellow freshman Joey Gatewood replaced Nix for a few snaps throughout the game and he threw his first career touchdown pass in the first quarter.
The Tigers (4-0, 1-0 SEC) were up 21-3 before A&M (2-2, 0-1) finally got going offensively in the fourth quarter. Mond cut the lead to 21-10 with his first touchdown pass early in the fourth before Auburn added a touchdown rushing. But the Aggies made a field goal before Mond connected with Ainias Smith on a 15-yard TD pass with just over two minutes left to get them to 28-20.
But Auburn recovered the on-side kick and ran out the clock.
Mond had 335 yards passing but Texas A&M previously solid running game was held to just 56 yards.
Auburn took an early lead when Nix handed the ball off to Whitlow who got it to Anthony Schwartz on a reverse the he took 57 yards for a touchdown to make it 7-0.
Seth Small missed a 47-yard field goal on Texas A&M's first possession and one from 52 to end the second quarter.
Gatewood's TD pass came late in the first quarter when he found John Samuel Shenker wide open in the end zone for the 6-yard catch that made it 14-0.
Mond connected with Jhamon Ausbon on a 41-yard pass on the last play of the first quarter. But A&M's offense stalled after that and the Aggies settled for a 33-yard field goal that cut the lead to 14-3.
Freshman Isaiah Spiller had a 13-yard run to start the third quarter, but Daniel Thomas knocked the ball out of his hands at the end of the run and pounced on it to give Auburn the ball.
The Tigers took advantage of the turnover when Nix found Seth Williams on a 9-yard touchdown pass that pushed the lead to 21-3.
Texas A&M's next drive was a mess with Mond being sacked and fumbling on first down. The Aggies recovered it, but Mond was sacked again on the next play. The Aggies were then penalized for delay of game and then for a false start to bring up third-and-30. Jacob Kibodi ran for 22 yards after that before Texas A&M had to punt it away.
Texas A&M's defense forced a punt on Auburn's next drive, but the Aggies managed just one yard on their ensuing possession and had to punt it right back.
The Aggies finally put together a nice drive early in the fourth quarter capped by a 27-yard touchdown reception by Quartney Davis that cut the lead to 21-10.
But Auburn ate up six minutes off the clock with a 12-play drive after that and added a touchdown on an 8-yard run by Whitlow that made it 28-10.
THE TAKEAWAY
Auburn: Nix was solid and should only get better with more experience. Auburn's defense kept the Aggies off-balance for most of the day in a solid all-around game for the Tigers, who have a home game next week before they travel to No. 9 Florida on Oct. 5.
Texas A&M: The Aggies came out flat and missed a chance for a big win in a season that only gets more difficult. Texas A&M still has to play No. 2 Alabama, No. 3 Georgia and fourth-ranked LSU. The latter two are on the road in consecutive weeks to end the season.
POLL IMPLICATIONS
Auburn should maintain its spot or could move up if any teams ahead of the Tigers fall on Saturday. The Aggies will certainly plummet in the poll and could fall out altogether after the home loss.
UP NEXT
Auburn: Hosts Mississippi State next Saturday.
Texas A&M: Meets Arkansas next Saturday at Cowboys Stadium in Arlington, Texas.
Mississippi State 28 Kentucky 13
STARKVILLE, Miss. — Kylin Hill rushed for 120 yards and three touchdowns to lead Mississippi State to a 28-13 victory over Kentucky on Saturday.
Mississippi State (3-1, 1-0 SEC) handed the ball to Hill, the Southeastern Conference's leading rusher 26 times in the game, taking some of the offensive pressure off freshman quarterback Garrett Schrader who started in place of injured senior Tommy Stevens, a Penn State transfer.
Shrader, who played the entire second half last week, threw for 180 yards and rushed for 125 yards in his first full game managing the offense.
Kentucky (2-2, 0-2 SEC) had 386 yards of total offense but found the end zone only once on a Kavosiey Smoke 2-yard run in the third quarter. Mississippi State consistently frustrated Mark Stoops' team late in drives, and the Wildcats could convert on only two of their four field-goal attempts.
The defense set the tone early. On the game's opening drive linebacker Willie Gay Jr. intercepted Sawyer Smith and returned the ball 53 yards for a touchdown. Gay and multiple other defensive starters have been suspended for much of the season due to a violation of team rules believed to be related to an academic dishonesty scandal that carries NCAA-mandated suspensions.
Gay was later ejected for receiving his second unsportsmanlike conduct penalty.
Hill punched in two touchdowns in the second quarter and Mississippi State led 21-3 at the half. The Bulldogs added Hill's 1-yard scoring run in the fourth quarter.
Smith was 15-of-41 passing for 232 yards to lead Kentucky. Asim Rose rushed for 105 yards on nine carries.
THE TAKEAWAY
Mississippi State: With a full complement of defensive talent and a rapidly-improving freshman quarterback, the Bulldogs looked like a completely different team than the one who lost at home last week to Kansas State.
Kentucky: The Wildcats have weapons enough to move the ball downfield, but penalties and poor pass protection stymied a number of promising drives.
UP NEXT:
Mississippi State: The Bulldogs visit No. 8 Auburn on the Plains, where it has lost four of the teams' last five meetings.
Kentucky: The Wildcats travel to play South Carolina still searching for their first conference win.
Missouri 34 South Carolina 14
COLUMBIA, Mo. — Missouri's defense scored the easy way and the hard way as the Tigers beat South Carolina 34-14 on Saturday.
Linebacker Cale Garrett recovered a fumble in the end zone for a touchdown and safety Ronnell Perkins returned an interception 100 yards for another score for the Tigers (3-1, 1-0 Southeastern Conference). South Carolina (1-3, 0-2 SEC) managed just 16 rushing yards and freshman quarterback Ryan Hilinski committed two costly turnovers.
Missouri quarterback Kelly Bryant completed 19 of 33 passes for 227 yards and two touchdowns. He rushed 17 times for 77 yards.
The Tigers began the scoring in the first quarter with a bizarre play. Hilinski's pass was batted back to him by Missouri defensive end Chris Turner. Hilinski grabbed the ball and spiked it at his own 1-yard line. Although the officials initially ruled the second throw an incomple — and illegal — forward pass, Garrett scooped up the ball in the end zone. After a video review showed Hilinski's spike went backward, the original call was reversed, it was ruled a fumble and the Tigers were awarded a touchdown.
The Gamecocks got back into the game in the second quarter when D.J. Wonnum intercepted a Bryant pass in the flat and rumbled 21 yards to Missouri's 1-yard line. Rico Dowdle pounded in a touchdown run to cut South Carolina's deficit to 10-7. Missouri answered with Bryant's 3-yard touchdown pass to Albert Okwuegbunam, and the Tigers led 17-7 at halftime.
After throwing for only 3 yards in the first half, Hilinski threw a perimeter screen to wide receiver Bryan Edwards on the first play of the second half, and Edwards weaved 75 yards for a touchdown. Hilinski guided the Gamecocks down the field on the ensuing drive by converting two third-down passes and one fourth-down pass. But on third-and-goal from Missouri's 3-yard line, Hilinski threw it right to Missouri's Perkins in the end zone, and he returned it 100 yards to give the Tigers a 31-14 lead.
Hilinski completed 13 of 30 passes for 166 yards. Edwards finished with six catches for 113 yards.
THE TAKEAWAY
Missouri: Safeties Joshuah Bledsoe and Tyree Gillespie played a key role in shutting down the Gamecocks. One three-play sequence after South Carolina drove into Missouri territory in the first quarter was the best example. Bledsoe tackled quarterback Dakereon Joyner for a loss on first down. Gillespie sacked Joyner on second down, and then he broke up Hilinski's pass to Edwards on third down. That forced a 50-yard field goal attempt by Parker White, and he pushed it right.
South Carolina: The Gamecocks' path to a bowl game is getting rocky. Four of their remaining eight games are against teams that entered the weekend ranked in the Top 25.
UP NEXT
Missouri: The Tigers have an off week before playing host to Troy on Oct. 5.
South Carolina: The Gamecocks return home Saturday to face Kentucky.
Discussion
Have a comment on this story? Join the discussion or start a new one on the Forums.