For Summons, less is more
Published: Saturday, September 21, 2019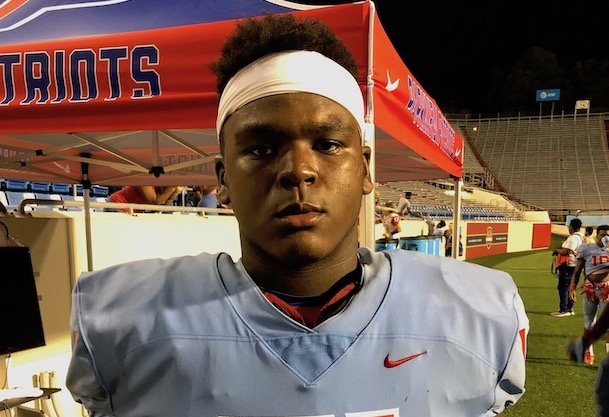 When current New York Knicks basketball player Bobby Portis was starring at Arkansas, you would often see pictures on social media of his family, including his younger brother Jared Summons.
Summons, who was 10 when his brother arrived in Fayetteville, is now a 6-foot-5, 290-pound junior defensive tackle for Little Rock Parkview.
He once weighed 350 pounds before beginning to work out and stepped it up even more this summer while spending time with Portis' trainer in Los Angeles.
"He (Portis) has been the biggest role model in my life and he is a person that gets up every day and works hard and that has pushed me to do the same and follow his lead," Summons said.
"I also love the fact of what a good person he is, how big his heart is and how much he loves kids. I try to follow his success and model myself after him and look forward to seeing where it can take me."
Summons got his body transformation started by radically changing his diet.
"I learned how to eat right and actually went vegan for 30 days just to try and lose some weight," Summons said. "In that first week, I knew it was real because I lost 12 pounds. In total, I lost 26 pounds and got to 291 before I came back to Little Rock.
"Everybody was telling me how good I looked now that I am slimmer and I feel so much better. Now I just have to keep working. Like they say, keep working when no one is looking."
Little Rock Parkview, in its third year under former North Little Rock head coach Brad Bolding, split its first two games this season with a 24-21 loss at Springdale on Sept. 6 before downing visiting Marion 28-24 the following week.
"I can't say enough about how hard Jared has worked to get his body right," Bolding said. "He has lost about 60 pounds overall and really got it going when he went out there with Bobby. He really has a chance to be a great player for us now that he is in the shape that he is."
Summons notes that he is a work in progress.
"I am still working on making sure my pad level is low," Summons said. "The lowest man wins every time. My footwork is a lot better and I am a lot faster now than when I left to go out to Los Angeles. I can move and switch directions much better than I could last year."
Summons grew up playing both basketball and football.
"I grew up playing both sports, but when I got to about the eighth grade, I knew that football was the way for me to go," Summons said. "So I left basketball alone. I still love watching it, but football is my sport now."
Summons would love to follow in his brother's footsteps and come to Arkansas.
"That would be huge and really it is what motivates me every day to keep perfecting my craft," Summons said. "I still have a lot to learn, but I would love to be a Razorback."
Arkansas, Georgia, Rutgers and Memphis are a few of the schools that have made contact with Summons.
"It's a blessing," Summons said.
Little Rock Parkview has some talent in its program with sophomore running back James Jointer, who tore his ACL in the win over Marion, already having an offer from the Razorbacks.
The Patriots also have junior tight end Erin Outley (6-4, 240), junior quarterback Landon Rogers (6-5, 220) and senior running back Thomas McCauley (6-1, 225) as Division I prospects.
"I talked to Arkansas assistant Coach (Barry) Lunney all the time," Summons said. "He has come down to watch me, James, Erin, Landon and Thomas."
Bolding's first team at Parkview went 3-9, but improved to 6-6 last season while winning six of its last nine games.
The Patriots are in the challenging class 5A-Central conference, which also features Pulaski Academy, Little Rock Christian, White Hall, Watson Chapel, Maumelle, Beebe and Little Rock Fair.
"Coach Bolding has changed things up around here and he is trying to get things back to where they need to be," Summons said. "We have meetings every day, before practice, after practice and a film session on Sunday after our games.
"We are always doing something to get better and it is just what we needed to get better."
Discussion
Have a comment on this story? Join the discussion or start a new one on the Forums.