'What a night': Spartans record biggest win in years
Published: Sunday, September 22, 2019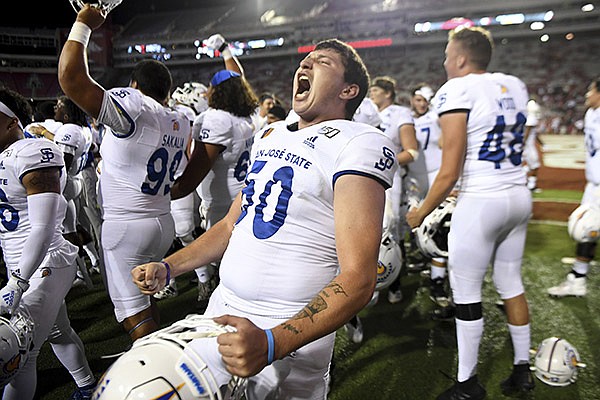 San Jose State's Will Butler celebrates with teammates after they defeated Arkansas 31-24 during a college football game Saturday, Sept. 21, 2019 in Fayetteville. (AP Photo/Michael Woods)
FAYETTEVILLE — San Jose State had a lengthy list of accomplishments in its 31-24 victory at Arkansas on Saturday.
The Spartans won their first game against an SEC opponent in seven tries, scored their most points ever against an SEC team, beat their first Power 5 opponent since defeating Stanford in 2006 and intercepted five passes for the first time since 2008.
Not to mention San Jose State caught the attention of college football fans and media across the country by winning as a 20 1/2-point underdog.
"What a night," San Jose State coach Brent Brennan said. "What a night for these players, these coaches and for our fans.
"Obviously when you look at the schedule, it is one of those games that everybody talks about. Sometimes it is hard to get your team to focus on anything else because you are going on the road to play an SEC opponent like Arkansas is with the history of this program, how special this place is, the stadium, the crowd and all that stuff."
The Spartans rolled up 503 yards total offense with senior quarterback Josh Love completing 32 of 49 passes for 402 yards and two touchdowns.
"It was just an incredible team win," Brennan said. "We hit field goals, we placed the ball well on kickoffs, we covered well in the kicking game, we punted well. It was just a total team effort. I know that everybody says that when you win a game like this, but that is what you have to have to win a game like this.
"So I am really proud of our kids. They kept believing in each other, fighting for each other and I think it is really an exciting step for us to take."
Love said San Jose State focused on the Arkansas safeties.
"They like to move a little bit with their safeties and I just keyed on them," Love said. "They kind of tip off what they are doing. I just trusted it. There were a couple of times that I misread, but I just continue to trust it, talked to (passing game coordinator Ryan Gunderson) and just continued to trust in myself and just went out there and ripped it."
San Jose defeated Northern Colorado 35-18 in its season opener, but lost a home game to Tulsa 34-18 before having a bye last weekend.
"Coming off a loss two weeks ago, our team just went to work," Brennan said. "We practiced during the bye week a lot. I am sure they didn't like that, but now they understand why. I am just really proud of them because this is a team. I am on my third season, and it has been two really hard years.
"To see them rise the occasion, stay together and keep believing. Arkansas makes a run late and we didn't fold, we actually bowed up."
San Jose State had lost 22 of 24 entering Saturday's game. The victory meant a lot to Spartans offensive lineman Troy Kowaski, a fifth-year redshirt senior who has started the most games in San Jose State history.
"Feels great," Kowalski said. "I caught myself on the field actually crying more than being all cheerful. It means a lot to me. Being here, it's my fifth year, and being what I have been through, it means a lot.
"When you come to an SEC school and no one believes in you and one of their linebackers says you are going to run for zero yards against us and you come here and run the ball for over 100 and upset them in their place, it means a lot and I just caught myself crying a little bit because it meant so much to me."
San Jose State players heard some mystifying quotes from Arkansas players about wanting to score 70 to 100 points and how they wanted to hold the Spartans to zero yards rushing.
Those quotes from the Razorbacks (2-2 got to the Spartans (2-1).
"Oh, it did," Kowalski said. "Coach Brennan addressed the team about it and told us not to respond to it and just keep it as fire and motivation, just to go out there and play ball and prove them wrong."
San Jose State led 24-7 entering the fourth quarter, but Arkansas scored 17 straight points to give its fans hope.
The tying score was on a 8-yard pass from Nick Starkel to Trey Knox, and after Connor Limpert's extra point the game was tied 24-24 with 2:56 remaining.
Bu the Spartans took the ball and scored to take the lead with Love leading his team down the field. Dejon Parker scored on a 19-yard run with 1:13 left.
"We get the ball with 2:56 left, make multiple big plays on that drive," Brennan said. "Josh Love was fantastic. And then we run the ball in, which is something that we have been working really hard on."
Starkel's deep ball turned into his fifth interception when Bobby Brown hauled it in and allowed the Spartans to run out the clock.
Starkel was 28-of-50 for 356 yards with two touchdowns and five interceptions, the most an Arkansas quarterback has had in 28 years.
"Just what an amazing effort by our defense," Brennan said. "...Just an incredible night. We talk a lot about that - finishing plays, which they did with a big one by Bobby Brown at the end. And the two fourth down stops in the first half."
Starkel, who hit a 62-yard touchdown pass to Mike Woods (4 catches, 115 yards), a 30-yard one to Tyson Morris (4 catches, 50 yards) and the late one to Knox (8 catches, 83 yards), was pressured a lot.
"I think it is a combination," Brennan said of the five picks. "I thought our defensive line was able to push the pocket a bit. (Defensive coordinator Derrick) Odum does a good job in the man and zone pressure, but in order for those things to happen we have to hold up in the back end. I thought that was really good. We gave up the big one, but other than that I thought our defense was lights out."
Love loved the atmosphere.
"That was a hell of an atmosphere here at Arkansas," Love said. "Some of the fans were trippy, but others were pretty cool. I talked to a couple of them after the game. For our fans that came out, that was an awesome thing. I had some family here to so that was great."
Discussion
Have a comment on this story? Join the discussion or start a new one on the Forums.