Toll, Hazen off to a sizzling start
Published: Thursday, September 26, 2019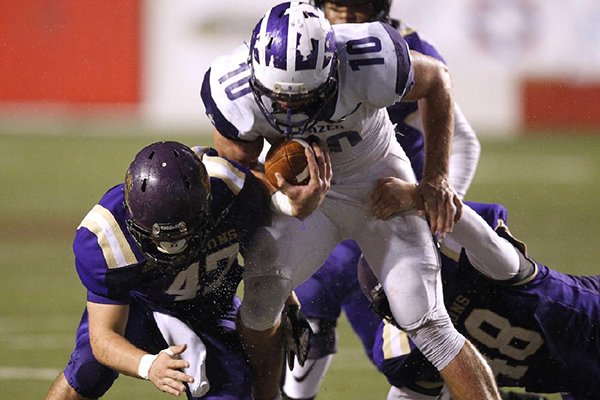 (
Thomas Metthe
)
Junction City linebacker Tanner Barnett (47) and defensive end Kyle Kidwell (48) tackle Hazen quarterback Blayne Toll (10) during the first quarter of Junction City's 36-22 win in the Class 2A state championship game on Friday, Dec. 7, 2018, at War Memorial Stadium in Little Rock.
Arkansas defensive end Blayne Toll and his Hazen teammates have not really been challenged during their unbeaten start, but it should be a different story Friday.
Hazen (3-0), which has outscored opponents 172-38 this season, will host rival Carlisle (3-1) at 7 p.m.
"We are playing real well and I have been pleased," Hazen coach Joe Besancon said. "I was hoping that maybe the competition would be a little bit tougher, but everybody has a down year.
"But we will have a big game this week and have to play four quarters of football. This is not only our first conference game, but its Carlisle and there's a lot of people around here that is the only game that they really care about winning. That and Des Arc."
Toll, who split time between quarterback and defensive end last season on Hazen's state runner-up team that went 13-1, is mostly playing tight end and defensive end so far this year.
"He has lined up mainly at tight end and had a few steps at quarterback and has played defensive end and defensive tackle on defense," Besancon said.
Toll has 13 tackles, nine of which have been for lost yardage. He has 2 catches for 85 yards and a touchdown, and 2 rushes for 35 yards and a touchdown.
"A lot of teams don't run at him, just haven't now that these first few games," Besancon said. "He pretty much dominates whoever is in front of him. He is getting four or five tackles a game and about three of them each game have been for losses.
"Sometimes we have to find a way to keep him out there because I think he is getting a little bored. They just don't run at him. The other night he asked me if he could kick off and I said 'go for it.' He kicked it off and then went down and just swallowed up this kid from Marked Tree."
Toll is known to be shy among reporters, but that is not the case around his teammates, Besancon said.
"He definitely has a bigger personality than he shows you guys," Besancon said. "He just plays that shy role and wants to make sure he says the right thing."
Discussion
Have a comment on this story? Join the discussion or start a new one on the Forums.