Neighbors excited about next season's talent influx
Published: Thursday, April 23, 2020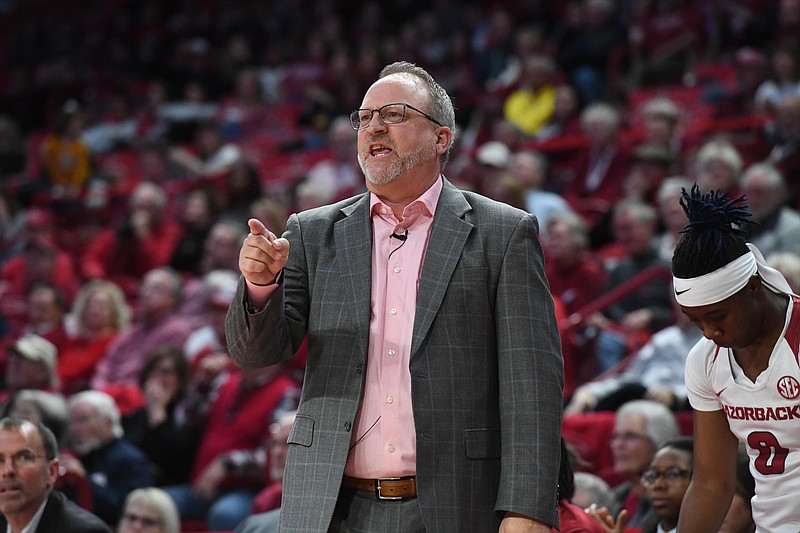 (
J.T. Wampler
)
Razorback women's basketball coach Mike Neighbors communicates to his team during Arkansas' 90-73 win over Missouri Sunday Jan. 12, 2020 at Bud Walton Arena in Fayetteville.
FAYETTEVILLE — While Arkansas women's coach Mike Neighbors does not have any hair right now after shaving his head during the coronavirus quarantine, he will have plenty of talent on hand next season.
The Razorbacks added Oregon State's Destiny Slocum (5-7), arguably the nation's best graduate transfer, earlier this week to go along with a 2020 recruiting class that includes Nettleton 5-star prospect Elauna Eaton (5-11), Alabama prep forward Destinee McGhee (6-2) and Oklahoma guard Rylee Langerman (5-9).
Neighbors expects all four to have a significant impact on next season's squad as well as fifth-year senior Jailyn Mason (5-9), who sat out last season with an injury and had 41 points in an intrasquad game late in the season.
"We wouldn't have brought them in if they didn't," Neighbors said. "They are coming in with a set of skills that we needed. That's why we recruited them. Destiny (Slocum) changes nothing. Everybody comes in with the same role that we expected."
Arkansas loses senior Alexis Tolferee and has a pair of players in the transfer portal in Rokia Doumbia and A'Tyanna Gaulden after last season's 24-8 campaign.
"So, that doesn't affect Elauna," Neighbors said. "It doesn't affect Jailyn Mason coming back. It doesn't affect Destiny. We had spots on our board and we needed some experience for us to do what we hope to do. We lost a senior and a fixing-to-be junior and we needed somebody that's been through the battles and obviously couldn't have found anybody better than that, who has been through two Power 5 conferences already and helped her team advance deep into the tournament."
Slocum was committed to Neighbors at Washington before signing with Maryland and later transferring to Oregon State and leading teams to the Sweet 16 each season.
She averaged 15.4 points and 4.5 assists as a redshirt sophomore, and 14.9 points and 4.7 assists last season. She was named WBCA National Freshman of the Year and a second-team all-Big Ten honoree.
Slocum should step right in for Tolefree on a team that had four starters coming back and Mason, who started games the three previous seasons.
"They are very similar," Neighbors said of Slocum and Tolfreee. "They're different body types. Destiny's powerful, built like a little fireplug bulldog. But they're equally as quick, equally as deadly from range. Elusive with step-backs, can play the point, can play off (the ball), can make plays, can catch and shoot. She's just a little bigger. She's a little taller, she rebounds it, although Lex was our second-leading rebounder. It's hard to say that Destiny does anything necessarily better than Lex does."
Neighbors talked with Arkansas stars Chelsea Dungee and Amber Ramirez after Slocum got in contact with him.
"I called them after Destiny said she wanted to talk," Neighbors said. "I called Amber first because I knew they had played in the same McDonald's All-American Game. I wanted to make sure they had a good relationship, which Amber immediately jumped on board and said not only did they have a good one they have a great one. (She said), 'I'm going to call her. I still got her number and all that stuff.'
"I called Chelsea because I knew they had just recently played in the Pan-Am Games Trials, and Chelsea echoed the same things. She said, 'Coach, she's a great teammate. She will help us with what we've lost with our two transfers.' Great players want to play with great players and that was obvious with those two kids from the get-go. Prior relationships were positive and they both said, 'She fits in our locker room. She fits on our campus.'
"The fact that those two have been here and gone through the exact same thing pretty much that she's a transfer and they signed off on her as a person and a player that meant a lot to us as a staff."
Neighbors admits he is ready for Mason to be back on the court.
"I'm so excited to get her off the bench during the game," Neighbors said. "That is a kid who was like another coach over there. I'm ready for her to be a player again. She sees the game like a coach. I think the year will help her. I say that halfway kidding. She did so many things for us that we miss. She is our best transition talker on defense, so somebody else had to take that over all last year. We get that back.
"She was our best what we call 'fixer' on defense. She understood and had a deep, deep grasp of understanding what our opponents were trying to do and an uncanny ability to fix mistakes that we were making or about to make. We get that back."
Mason served as the scout team's best player last season, impersonating the SEC's best players such as Texas A&M's Chennedy Carter, Kentucky's Rhyne Howard and South Carolina's Tyasha Harris.
"She got to stretch her game," Neighbors said. "As a result she became the kid who got 41. I think you are going to see a confident offensive attacker and bring back to us what we already knew in a tremendous teammate, great leader and somebody that helps us so much defensively.
"…I think our defensive numbers will improve drastically. She's a good rebounder and, like I said, she is a great 'fixer' for us defensively."
Eaton is ranked 38th nationally by ESPN.
"If you were to draw up a prototypical player for us, it's Elauna," Neighbors said. "Can score. Can drive. Can pass. Can defend. You look at the senior year she had and what she did rebounding ... we really implored her to not come in here expecting a freshman transition period. She needs to come in here ready to play.
"She is prototypical for what we look for in our perimeter players. She's got a fast learning curve. She's been very inquisitive. She's probably the most devastated in not being able to be here already. She would have already been here. She would already be working out, so trying to keep her patient and help her understand that we've got great expectations for her where she won't get a normal freshman adjustment period."
Redshirt freshmen Destinee Oberg (6-3) and Eyrnn Barnum (6-2), both who were injured last season, should join with McGhee in helping returning starter Tayla Thomas (6-1) up front.
"We need one of them to come back in the best shape of their lives," Neighbors said. "Need to come back in great shape, ready to be competitive with each other without being overly competitive. The battle for playing time is hard. We need those kids to understand there's a role to be filled."
Discussion
Have a comment on this story? Join the discussion or start a new one on the Forums.