Pittman pleased with Arkansas' virtual recruiting success
Published: Thursday, August 6, 2020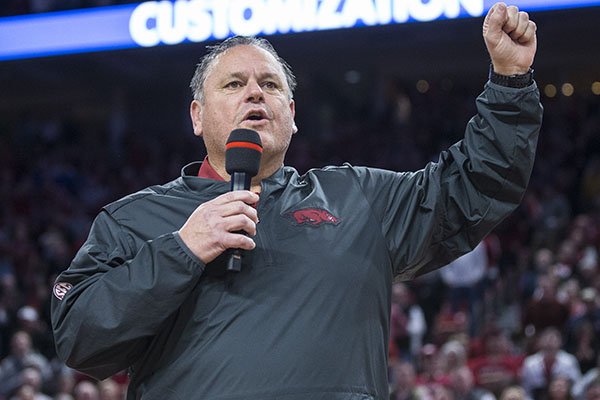 (
Ben Goff
)
Arkansas football coach Sam Pittman speaks to the crowd during a basketball game between Arkansas and Tulsa on Saturday, Dec. 14, 2019, at Bud Walton Arena in Fayetteville.
FAYETTEVILLE — All college football coaches have had to adapt to not being able to recruit in-person during the covid-19 pandemic, and Arkansas coach Sam Pittman and his staff have done just that.
The Razorbacks' 2021 class has amassed 18 pledges, including 11 in the past two months, while getting things done virtually.
It is a class good enough to be ranked 24th nationally and seventh in the SEC by Rivals, while 247 Sports places it 28th in the country and No. 9 in the SEC.
ESPN does not have the Razorbacks in its Top 25, but does have three Arkansas commits - San Antonio (Texas) Cornerstone Christian quarterback Lucas Conley, Tulsa (Okla.) Union athlete AJ Green and Midwest City (Okla.) Carl Albert tailback Javion Hunt - as four-star prospects, the most of the three recruiting services.
"Recruiting is hard (even) if you have them on campus and call them all time," Pittman said. "It is hard regardless because of who you are competing against. But we are pleased where we are in recruiting right now."
The Razorbacks' staff has also issued scholarship offers to nine in-state 2020 prospects, a higher-than-normal number in recent years.
"We are well aware our state is very talented and we are trying to get our kids to stay home and play for the Razorbacks," Pittman said.
The recruiting has been made challenging as teams were not able to have their usual summer camps to take an up-close and personal look at prospects.
"I think the reason people want camps - and I'm not saying in covid times, I'm not saying that - I'm saying the reason that you want camps in the summer on a regular basis is so you can evaluate prospects," Pittman said. "And there's a difference in a highlight tape and actually what he is.
"Sometimes he's better than what his tape looks like, sometimes he's not. Sometimes he's about what you thought."
Several of the Arkansas' 18 commitments have never stepped foot on campus. Pittman expects to be surprised, both positively and negatively, with how some evaluations turn out.
"I do think there's going to be, more than ever, surprises that you thought you got this particular athlete, and you were surprised one way or the other because you didn't actually get to see them in a specific skillset that you wanted," Pittman said. "I think that's across the board with everybody.
"You might go back to (a) sophomore when they were at camp, you look at speed, how do you really know how fast they are unless you have a verified time? All that kind of stuff you can get done on your own campus. We're not able to do that."
Hunter Yurachek, Arkansas' director of athletics, noted recently that the current dead period could be extended through the end of 2020.
"The other thing certainly is if they keep (late December's) early signing date and there's no official visits, it's kind of hard for a kid to make a decision, to me," Pittman said. "So we have to really love them up, we have to get to know them, because right now if it's not about anything other than the personal relationship with the people that's recruiting them, then we have to be better than anybody else at it."
Discussion
Have a comment on this story? Join the discussion or start a new one on the Forums.