Georgia opener holds special meaning for transfer CB Jacobs
Published: Tuesday, August 25, 2020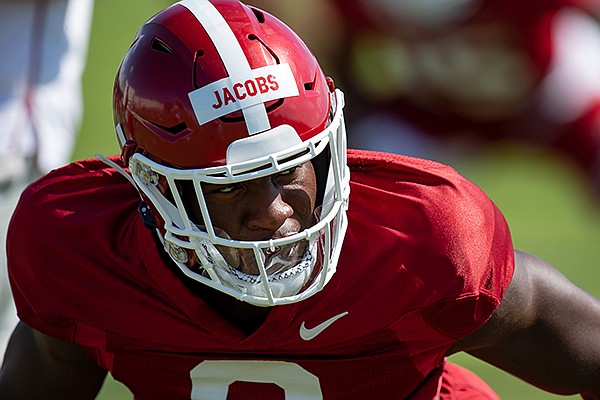 ( Walt Beazley, Arkansas Razorbacks )
Arkansas defensive back Jerry Jacobs is shown during practice Friday, Aug. 21, 2020, in Fayetteville.
FAYETTEVILLE — Only one member of Arkansas' secondary has played against season-opening foe Georgia even though he hasn't played a game for the Razorbacks yet.
Cornerback Jerry Jacobs (5-11, 206 pounds), a graduate transfer from Arkansas State, was on the field last season for his team's 55-0 loss at Georgia, a game during which he suffered a season-ending knee injury.
"Man, I was so excited, so happy," Jacobs said Tuesday of when he learned the Razorbacks would open against Georgia. "I had to check because I heard it from one of my teammates, but I just had to go make sure they were right.
"When I heard it was the first game, I just got pumped because I didn't finish off what I started when I played them last year because I got hurt. I am ready to show them guys what I've got."
Jacobs appeared in all 13 games for ASU in 2018 with 11 starts and finished with 31 tackles. He also had a team-high 4 interceptions, 3 tackles for lost yardage, 8 pass break-ups and 12 total passes defended.
He was a preseason first-team selection in the Sun Belt Conference heading into 2019 and also named to the Jim Thorpe Preseason Watch List as one of the nation's top cornerbacks.
He transferred to Arkansas earlier this year and said the transition has been good.
"Ever since I came here, (Arkansas head coach Sam Pittman, defensive coordinator Barry Odom and cornerbacks coach Sam Carter), they have been leading me in the right direction, giving me tips on what I need to work on and stuff like that to help my draft stock go up."
That was one of the reasons that Jacobs decided to make the move from Jonesboro to Fayetteville. He also had a desire to play in the SEC and was familiar with Arkansas linebackers coach Rion Rhoades, his former junior college head coach at Hutchinson (Kan.) Community College.
"I actually transferred because it was a great opportunity," Jacobs said. "Coach Rion Rhoades, that was my head coach in JUCO, so I wanted to go to something bigger, playing in the SEC. I always wanted to play in the SEC, so once I talked to him, he said he had a scholarship offer for me, man, I kicked down the door. I got in here. I came in as quick as I can. I'm ready to play."
Jacobs and Montaric Brown have been spending time as the first-team cornerbacks in practice so far and both earned praise for "wow" plays from Pittman on Tuesday. Jacobs likes what he is seeing from the defensive side of the ball.
"The whole defense is making plays, especially the starting front," Jacobs said. "The D-line — Julius Coates, Dorian Gerald — they are getting to the quarterback pretty good for me. By just having them go to rush the quarterback helps me out a lot.
"In the back end, we have communication — Gregory Brooks, Montaric Brown, Myles Mason, guys like that. We keep it going and communicate well and stay on the same page."
Jacobs said it was tough to leave Arkansas State head coach Blake Anderson, whose wife, Wendy, died following a long battle with cancer last August.

Anderson took a leave of absence before her death and returned to the team a few weeks later.
"It was sad watching him go through that and he was like my best friend," Jacobs said. "He was like a father figure to me at Arkansas State. Watching him go through that and coming back and being with the team was just like crazy. He just showed us his motivation and how much he loved the team. Once he did that, he just became like this awesome person to me. I love that dude.
"We still talk to this day since I came here. He helped me out a lot in life."
Discussion
Have a comment on this story? Join the discussion or start a new one on the Forums.